This promotion will provide members with 50 chances to win prizes of 100 USD.
10 winners will be selected each day between January 24 - 28th.
Members will receive entries into the daily draws based on their "Transfer To" activity; every 1000 USD transferred to a merchant site during the promo period will award the member with one entry.
No registration is required, all members are opted in.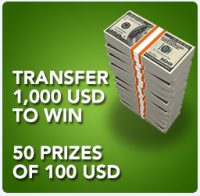 For more details, members can go to the promo site, promotions.neteller.com which will be available as of 5pm MT today and includes all promo rules.
From 24 January to 28 January, 2013 NETELLER is giving away 50 prizes worth 100 USD. Entering is easy - for every 1,000 USD you transfer to websites during this time period you will receive one entry to win.
No registration is required. Good luck!
About Neteller
Neteller is an online payment processing company offering safe and secure transactions between customers and merchants.
Neteller has an affiliate program that allows affiliates to earn income twice for a single transaction.
You can learn how it works in our Guide to promoting ewallets or learn the best ways to promote Neteller.
Webmasters can get 20% commission by promoting the Neteller program to their players.
Neteller Affiliate Program Review