New Acquisition for Seven Star Digital and growth for GamblingDeals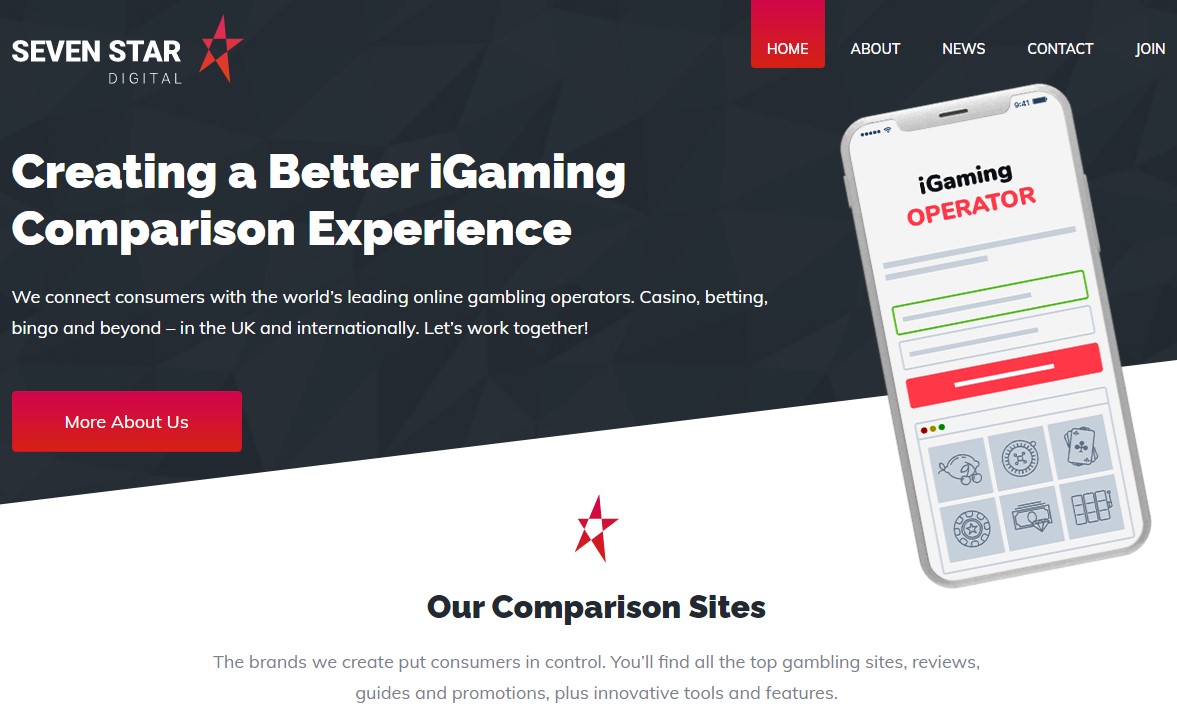 It's the time for Seven Star Digital to get its first acquisition.
The London based company is certainly looking forward to being the best of the best when it comes to gambling comparison experience for its consumers across the UK and beyond. Its growth has gone up significantly since its launch in 2016 by using top notch digital marketing strategies and solutions to help every player possible in finding the online gambling site they've always wanted.
Its founder and CEO Luke Eales stated the following: "We are delighted to complete our first acquisition and are excited about the potential to grow GamblingDeals.com into something special.
"The website fits well with our strategy to build out quality global assets with high growth ceilings. It also has a good revenue base to build on over the coming months.
"Our team is eager to get to work on the site and help it reach new heights. Early priorities will include local launches in a range of English speaking markets including a number of US states, plus a product review with the aim of providing tools and resources that help users find bonus offers and deals that match their preferences."
While GamblingDeals.com has been focusing solely on the UK for its operation, that's soon going to change with the acquisition as it's all about going international.
Seven Star Digital improves the industry
Seven Star Digital has been working nonstop since its release with the intention of providing the most trustworthy and useful insights on the many gambling platforms that exist across the world.
Such a dedicated and professional brand like Seven Star Digital has prevented plenty of players from joining and investing on unreliable betting sites that could have gotten away with their money.
Undoubtedly, Seven Star Digital has helped the whole gambling industry improve and become a secure sector where operators and players can win equally at all times.
The need for a service like Seven Star Digital
Since its beginnings, the gambling industry has been filled up with crimes and fraudulent actions that have turned it into one of the unreliable ways to invest for many people worldwide.
But, thanks to great services like Seven Star Digital and the development of strong security and legal measurements, times has changed and the industry is a lot more trustworthy.
Because of these great services and innovations, the gambling industry in all of its forms has become one of the most entertaining and authentic methods to earn extra money easily.
Apart from that, running a gambling platform has turned into a lucrative business as well, so there is a wide variety of them available up to this day.
What Seven Star Digital can offer you
Security
Through Seven Star Digital, you can read complete reviews and opinions left about a specific online betting site that you are interested in.
Additionally, Seven Star Digital counts with a detailed rating system that allows you to check and understand easily how reliable that particular betting site is, preventing you from registering on if it is not well-founded.
Information
Thanks to Seven Star Digital, you are able to learn pretty much everything you need to know about an online betting site. You can find aspects such as payment methods, games available, excluded countries and more.
Since Seven Star Digital offers you a complete set of information about any online betting platform, you can just go ahead and register on it without having to learn anything about it.
You would be registering on the betting site, knowing what it has to offer and how to take advantage of it.
Less time and effort
Seven Star Digital provides you with a complete list of betting sites according to specific aspects. You can filter your search and find only those betting sites that may satisfy your demands.
This comparison service gives you the chance to find any type of betting site within seconds only.
Finding the right betting site is certainly more difficult than it seems to be. There are plenty of them to choose from, and they all offer similar things.
Having a service like Seven Star Digital that filters out all the irrelevant betting sites allows you to save time and effort at any given moment.
What GamblingDeals.com can bring to the table
With the acquisition of GamblingDeals.com, Seven Star Digital is looking to improve its services even further.
Thanks to it, the users will be able to know absolutely everything they want to know about the bonuses and promotions available on any betting site across the whole globe.
The offers available on a betting site are just as important as the security and the trust that a platform provides for its players.
Therefore, Seven Star Digital is set to become a stronghold comparison service that will make your betting experience a lot easier and enjoyable.
Through GamblingDeals.com, you can compare and realize how different or better each bonus available is, giving you the opportunity to choose those that match your plans.