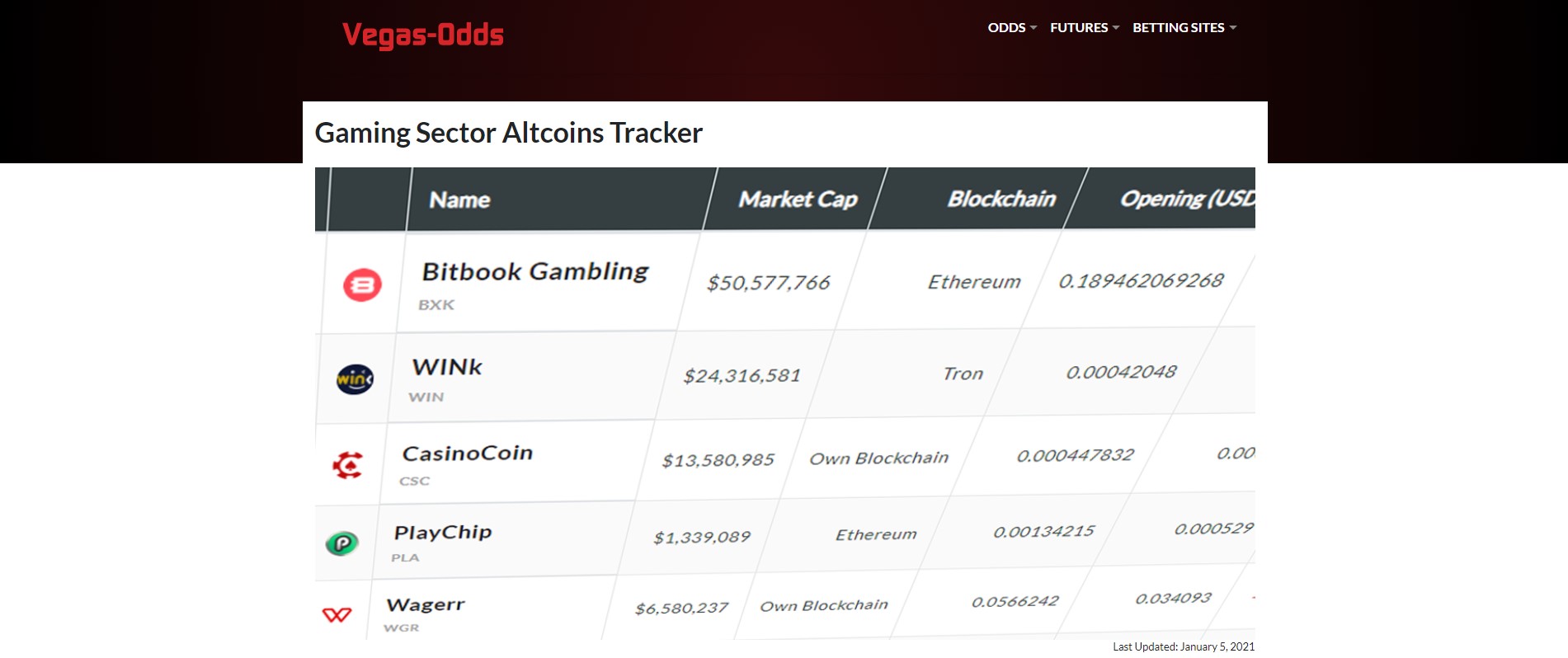 Las Vegas, Nevada, USA. 5th January 2020.
An altcoin ROI tracker has been launched for the igaming sector - monitoring the trading volumes and prices of coins in the sector since opening day. Created by sports-betting company Vegas-odds.com, the igaming sector altcoins report delivers a daily snapshot of ROI for each coin as well as industry level insights.
Gaming Altcoins - Segment Snapshot January 2021
Total altcoins in category: 44
Blockchains Used:
Ethereum (23)
Tron (3)
Own Blockchain (12)
Neo (1)
EOS (3)
Binance Chain (1)
ICON (1)
The market capitalization of the gambling altcoins sector is $155,271,194
0.018% of the total market cap ($946,210,133,386) of all cryptocurrencies listed on the cryptocurrency tracker site CoinMarketCap.com
The Altcoin in the gaming category with the largest Market Cap is Bitbook Gambling (BXK) with $81,389,364.
Ethereum is the dominant blockchain ecosystem in the gambling sector. In fact, 18% of all open-source crypto developers work in the Ethereum ecosystem. Even more, Ethereum has 4x more developers than the next ecosystem, which is Bitcoin.
Tokens in the space are highly varied in function and purpose, and include tokens for decentralized apps or DApps (such as decentralized sportsbooks and online poker sites), utility tokens, p2p cryptocurrencies (which allow buyers and sellers to execute trades without the need for intermediaries), smart contracts to place wagers, regulated iGaming industry p2p currency and blockchain data storage.
Most igaming altcoins have lost value since opening, with just six out of 44 returning positive ROI if held since opening day.
Total Altcoins In Sector: 44
Total Altcoins Where Today's Price is GREATER than the opening day price: 8 / 44
Total Altcoins Where Today's price is SMALLER than the opening day price: 36 / 44
Best Performer / ROI: NativeCoin(N8V) - ROI: 11,106.56%
Worst Performer / ROI: Gold Poker(GPKR) - ROI: -99.95%
Meanwhile, Bitcoin has soared to peaks above $39,000 delivering mainstream crypto investors with the rewards they have been waiting and hoping for.