Why Live Casinos Are Popular With Players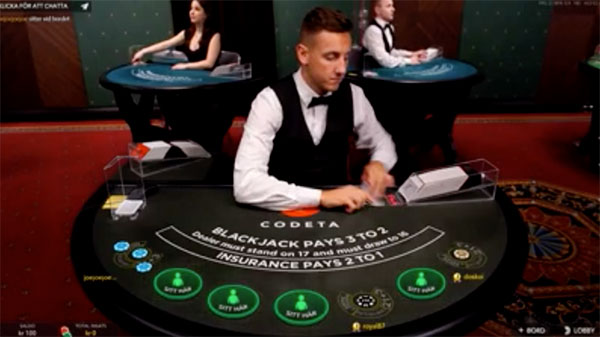 For new gambling webmasters looking to create their first affiliate site, there are a lot of niches to focus on within all the major online gambling categories. Out of all the niches within online casinos, live dealer casinos and mobile casinos are probably the 2 most popular features that affiliates both target and create sites around. We take a closer look at casinos.co's guide to live casinos to analyze this niche. We also give an overview of the 5 major online gambling verticals and give some tips for affiliates that they can learn from sites like casinos.co.
Article summary

Before we explain why live dealers are popular with players and why affiliates should cater to these players, we look at the 5 major online gambling verticals to put things into perspective especially for casinos.
Industry Overview For Online Bingo Affiliates
Online bingo tends to be one of the core gaming products that crosses over with online casinos. Bingo players tend to play online slots and you'll see many bingo softwares offering slots for players to play while waiting for games.
Industry Overview For Online Sports Betting Affiliates
Almost all online sportsbooks have a casino and if you have any affiliate manager, they will tell you their casino is the real revenue generator for them. All you need to know is a player can bet 100€ and if we assume the house takes a 10% cut, that doesn't leave them with a lot knowing that this is a single betting event that requires time to clear. Consider a player playing a lot game at a 5% house edge, these games are wagered multiple times over a minute and can go on for hours.
Industry Overview For Online Poker Affiliates
Online poker has struggled since Black Friday has pushed the biggest poker sites out of the US markets. Poker isn't dead by any means however the popularity of the game has certainly peaked long ago.
Industry Overview For Online Lottery Affiliates
Online lottery was probably the last frontier in online gaming to grow. This trend is visible in the number of lottery affiliate programs being present at affiliate conferences and the number of online lottery sites popping up both for operators and affiliates.
Industry Overview For Online Casino Affiliates
Online casinos are considered the top tier of the industry for revenue and profits. Our casino affiliate programs is both our largest and most popular affiliate program directory.
Why do casino players like live dealers?
The obvious answer is players can see and interact with another person: the dealer! If you play any of the live dealer games, you'll find many of the dealers are fun people to interact with although they usually appear very professional. Players like the real experience of interacting with the dealer and in other cases with other players. For players that are quick to question if casinos offer a fair random number generator (RNG) then they have less to question when it comes to playing live.
More Online Casinos Offering Live Games
Live dealer casinos have been around for a good 15 years starting with sites like Casino Web Cam. These sites were a different way of playing online casino games but it eventually was something that only the biggest online casinos had. Since 2010, live casinos have been sprouting up as standalone online casinos and in the past few years a few dedicated live dealer casinos emerged like Codeta and Premier Live Casino. Now when you look at most online casinos, it hard to find one that doesn't offer live games.
Affiliate Tips on Casinos.co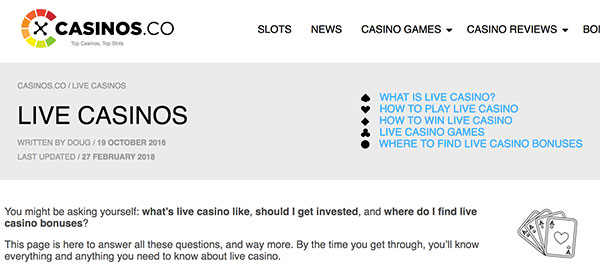 Casinos.co is a well organized casino portal and we analyze what they do right for players. There are many affiliate sites targeting live dealer casinos but most are making mistakes when it comes to both marketing these pages and also trying to rank and it is all about providing value.
Here's a summary of everything they do right:
Word count of 2000+ words
Geo Targeting
Organized Content
With an article over 2000 words, this dedicate page and guide of live casinos has covered nearly everything a casino player could want to know about live dealer casinos including how it all works. The article includes not just online casinos that have live dealers, but bonuses, lists of software providers that provide a platform for casinos and a breakdown of the games offered. It certainly isn't easy for a site or a page to rank with the standard 500 words and on top of it the content needs to deliver as much value as possible.
Another thing they do well is organize their content into sections making it easier for users to scan. Nobody wants to read paragraph after paragraph unless it is a book.
Final affiliate tips: pick a niche and do it well. You can always check out the competition to see what they are doing that you are not and if you think you can find something more to add that nobody else has done then go for it!