Online gambling a concern for Thai PM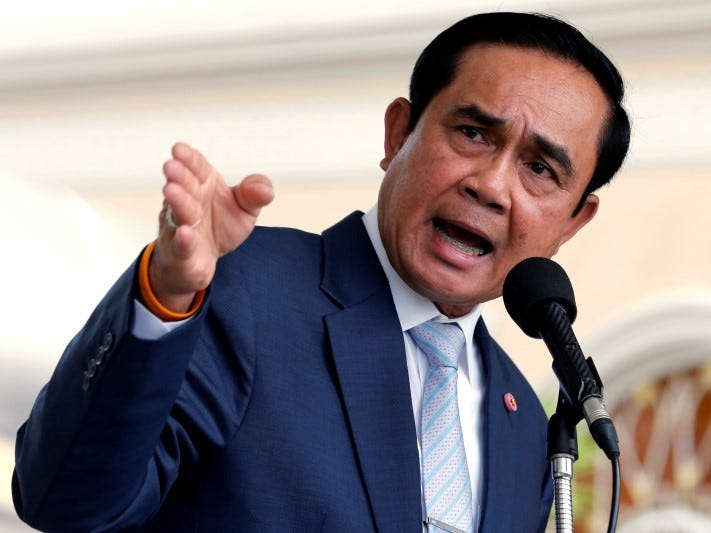 The Prime Minister, Gen Prayut Chan-o-cha, has expressed his concerns on how online gambling websites are so easily accessible by children, making him order a strict suppression of illegal websites.
Government Spokesman Anucha Burapachaisri revealed that the Prime Minister, Gen Prayut Chan-o-cha, has expressed his concerns over online gambling websites, which have now become easier for children and youth to reach through advertisements made specifically to target children and youth.
Studies found that gamblers are more likely to be addicted and lose more money to online gambling than offline one because of low restraint. Therefore, all parties should join forces to seriously suppress gambling websites, Anucha said.
The Prime Minister has called on related agencies, both governmental and private, to help suppress these illegal websites using stringent measures, citing research on the behavior of online gamblers, who tend to become addicted and lose more money than through conventional gambling.
In the past week, the Ministry of Digital Economy and Society, in a collaborative effort with the National Broadcasting and Telecommunications Commission and the Royal Thai Police, has asked all internet service providers and mobile carriers to block access to online gambling websites within 15 days, after receiving court's order.
So far, the court has ordered access to 1,202 websites to be blocked for online gambling. Failure to block access to these websites will result in legal consequences for the service providers.
The sad truth of the online gambling industry in Thailand
The online gambling industry has surely been growing nonstop for the past decades.
However, some methods or ways used by the gambling companies to improve their popularity can be considered illegal or, at least, irresponsible.
Sadly, many gambling companies have been making use of ads and other marketing tools to allure a high number of players without caring about the specific type of people that they are targeting.
In most cases, these gambling brands show their ads and marketing campaigns in platforms that are frequently accessed by minors.
These minors get curious about the sites and end up entering and registering on them without being aware of the potential risks of doing so.
The gambling addiction is a delicate issue
A lot of gambling brands have stated that their platforms do not allow minors to register on them.
According to them, their terms and conditions display the age limit explicitly so that everyone can see it without much of an effort.
Nonetheless, most underage users decide to register on the brands by lying about their date of birth. They get past the registration procedure and end up depositing real money on those gambling platforms.
As reported by several gambling statistics, the players that start gambling at an early age are more likely to become troubled players that those that start betting after turning 18 or more.
Such statistics have alarmed the Thai government and now, no gambling platform is allowed to offer its services to any Thai citizen.
The battle is not over yet
Unfortunately for the Thai government, imposing strict and immediate measurements against the access to online gambling platforms does not mean the end of them within the country altogether.
Nowadays, it is quite simple and effortless to access a website illegally without getting caught or penalized.
Such innovative ways to get away with it make it nearly impossible for the Thai authorities to stop their citizens from accessing gambling platforms.
The biggest hurdle for the Thai government is the many VPNs that the citizens can have access too easily.
Many of these virtual networks can be acquired for free or at a considerate low price, so that most citizens can get them within minutes only.
Thanks to them, the citizens are able to access any blocked or illegal site without getting caught by their internet providers or local authorities.
The future of the strict measurements
As of now, the Thai government wants nothing to do with any gambling platform within its borders.
It is unknown whether these strict measurements are set to be in place for a long period of time, or they could be revoked in the near future.
The measurements were stated due to the high rate of underage citizens that were accessing gambling platforms, so it is unlikely to see any changes to them in the following years.
According to some iGaming experts, the Thai government may be forced to revoke the measurements in case their economy suffers some drastic loss in the near future.
This opinion surges from the fact that the online gambling industry is known for the high sums of money that it generates every year, providing extra revenue for all of those countries where it is regulated.