PetziConnect: Connect with your dog at conferences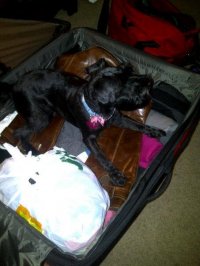 Do you love going to conferences but hate leaving your dog being and losing that connection? That could change with PetziConnect by PetZila
If you are a dog owner or a pet owner then you know that going to a conference means you will have to spend some time away from them and that's not good. Your pets all know when you are leaving and they don't like it either.
They don't want you to go and they will do anything to make you feel guilty including giving you extra attention they normally don't give you. Your pets maybe experience some stress and sadness and can be one form of separation anxiety in pets.
Some pets will even mess around with your suitcase or sleep on top of it which could be translated as 'don't go' just like Sooka (Thanks Jennifer Ming from NETELLER for the pic) We know it hurts you just as much as it hurts your pets.
While you are trying to do business at a conference or having drinks on the dance floor with your igaming friends (yes we are still talking about the conference), in the back of your mind you won't be having a good time knowing your pet misses you and you miss them.
Maybe you would have had some peace of mind if you were able to have a skype chat with them but no, your pets are not even good enough to have their own cell phone or computer so you can't have a chat.
Presenting PetziConnect by PetZila
PetZila Inc has created the PetziConnect which is currently in production and the company is taking pre-orders. The PetziConnect lets you connect with your dog or cat and that is awesome!
The device plugins into your wall and has 2 way audio and HD video which of course you get to watch your pet react to the sound of your voice.
Either they will be happy to hear you or will flip out knowing that you are stuck in the wall or worse, inside this small box.
What is even better is you can load the device with treats and with a push of a button you can give you special furry friend a treat.
The system works when you connect to your Android or iPhone so now you can be on that dance floor and you and your conference colleagues can wake up your dog, have a drunk conversation and dispense all the treats until they are gone.
PetziConnect was made possible thanks to crowdsourcing site Indigogo. So next time you are considering going to a conference whether the Barcelona Affiliate Conference (#BAC2013) or London Affiliate Conference (#LAC2014) AND you have a pet that does NOT have a cell phone or computer, consider ordering PetziConnect.
There are many other apps like WhatsApp, skype, Zoom and other social media that allows you to interact to other persons via video-calls and if you were overseas working or by leisure you had to call someone from your house or friends to see your hairy friends, but now with this new application you no longer need to do that, since this new application is perfect for you and your pets.
Your cats and your dogs will no longer feel alone, and you can check up on them to see if they are not chewing your chairs, your shoes or other stuff.
Now you don't have any excuses to left you doggos or your cats at home alone when traveling for work or leisure, for many cats they don't care to be alone, but keep in mind that dogs do feel really alone and sad when you are gone that is why they feel so happy when you come back, but now they will never have to be sad again.