Platinumsb.com linked to illegal gambling operation in Ontario Canada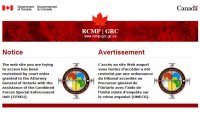 Police have shut down an illegal gambling operation in Markham, Ontario, Canada which was organized by Platinumsb.com which is an online sportsbook.
For people reading TheStar newspaper they have read news about a raid conducted by Ontario police in Markham of an invite only gambling event held during Superbowl Sunday.
Later that same day more details were announced that 6 men were arrested and related to organized crime.
About Platinumsb.com online sportsbook
This site was registered in 2004 and the whois records show that the details were updated February 3rd, 2013 and the domain expires in May 2013.
http://whois.domaintools.com/platinumsb.com
The domain was hosted in Costa Rica and in one of theStar articles claimed that most of the players for the site were focused on the GTA area.
A press release is expected later. You can read the full article at TheStar.com here with more details to follow.
Certainly news like this doesn't make online gambling look so good and will perhaps cause the Canadian and Provincial governments to act more towards regulating online gambling in Canada which for the most part, has been ignored and left up to the provinces to decide what to do.
The provinces do appear to be open towards getting into online gambling as they already control their own markets with respect to land based casinos, horse racing and lotteries.
The province of Ontario has yet to get their online gambling websites setup whereas Loto Quebec already has a big head start where players can deposit with direct banking and credit cards with ease.
The good reputation of the iGaming industry?
Despite the fact that the iGaming industry has been growing and developing worldwide, its reputation has not improved that much when compared to the last decade.
There are plenty of new security measurements and tactics that have helped the cause in many aspects. But, the industry is still used to commit many crimes on a daily basis.
Sadly, this is one of the main reasons as to why such a high number of countries do not allow the use of iGaming brands within their borders.
The industry has to improve its reputation in order to reach the level of popularity and trust that is needed to make it grow and develop in the best way possible.
Canada is constantly avoiding the issue
Canada has somewhat flexible yet confusing laws and restrictions when it comes to the iGaming industry.
First off, the Canadian government has stated that each province is free to impose their own regulations and restrictions without having to go through the country's authorities beforehand.
For many iGaming experts, the move represents the lack of attention and relevance that the Canadian government has when it comes to the industry and therefore, prefers to leave it up to the local authorities.
However, for others, it is a smart and praised decision since every province is able to manage its own regulations according to their needs and desires.
Thanks to the freedom granted to all the Canadian provinces, many of them have expressed how beneficial and lucrative it can be for them to allow the use of gambling platforms within their borders.
Because of that, a lot of them count with their own gambling authorities that are in charge of controlling and managing all the iGaming platforms that are accessed within them.
Ontario is still reluctant
Ontario, one of the biggest and most populated provinces in Canada, is still hesitant and reluctant to accept private gambling operators within its borders.
According to the province's representatives, the iGaming industry is unreliable, and it would be more than just a risk to start letting it operate freely in Ontario.