SEO, Design & Conversion Case Study: CasinoBonusesToday.com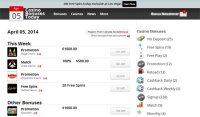 This article was featured in the iGB Affiliate Magazine for the London Affiliate Conference 2014 edition.
Casinobonusestoday.com was launched on October 31st, 2013 and was rebranded and redesigned from the previous casino portal grem.net which launched in 2010. The changes to the site were fairly drastic but were done for many reasons which cover SEO, design and conversion.
The site wasn't performing up to expectations and with the changes Google's search engine it became more clear to re-work the site so it has a better chance of success.
The original idea of the casino portal was to have it as a generic casino site that covered many aspects of online casinos.
You could call it a casino guide for starters which there are definitely hundreds of them in existence. For a site like this to be successful and compete, it has to be very good and for this reason it is why I recommend for most new webmasters to focus more on niche topics as a means of getting started and having some type of short term success and getting some search traffic.
So lets dig deeper into the work that went into the new portal and some of the reasons behind the decisions to change things.
SEO - Search Engine Optimization
Domain switch
Switching from an old domain to a new one was maybe one of the tougher decisions to make. The old one had domain age and history while the new one in the eyes of many would be considered an exact match domain (EMD). When it comes to domains, it is probably better to try to focus more on branding. At this point when looking at a lot of top casino portals, many of them do have their keywords in the domain but they also have a focus as well. A few examples would be askgamblers.com, casino-lemonade.com or casinoanswers.com. The domains almost tell you what that site is about where a domain like grem.net doesn't tell you anything at all. So there is an element of conversion that can be in the domain, if you were looking for information about an online casino, would you trust and click on grem.net over those 3 domains? Probably not if you had a choice. Those 3 domains you can probably identify the Unique Selling Point (USP) faster than grem.net as well. So I'm not saying chase after exact match domains especially ones that look tacky like keywords1-keywords2-keywords3.net but try to find some middle ground. Building a brand and identity can take many years. A casino portal will probably never become a household name so make it easier for new visitors to understand you faster whether they stumble upon your site or find your in a search engine.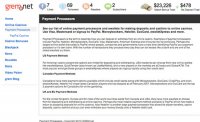 Content
The new design of the site encouraged more content on the pages where if there was less content, the site looked less appealing. So an example are the casino reviews, rather than leaving it open to just blocks of paragraphs without titles of those paragraphs, the content now has dedicated sections. So anytime a casino review is being produced, it makes it difficult to have a review that is too thin on content where the previous site it was full of thing content. Since the new USP of the site was to focus on casino bonuses, this is another aspect of content where more bonuses create more content throughout the site. The bonuses themselves act as more dynamic content that can keep the review pages, homepage and bonuses pages more fresh. So if fresh content is important, then the backend and design encourage all pages to be constantly updated.
Rich Snippets
Some rich snippets were previously integrated into the site but on a minor level. What has changed are google+ authors for the articles which I do some writing, 5 star rating for the casinos and video rich snippets which are currently in production.
Design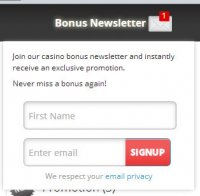 The design was the main focus behind the changes of the site and that starts with the USP and builds out from there. As much as USP is important, so is conversion and it helps to have previous analytics data to know what the users were doing, or rather not doing. For a site that has more information and more directions to offer players, a good navigation is important so in comes User Interface / User Experience design (UI/UX). The important pages of the site are the homepage, casino review page, blog posts and bonus listings. Probably the toughest part of the design work I did was trying to make the site feature rich, provide a good value but not having too many features to the point where things get cluttered. Since the site is about casino bonuses, this is what users might expect to find when they are on the site so this is what they can find no matter what page they are in.
Responsive Design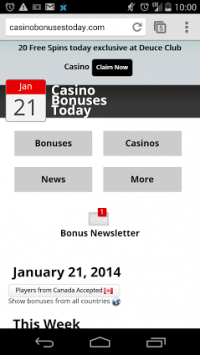 Mobile traffic is probably more important for a sportsbetting portal than a casino portal but none the less, it is still traffic and you want to make sure you are converting it. The old site wasn't formatted for mobile phones at all. In the last 3 months of the site the traffic was 9% mobile with a bounce rate of 72.5% and average time on site at 1:10 which is fairly short and half of the time users spend on the desktop version. Also 1.7 pages per visit. The new site has at the moment the same % of traffic, a lower bounce rate of 58%, time on site a little bit higher at 1:22 and 2.29 pages per visit. The new design is responsive so at least mobile users have an easier time viewing, reading the content and navigating to other pages. There is still more work to do in terms of targeting mobile phone users over tablets/iPads but at least having the site as responsive is the first step towards converting the traffic.
Social Media
Some elements of social media are incorporated into the site but more still has to be done to make it easier for users to share more pages. Also the plan for social media is to use it as a means to acquire followers as most social media sites can act like feeds which followers get either through email or for example on their wall on Facebook. All of these social media networks can rank within Google's search engine and these sites are also search engines themselves. The relevant ones the site is focusing on is Facebook, Google+, Twitter, YouTube and Pinterest. Getting emails are probably the best but are still not the safest means of getting followers as emails can end up in spam filters. When you add this all up, social media should be a good source of new traffic and return visitors. On the old site for a 3 month period social media represented 1% of the traffic and 16.5% of traffic was from referrals where the new site has 6% social media traffic and 16% referral traffic. This is all on top of barely making an effort on social media for the new site with many campaigns still to come especially for Pinterest and YouTube.
Authorship
The days of anonymous content I think are fading very fast. Google is obviously pushing their social network very hard and many webmasters are taking advantage of it but today it is becoming too difficult to have anonymous content and authors. Now some webmasters are creating either fake Google+ profiles or making them somewhat anonymous by using alias, cartoon pics or even stolen pics. If you don't want to be your own author on the site then you should consider someone that doesn't mind being a public author. There are many major casino portals still not doing this and there is probably going to be a major shift soon so if you want to stand out from your competition, use Google+ the way Google wants you to and you will probably get rewarded in the process.
CRO - Conversion Rate Optimization
Definitely the core reason behind any redesign should be conversion and this was the case in the redesign. Looking at about 18 months worth of data was enough to signal a change. [caption id="attachment_5409" align="aligncenter" width="592"]

Before: grem.net analytics[/caption] Bounce Rate: 69% Average Visit Duration: 1:36 Pages per Visit: 1.87 [caption id="attachment_5410" align="aligncenter" width="584"]

After: CasinoBonusesToday.com analytics data[/caption] How does this compare with some longer established and properly created casino portals? If you have networked with other affiliates they might be willing to share basic data with you but in general the better sites tend to have bounce rates under 60% and can be much lower, average visit greater than 3 minutes and over 3 pages per visit. So how can this be achieved exactly? Well the answer is somewhat simple and straight forward. It starts first with design and it is followed by good content and lots of content to navigate to. If you have less content then your users run out of reasons to stay on the site or to go to more pages.
Follow Me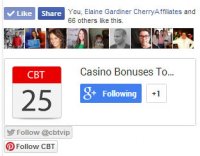 Collecting followers of any form is very important for any site these days and this is one of the core focuses in the design to make it important, always visible but also not so dominating that it distracts the user from why or how they got to that page on your site. In this case this is done from the bonus newsletter form and on the homepage there are social media widgets to collect followers. Where many webmasters make the mistake with social media is they put their social buttons on the site and those buttons link back to Facebook or Twitter or whatever the account is. I've read some authors that say this is better than follow buttons but I personally disagree. If you have a user on the site and they are a Facebook user as well, they are probably already signed into Facebook so if they have a choice of a Facebook icon which they might know will take them to your Facebook page or a like button which one would they click on and what would happen? If they want to like you then the like button is the easiest way to get that like and they are still on your website. If the user clicks on the Facebook page and goes to your fan page, they might forget about your site and do other Facebook activities like chat with friends or play other ridiculous games like Candy Crush or Farmville.
Geo Targeting
The old site didn't have geo targeting but this is too important to ignore these days. If you are a Wordpress user there is a geo targeting plugin which you can get at epikmedia.com (user code gaffg for $10 off) so for all you wordpress users you should have some plugin to make sure you are sending the right pages, offes, links to match it up with the country of your users. So here we obviously match up casinos with users to let them know if that casino is accepted for players of their country and location.
Unique Selling Point (USP)
Does the site have any value to users, is this the type of site they would consider liking on social media, bookmarking to come back to it, sharing it with their friends or even emailing it because of the value it provides? A redesign is one thing but having a good solid USP was very important both in terms of a domain name, logo and the message it sends when users get to the page. People should know what they are getting into when they find your site and the old site did a poor job of relaying that message as a casino guide. The new site is fairly clear to what it is about when users visit the homepage or any page. As the site grows, provides more value and gets more traffic, this is where it can shine in terms of getting more users following the site, people linking back naturally and getting social media shares or even email shares. When your site provides a good value you will share people sharing your site in many ways. When you start to add this up, this is one way of becoming less dependant on Google's search traffic but of course in being this good, this is one way of generating natural links and demonstrating to Google you are a legitimate site with value and deserves a high ranking.
Related Articles
Webmaster & Affiliate Guides 5 Minute SEO Conversion Rate Optimization Factors that Influence SEO 2013 Need further help? John Wright is an SEO & conversion consultant at Horseshoe Agency and also does affiliate coaching here at Gaffg.