Referback Interview with Andrew Stone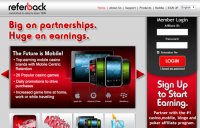 Recently Andrew Stone from Referback was selected by the
Gaffg Trusted Affiliates
to win one of the Trusted Affiliate Manager  for the
Gaffg Awards 2013
. Read our interview with him about his accomplishments along with more about Referback.
1. How did you get involved in the online gaming industry and what do you enjoy the most about it?
It was really a coincidence. Customer service has always been a passion of mine, and in early 2005 I came across an advertisement for a customer service representative in online gaming. Although I knew nothing about online gaming at the time, it sounded like an exotic, fascinating industry, so I applied for the job. The next 7 years were spent in the retention space, mostly providing hosting to VIP players and marketing. In 2012, I moved over into the acquisition space to Referback.. The online gaming industry is exciting, challenging and filled with people who make each day different and fulfilling. There is definitely no looking back – online gaming has become my career.
2. You have won the Trusted Affiliate Manager Award from Gaffg 2013 and are only 1 of 5 to win. What does this reward mean to you?
Gaffg is definitely one of the leading affiliate portals, so this award certainly means a lot. It's fantastic to be recognized by my peers and affiliates alike. To me this award is also a reflection on the whole Referback team though – each of us work closely together sharing our different expertise to produce the best possible results for our affiliates.
3. Referback has previously won the Trusted Affiliate Program award in 2012 and this year also won the 2014 iGB Awards for Best Casino Affiliate Program, surely that is a sign that the affiliate program is doing something right.
Referback is a combination of a great team, getting the basics right, leading innovation, providing great support, offering our own custom software, providing top-class collateral, and of course paying out of super commissions! This amongst much more. It may seem like I'm promoting Referback too much when I say all these things, but they really are all true. Affiliates are always welcome to visit our offices if they are in Cape Town, you'll be surprised at how many people are involved in making our program a success. From the account managers to our development team, graphic designers, copywriters, translators, and of course the retention teams looking after your players, it's a huge but well-oiled machine making sure that each player you send is given the best experience possible. This is not only when they sign up, but as importantly as they continue to play over the months and years.
4. There have been quite a few programs that have been around for over 10 years and some of them seem to be running on autopilot with the mindset that their experience alone is why affiliates should join or keep working with them. Since Referback has been online since 1999, what do you feel Referback is doing differently to stay relevant in the online casino business and to keep affiliates happy at your program?
There's never a moment when we sit back and relax. The online gaming landscape is constantly changing, and you can't be ahead of the pack unless you plan, adapt and implement new ideas. Building relationships with our affiliates is one part of keeping affiliates happy, but at the same time, relationships mean nothing without generating revenue. At the end of the day, this is a business and affiliates need to be with programs with which they earn top commission for their hard work and investments.
5. Referback is clearly all over mobile offering mobile casino games for their players. How important is this part of Referback's business?
The biggest buzz word in the industry right now is mobile – this is our primary focus in all that we do when looking at the player experience. All our casino brands are available on mobile, and each month new games and functionalities are added on mobile. With over 50% of players playing on mobile already for some regions, the importance of mobile cannot be understated. We've even created a mobile app for our affiliates – the first casino affiliate program do so! With this app affiliates can keep in touch at any time with their reports, including traffic reports and commission reports.
6. What advice do you have for new affiliates getting started in online gambling?
New affiliates need to know from the beginning that is not about making a quick buck, it takes time, patience and perseverance to get to the point where you are earning serious money. Most importantly, you need to continuously learn and stay in touch with the latest developments in this industry. It helps tremendously to have somebody knowledgeable to guide you through the initial stages. This may be somebody you know personally, your account manager at the affiliate program you have chosen, or somebody who can offer professional guidance, which is truly the best option. Gaffg.com for example offers one-on-one coaching, which I highly recommend new affiliates take advantage of. Starting off in the right direction will greatly improve your chances of succeeding in the long-run.
7. For those existing casino affiliates that haven't integrated the mobile aspect into their website, what advice do you have to help webmasters get more traffic and conversions from their mobile traffic?
Ultimately, each affiliate is going to have to make their site fluid for mobile. Not doing so will not only result in a loss of earnings in the future, it is resulting in a loss right now. We have created mobile templates which affiliates can use to capitalise on their mobile traffic. Basically it consists of device detection and redirect code, and then a ready-made template which renders a great mobile experience. When the code detects that the visitor is on a mobile device, it will redirect them to the mobile version. While our brands are naturally included in the template, affiliates can customize it with their own branding and content.
8. For those affiliates that have been truly living under a rock and don't know Referback yet, why should they join?
Referback
is one of the first, if not the first online
casino affiliate program
founded in 1999. Many of our active affiliates have been with us for over 10 years, and as importantly, many of our players have been with us for over 10 years too! New affiliates are offered 40% revenue share in the first 2 months, and 60% revenue share in the 3rd month. Additionally, there is no brand bundling and no negative carryover when calculating commission. If you're looking for a program which offers industry leading retention and conversion, then you need to look no further. Our brands, including JackpotCity, Gaming Club, Lucky Nugget, River Belle and Casino Epoca are some of the leading online casino brands in the world. All are brands are powered by the world-famous gaming software provider Microgaming. Both our casino software and our retention teams support players in their native languages, VIPs have dedicated VIP hosts, and there's tons of promotions to keep players coming back. There's also promotions for our affiliates! Upon signing up, you'll be assigned to a dedicated affiliate manager. We look forward to welcoming you!