Social Gambling Conference interview with Shona ODonnell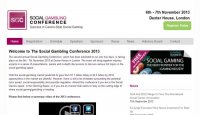 1. What is the Social Gambling Conference
The Social Gambling Conference is taking place on the 6th &7th November at Dexter House in London. We launched the event last year and it was the first event to look specifically at gambling style social games which was and continues to be an exciting area with online gambling and social games.
http://www.socialgamblingconference.com/
2. Why was it created?
When we launched last year there were events on iGaming and events on Social Gaming but nothing looking specifically at the convergence of both. We wanted to provide a niche event that delivered on Social Gambling style games, we knew that our delegates didn't want to talk about non gambling style social games. There are a plethora of events and we wanted something that gave a real return on time investment to those attending. Last year was a phenomenal success, we had Noel Hayden speak which was just incredible. Noel never speaks at events so that created a huge buzz, I mean he's like a Social gaming rock star. So after the success of last year we have increased this year's event to two days as we found it hard to fit everything into a single day, it's also makes it easier if you are coming from North America or Asia.
3. The conference is sandwiched between BAC and LAC, what can delegates expect to be different about this conference from the others aside from the obvious that it is about social gambling
This is a real niche event, so it's really designed for people that want to understand Social gaming and how to make it work for their business. Unlike BAC or LAC this is more of a BIB event, that's not to say we don't get affiliates attending, but in much smaller numbers. The real reason to attend this event is the content and the speaker delivering it. There are still lots of networking opportunities over the two days but the exhibition plays a smaller role that at BAC.
4. Do you think social gambling will be as important to the gaming industry as mobile is?
Yes, I do. At the moment there are still lots of debate about conversion, moving play from fun to real money. Maryland Live is great example of using the Social Gaming model to bring real money players through the doors for land based casinos, and they have found that these players visit more often, stay longer and have a higher value. Longer term I think we'll see social gaming being used as a retention tool, but I'm excited to see what happens once we see more data on it being used for acquisition particularly in markets where real money gaming is available. It will be really interesting to hear from Justin Bellinger and see what his research has shown.
5. Do you think social gambling could help online gambling become even more mainstream than it is right now?
Social gaming is massively popular and we have seen lots of gambling style games within the space. I think that online gambling is already mainstream in most markets but social has the potential to open it up to new players that are already spending money to win points and kudos but without the opportunity to win real money back.
6. Say anything you want that you haven't said about the Social Gambling Conference 2013 and why people should consider adding this to their events calendar.
The iGaming Business Social Gambling Conference was the first in this space and is supported by our strong editorial team and last year was one of the most exciting events in the industry, from the visionary Noel Hayden's presentation to one of the most passionate debates ever seen at a conference between Jez San and Andrew Hughes on social gaming regulation. This year we already have a great line up of speakers including; Andy Rodgers of Enteraction, Andrew Paradise of SKILLZ.com, Raf Keustermans of Plumbee, Simon Collins of New Game Capital, Chris Griffin of Betable, and many more that you can see on the website. Our feedback from last year's delegates was really positive and we are working hard to build on this success. For anyone interested in, working in or looking to invest in this space they really can't afford to miss out the Social Gambling Conference from their calendar.
http://www.socialgamblingconference.com/