Soft2Bet launches new operator brand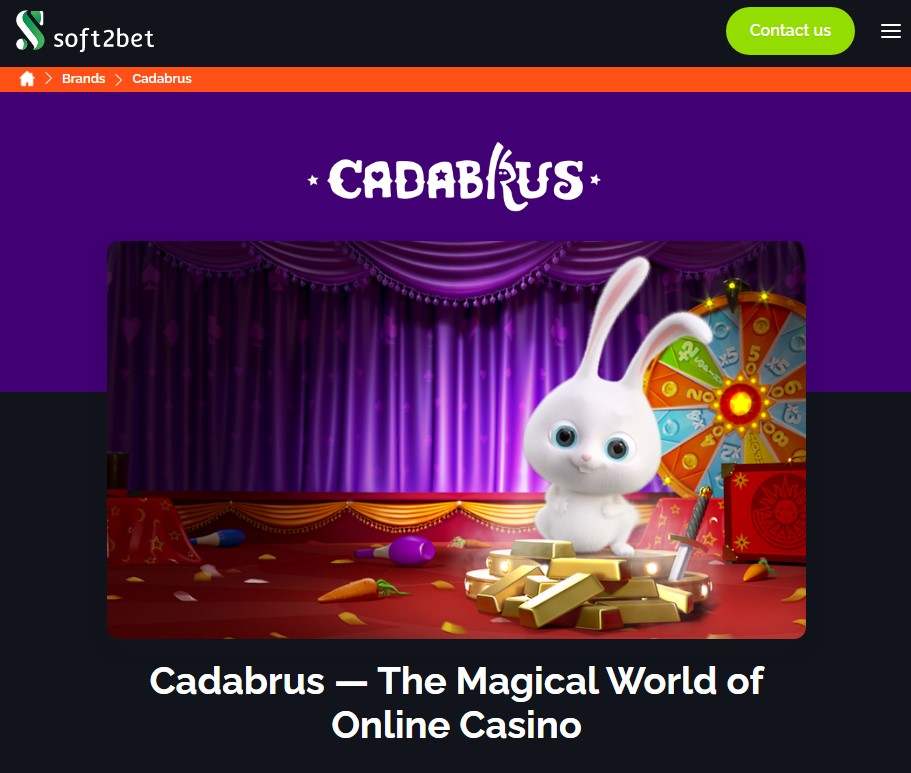 Platform provider Soft2Bet has launched, Cadabrus, a new MGA-licensed operator brand.Cadabrus is the latest addition to Soft2Bet's portfolio of more than 20 operator brands.
The company's SGA, MGA and Curaçao licenses allow partners and players across the globe to benefit from its premium quality offering, with further certification from within the EU set to follow in the near future.
Soft2Bet's CEO, Boris Chaikin, commented: "Players in the mood to be entertained should sit back and enjoy the show we've put on with the spellbinding new casino, Cadabrus.
"With world-class gamification features, an immersive theme and a diverse plethora of engaging games to match, it's a brand that continues our track record of producing products that stand out from the crowd."
In the Soft2Bet website, they claim the following: "When it comes to playing games of chance, at Cadabrus, you will be able to pick applications from the never-ending list of top titles produced by the most notable and reliable iGaming studios in the world. These include fantastic slot machines, incredible live casino solutions, card games, roulettes, etc."
Soft2Bet has indeed taken the iGaming industry by storm, establishing itself as a trusted business partner and gaining worldwide popularity among players thanks to its astonishing brands.
Soft2Bet, which recently hired a new CFO, is a casino and sportsbook operator with headquarters in Nicosia, Cyprus. The company has been in business since 2012, providing their customers with exciting casino content, affiliate and marketing services. The operator produces top-notch content and implements innovative design and sound elements. It currently has 17 brands in its portfolio, with Nomini and Rabone being the most popular ones.
Innovating is a priority for Soft2Bet
Since the moment it was created and started developing and launching gambling platforms, Soft2Bet has let everyone know that it is a dedication company looking for success in all ways.
Innovating through new themes, ideas and features has been one of the main reasons why Soft2Bet has been considered a top-notch betting provider that must be praised at all times. Cadabrus is yet another example of the amazing creative team behind the designs and ideas taken on by Soft2Bet every single day.
The platform offers a delightful theme based on magic and fortune that will make the players feel engaged with the site in a short period of time.
Over 20 sites full of interesting offers
Cadabrus has joined the long and compelling list of betting platforms that are operated by Soft2Bet. Despite the large number of sites that the company operates, Soft2Bet has managed to find the way to innovate and create new offers and features that attract new players on a regular basis.
As a player, the betting options, offers and features available on the sites operated by Soft2Bet are simply mind-blowing.
There are too many of them to choose from. Each one of them better than the previous one to make you feel entertained at any moment of the day.
In addition to that, Soft2Bet has gotten licenses from 3 of the most reputable gambling authorities in the world, turning all of its betting sites into completely reliable platforms that offer safety, fun and lots of earning possibilities.
The vision on Cadabrus
Cadabrus is set to keep on making Soft2Bet grow as a company dedicated to the iGaming industry. After the announcement of the launch of the betting platform, many players and members of the iGaming community expressed their excitement, knowing that the brand is going to be a total success from the get-go.
In the meantime, Cadabrus will be focusing its efforts on Europe. The continent contains the countries where the largest number of active players exists at the moment, turning into the best market to work on when it comes to launching a brand-new gambling site.
Soft2Bet on the lookout to enter new jurisdictions
The European continent is more than lucrative enough to make any gambling brand a complete success in a short period of time.
European nations like Germany and United Kingdom are the homes of more than 500,000 active players on the iGaming industry per day.
Nonetheless, Soft2Bet wants to expand its market and enter new spaces and jurisdictions were not many other gambling companies have been welcomed with open arms.
Soft2Bet is expecting to invest a great sum of money to land enough deals that will give it the chance to be part of new continents and countries.
Big nations such as Brazil and Nigeria are top targets for the gambling provider, since both of these countries count with stable economies and a decent number of active players per day. Both of these jurisdictions represent the beginning of the great expansion that Soft2Bet has been working on for a few years now.