StatsRemote Review - Stats Tracking for Affiliates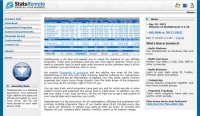 Editor's note Jan 16, 2022. StatsRemote shut down in 2017. If you were a fan of StatsRemote stats tracking tool then you'll love StatsDrone.com. Try it for a 30 day free trial.
StatsRemote is a program designed specifically for webmasters to track all of their affiliates accounts into one place.
If you are a webmaster especially in online gambling, you'll want to have a program like Stats Remote. This program will save you a lot of time from having to login to all your affiliate accounts to check stats.
StatsRemote supports thousands of affiliate programs and covers almost every type of affiliate account you could possibly need to track.
Some of the types of programs include online gambling, adult programs & networks, billing services for affiliates and merchants, advertising networks and general affiliate programs.
The general affiliate programs include Google AdSense, Amazon, Commission Junction, Affilinet, Sedo, Trade Doubler and buy.at.
The advertising programs and networks include Google AdWords, Yahoo! Search Marketing, Microsoft adCenter and Shareasale.
All types of gambling affiliate programs are available:
Casino affiliate programs:
Poker affiliate programs:
Bingo affiliate programs:
Sportsbetting affiliate programs:
Lottery affiliate programs:
Forex and binary options: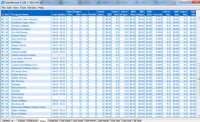 StatsRemote costs $29.99 per month which is well worth the money but if you are a new affiliate and working on a budget, Castle Affiliates is running their StatsRemote promotion where if you promote their Castle Casino on your affiliate homepage, they'll cover the costs for you.
This program is a must have for any affiliate, it is extremely important to know if your trackers are working or to see which programs make you more money and have a better conversion rate.
If you are looking for a casino affiliate program to promote try Castle Affiliates.

A great tool that makes everything easier
StatsRemote seems to be here to stay for a long period of time. This amazing affiliate tool makes tracking easy and comfortable for every webmaster that wishes to have access to an organized and complete set of stats in real time on a regular basis.
Keeping track of everything that your referrals are doing is key for all the affiliates, since they are able to check how much they are investing and calculate how much money they could be earning every month.
Sadly, the tracking systems used by many affiliate programs nowadays do not offer the best features, so a lot of webmasters are unable to follow the tracks of their performance and their referrals with ease.
Thankfully, StatsRemote was developed and is making a lot of webmasters. Through this tool, tracking is set to evolve and provide a great assistance for anyone that dedicates its efforts to digital marketing.
StatsRemote is not limited
One of the main traits about StatsRemote is the fact that it is not limited to a specific type of affiliate program or webmaster. The tool is open and available for anyone that needs it and is willing to pay its monthly fee.
You do not have to worry about the type of brands that you promote or the affiliate program that you are part of. StatsRemote can give you a hand when it comes to tracking your referrals' activities and your own performance.
All you have to do is go to the StatsRemote website and acquire the tool. Once acquired, StatsRemote will be available to you and all the tracking will be taken care of without any setbacks. At the moment, StatsRemote made partnered up with a wide range of affiliate programs that operate all over the world.
But, the tool still needs to become more popular, since they are plenty of affiliate platforms that do not count with it just yet. Nonetheless, you may acquire the tool individually by paying its monthly fee on your own. Therefore, a deal between StatsRemote and your affiliate program is not necessary at all.
The future for StatsRemote
Given the immediate success that StatsRemote has had since the moment it was launched, the affiliate tool is set to become a total success in a short period of time.
With amazing tracking features and alternatives, StatsRemote surely has all the traits to turn into a top-notch affiliate tool that all the affiliate programs and webmasters would love to have access to at all times.
As of this moment, StatsRemote has made a good number of deals with affiliate programs that operate across the whole globe. The number seems to grow every day, and the tool might be reaching all the corners of the planet in the near future.
Overall, StatsRemote is a great invention that is set to make digital marketing more dynamic and efficient in all aspects. It is a tool that the industry needed desperately.
Thanks to StatsRemote, affiliate programs will be able to improve their performance and offer better results to the brands that they sponsor.