The future of forum software is here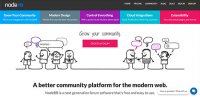 We interview Julian Lam from NodeBB about their forum software which is open source or available through their hosting plans. If you are looking to create a forum or upgrade your existing one, then new forum softwares like NodeBB should definitely be considered especially as an alternative to older forums like vBulletin, SimpleMachines, Vanilla Forums, Xenforo and more. In Twitter like fashion of 140 characters or less, what is NodeBB? NodeBB: Community forums for the modern web. Fast, real-time updates, mobile-ready, highly extensible (read: plugins!), easy to theme. For webmasters that have forum communities that are using the older databases, languages and softwares, what should they know about the new databases, languages and software that are available today? More importantly why should they consider the new stuff? Forums themselves have been around in one incarnation or another, and part of that ubiquity comes from how natural it is to go online and semi-anonymously leave a message for someone else. However, web design/development trends have progressed beyond simple static web pages best viewed on desktops, and existing forum offerings have not kept up. For example, one analytics company recorded an almost 400% increase in smartphone usage in the past several years, with over half of all digital media consumers accessing content via their mobile devices. Simply put, we could not have predicted the impact smartphones would have on the web, and NodeBB caters to all devices, large or small. Can you give us an overview of the tools and features available on NodeBB? NodeBB comes bundled out-of-the-box with all of the standard features expected of a full-fledged forum software: Categories/subcategories, user profiles, user groups, guest posting, moderation tools, flagging, thread states (lock/sticky), post and topic searching, email integration, and IM/Chat. In addition, we also bundle real-time updates (new posts/topics, chat messages), the ability to see "who's browsing this topic", recent/popular/unread topics, tags, post sorting, social sharing, notification system, inbound email support/reply-by-email, mobile responsiveness, favourites, bookmarks, spam control, and reputation/karma.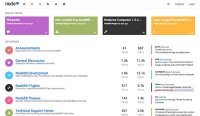 The real power comes from plugins, which extend NodeBB, allowing it to support features like: Rich media embedding (Youtube/Vimeo), advertising integration (Google AdSense, DoubleClick, etc), third-party single-sign-on, emoji, mobile phone notifications, sound packs, CDN support, rich-text formatting/colours, static pages, galleries, and much much more. How long do you think it will take for forum communities that use older forum software with the php/mysql combo to switch over to the newer technologies such as MongoDB, Redis and Node.js? Do you think it will take 2 years before more than half of the forums people use will be on the newer technologies and have the cleaner look and features like NodeBB?

Adoption of new technology will always be a work-in-progress. There's a significant amount of inertia that must be overcome in order for a community to switch softwares. Not only does the administrator need to be convinced, in many cases, the community members themselves may feel threatened by a transition and be opposed to change. The fact that we do regularly see forum switchovers does tell us that administrators are anxious to move to a newer technology, and we want to be there to make that happen. Clearly the biggest problem and risk any existing forum owner has is attempting to switch softwares, languages and databases especially with an established community that has been growing for say 10 years. You will probably have a biased opinion but compare the risk versus rewards of upgrading a forum with experiencing problems and downtime. The biggest rewards come from transitioning to a forum software that is well-supported, with a vibrant plugin community. With other rewards such as mobile compatibility and improved spam mitigation, not only are you giving your community a faster, newer platform, but you're also decreasing the amount of administrative overhead required to maintain your community. In some cases, administrators have taken to using paid third-party services to provide mobile-friendly functionality to their users. With mobile compatibility being a primary consideration for NodeBB, cost reductions are also part of the equation. For any webmaster that is considering starting a new forum / community, why should they give consideration for NodeBB when there are so many existing established softwares with years of development and are established? NodeBB's focus on mobile responsive design and social media integration align more closely with how users tend to interact with the modern web. As an increasing number of users begin to browse forums with mobile devices, serving a site that is not mobile-optimised will almost certainly decrease engagement. For forums relying on their community both for advertising revenue or for support, this could negatively affect the bottom line. Many webmasters usually mess up their SEO in the configuration of their forums either by having duplicate content, cluttered code and other technical SEO errors, how does NodeBB address these issues? We realised very early on in developing NodeBB was that it's not the meta tags and microdata that determine how well your site ranks, it's the user generated and unique content​that your community users provide. Additional metadata allows search engines to index your content and discover this new content, and so out of the box, NodeBB is set up to provide embedded microdata, human-readable URLs, and semantic HTML to optimise this process. NodeBB is ready to use for either MongoDB or Redis. In which cases would you recommend one over the other for webmasters to consider for their database design and setup?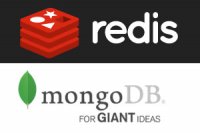 We support both databases out-of-the-box, although we've seen interest in MongoDB spiking because Redis currently has an upper limit for its stored data (by default, persistence is disabled if your stored data is greater than half of the total system memory). However, Redis is undoubtedly quicker and scales much better at higher loads. However, even when configured to use MongoDB, a provided Redis configuration/installation can be used for storing the transient and highly volatile data that MongoDB is less adept at handling. Best of both worlds. NodeBB can be downloaded and installed direct, am I reading it correctly this is free? NodeBB is free for all use cases, although the code is licensed under GPLv3, so the source code must be provided if you are re-distributing (and/or reselling) NodeBB. If you wish to host NodeBB yourself, please consider the following: ● The code and instructions can be found here at our project repository ● Full instructions can be found in our Documentation Portal ● We recommend DigitalOcean to host your NodeBB, you'll get a month free just by registering with this link. ● You can also try applying the 10TOSHIP coupon to get another two months free. ● If you have further questions, please feel free to visit our community support forum There is a hosted solution offered by NodeBB. How fast is this, where are the servers located and what are the advantages of using the hosted solution? We offer paid hosting of NodeBB, which is ideal if you wish to have a third-party handle all technical aspects of forum maintenance. We also offer one-time installations for a small fee. Our servers are located in New York, although we can manually provision instances in all of the other regions our hosting provider supports: ● San Francisco (west coast customers) ● London, Amsterdam, Frankfurt (European customers) ● Singapore (China, south Asia, etc) ● Toronto In addition to the hosting, we also provide support ticket access, and automatic deployment of security updates when necessary. Our hosting service allows you to focus on what you do best, while leaving maintenance of the community hosting aspect to our dedicated team. What are some the planned improvements and features that will be added to the software or is this top secret info? NodeBB is considered feature complete, and is ready to deploy to production. We continually accept user feedback and use it as a way to guide the direction of our programming efforts. For example, in addition to bug reports, we receive many requests for additional functionality, typically achieved through third-party plugins. In some cases, high demand for a feature may push us to include it in the core code itself, or to be served to end-users via a bundled plugin. At this time, we're looking to make improvements to our bundled moderation and user administration tools. There is also some outside interest in better eCommerce/paid subscription plugins, so keep your eyes peeled! Read more about our plugin philosophy here What can webmasters expect in using NodeBB and why should they test it or consider it as the software for their communities? NodeBB is fresh and exciting, both from a technical aspect, and from an end-user point-of-view. We took the already solid bulletin board concept, and delivered a user-friendly, frictionless interface that is designed to keep you updated, to empower you with superb browsing and editing tools, and most importantly, to stay out of your way when not needed. Give us a try today! Mention this article when you contact us, and receive 1 month free on our Hamlet plan.

Visit NodeBB.org