As of December 1st, 2014, the United Kingdom will enforce and collect gambling taxes of all companies including those that are based offshore.
The UK government has announced that it is targeting online gambling companies that avoid paying UK taxes by basing themselves offshore. Previously gaming companies would take UK customers but would be based elsewhere. The few major online gaming jurisdicdtions are Gibraltar and Malta.  Companies can be based and licensed in the UK but the licensing and taxes are higher however this gives the companies full access to advertising and marketing in the United Kingdom. Examples including gaming companies paying for shirt sponsorship of English Premier League teams.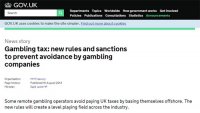 At the moment only UK approved gaming companies could advertise throughout the United Kingdom. This allowed for newspaper and TV adverts while offshore gaming companies are not allowed to advertise.
The biggest loser out of this transaction could be Gibraltar which is now in a struggle with the government of Spain.  The Spanish government has stated it wanted to force Gibraltar gaming companies to have their gaming servers located in Spain, which would force them to endure taxes there.
The collection of taxes will make it tougher for offshore gaming companies to give out larger player bonuses and for affiliates, this could also result in less income to go around.
The way the UK government is handling the situation is probably going to be an appealing method for other countries as well that don't pay any taxes at all. Takes a country like Canada for example, there are provincial gaming licenses available in Ontario, Quebec and British Columbia but there is nothing to stop the likes of companies like 888 and Full Tilt Poker from advertising on TV. This means more gambling income is being collected from Canadians and leaves the country. It will only be a matter of time before Canadian law changes to force offshore gaming companies to pay local taxes. Everyone in the online gaming industry should be prepared for this to become a reality as the industry still continues to grow.
Governments will want to collect their share of gaming income and it will be easier for them to block non complaint offshore companies.