Website Security: KickstartMonday

Welcome to the 4th edition of our Gaffg KickstartMonday series where where we help to start your week off on the right foot. You can find all of our
KickstartMonday
series here. In this edition of #KickstartMonday we focus on
website security
as the past week many affiliates have experienced website hacks and even worse, affiliate accounts logged in and payment methods changed!
Compromised affiliate accounts
are not fun so check your payment methods in your affiliate accounts to make sure nothing has been changed.
Website Security
You may have noticed some unusual results in the SERPs lately with pages that were ranking for various competitive gambling keywords with some spammy looking results. What was happening recently was that many websites were simply hacked with injected content and affiliate links in their site. All signs seem to point back to one main site which is
verifiedcasinos.com
. Either way you'll want to stay on top of security and it will probably only become more important as time goes on. If you want to read more about some of the details you can read a very long
thread here
. Later we will add a guide on securing your websites.
Guarding your affiliate accounts
If that wasn't enough, you always need to protect your affiliate accounts. This isn't the first time this has happened but the bigger your website is, the more money it probably earns and the more of a target you will be to hackers or anyone wanting to compromise your account. What they can do is login and
change your payment methods
and sometimes even change your email. Thankfully some affiliate programs already have procedures in place to verify changes in payment details and to notify you by email when these changes are made. You can read more about
some events here
of a recent compromised account. All we can say at this point is to keep on top of the programs where you know you have commissions due. It doesn't hurt to every once in a while
check your account settings for your payment method to see it is correct
, up to date and more importantly, not changed to someone in Vietnam.
Summit of iGaming Malta
It took a while but there is now a
conference in Malta
which we all know is the online gambling capital of the world. It is conveniently after the Barcelona Affiliate Conference. If you want to read up on why you should go check out our interview which has some useful information about the event.
Affiliates go free
!

SIGMA is held in Malta on Oct 31st to Nov 1st, 2014
/blog/summit-of-igaming-malta-2014-preview/
Short News Weekly Summary
Our 
Gaffg short news
 section gives a snapshot of bits of news that might matter to you covering a range of categories from player promotions, affiliate promotions, SEO, conversion and other marketing news and online gambling industry news. Here is a summary of the past week of short news:
VIP Affs: New Affiliate Program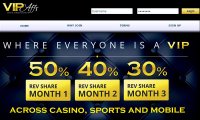 VIP Affs
, the
new gambling affiliate program
for VIP Stakes features an online sportsbook and online casino. The sites are in English, Swedish, Norwegian and Russian and licensed in Curacao.
Commission Rate
: 50% for the first month!
Affiliate Payment Methods
: Neteller, Skrill, bank wire transfer
Target Markets & languages
: English, Swedish, Norwegian, Russian
License
: Curacao
Program Features
: Casino, live dealer casino, sportsbook
Prime Partners: Featured Affiliate Program
Prime Partners
 features a few online casinos and scratch card sites with Mega Casino and Prime Casino as their flagship brands.
Commission Rate
: 25% to 50% Revenue Share
Affiliate Payment Methods
: Bank wire transfer, Neteller, PayPal, Payoneer
Target Markets & Languages
: Nearly 20 supported languages
License
: Malta
Program Features
: Mega Casino, Prime Casino, Prime Slots, Prime Scratchcards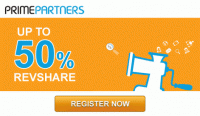 1.fm Adore Jazz: I'm Listening to
Some music I like to listen to while I work and share. From TuneIn Radio -
http://tunein.com/radio/1FM---Adore-Jazz-s74986/
Pumpkin Spice muffins at Tim Horton's: This week's LOLorWTF
Welcome to our LOLorWTF segment. You can follow 
#LOLorWTF
 on Twitter if you are bored and just want to find more of these. This week is all about Tim Horton's newest muffin just in time for the fall season: The Pumpkin Spice Muffin! Tim Horton's is a coffee and donut shop in Canada with over 4000 locations. This fall stuff your face into their latest creation: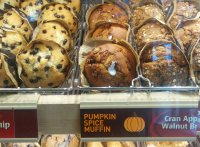 Is it me or am I looking at a de-flowered muffin (Not de-floured, you need flour to make muffins)? For those of you outside of Canada wanting to stuff your face with one of these 'hot' items you'll just have to make it yourself. Want the recipe? It's easy!
Make a pumpkin muffin
Impregnate the muffin
Enjoy!
Share or Comment Now!
Join the discussion below and give us your thoughts on this article, if you want to
read more KickstartMonday articles then click here
. If you think someone else would like to read this article then like or share it. If you have ideas you want to share for future articles just 
contact us
 and it would be greatly appreciated. In the meantime may our
KickStartMonday
help get your week started on the right foot. Have a productive week!