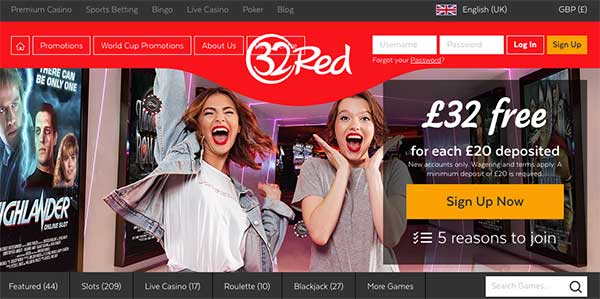 32Red have been slapped with a £2 million fine for reportedly failing to protect a vulnerable customer and carry out the required checks.
The charges come after the Gambling Commission did an investigation and found that the customer who deposited £758 000 last year was not subjected to the required checks.
They stated that there were "at least 22 incidents which indicated the customer was a problem gambler - but instead of checking if they needed help, 32Red gave them free bonuses
Executive director of the Gambling Commission, Richard Watson said: "Instead of checking on the welfare of a customer displaying problem gambling behaviour, 32Red encouraged the customer to gamble more - this is the exact opposite of what they are supposed to be doing.
"Operators must take action when they spot signs of problem gambling and should be carefully reviewing all the customers they are having a high level of contact with.
"Protecting consumers from gambling-related harm is a priority for us and where we see operators failing in their responsibility to keep their customers safe we will take tough action."
32 Red are not the only betting group to incur a massive fine during recent times.
In February, betting group William Hill were slapped with a £6.2 million fine for failing to protect their customers.
The Gambling Commission also found that they had not been making efforts into preventing problem gambling and in doing so, also went against anti-money laundering regulations.
This was the second-highest penalty inflicted by the gambling commission, second to the £7.8 million that they fined 888 last year for failing to make an effort to protect customers who were vulnerable.
The commission found that due to the failure of senior management of 888 as well as William Hill Online operations, 10 customers were able to deposit money which have been linked to crimes.