32Red have been slapped with a £2 million fine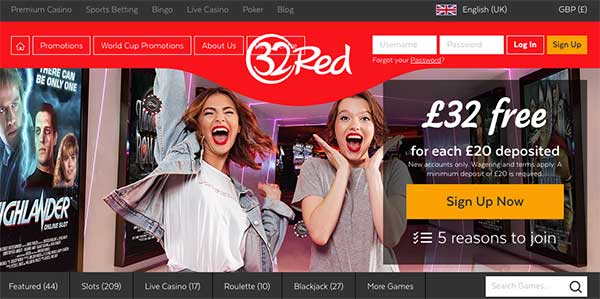 32Red have been slapped with a £2 million fine for reportedly failing to protect a vulnerable customer and carry out the required checks.
The charges come after the Gambling Commission did an investigation and found that the customer who deposited £758 000 last year was not subjected to the required checks.
They stated that there were "at least 22 incidents which indicated the customer was a problem gambler - but instead of checking if they needed help, 32Red gave them free bonuses.
Executive director of the Gambling Commission, Richard Watson said: "Instead of checking on the welfare of a customer displaying problem gambling behaviour, 32Red encouraged the customer to gamble more - this is the exact opposite of what they are supposed to be doing.
"Operators must take action when they spot signs of problem gambling and should be carefully reviewing all the customers they are having a high level of contact with.
"Protecting consumers from gambling related harm is a priority for us and where we see operators failing in their responsibility to keep their customers safe we will take tough action."
32 Red are not the only betting group to incur a massive fine during recent times, since lots of online casinos constantly make this kind of practices.
In February, the betting group William Hill was slapped with a £6.2 million fine for failing to protect their customers.
The Gambling Commission also found that they had not been making efforts into preventing problem gambling and in doing so, also went against anti-money laundering regulations.
This was the second-highest penalty inflicted by the gambling commission, second to the £7.8 million that they fined 888 last year for failing to make an effort to protect customers who were vulnerable.
The commission found that due to the failure of senior management of 888 as well as William Hill Online operations, 10 customers were able to deposit money which have been linked to crimes.
At the end is all about the money, you know what people say "money talks" so it is very difficult to find an online casino or sportsbook that really cares for their players, since they are willing to risk everything in order to get all the money that they can.
That is why you should always try to avoid gambling or betting money that you cannot afford to lose, nevertheless, this does not mean that you can not win money on online casinos or sportsbook but keep in mind that most of the time it will depend on your luck and not on your skills unless you are playing games like Poker, since this game is more about your bluff, abilities and skills.
32Red Casino is actually not that bad since it offers you hundreds of slot games, table games, card games and even live dealer games plus it has attractive bonuses and promotions that can help you but of course with some wagering requirements that you will have to meet. Also, it offers many banking options to help you in your transactions and overall counts with a good reputation among the gambling community, but don't forget the house always win, sometimes you will get lucky and hit some jackpots but if you stick to long you will lose money, so do not take gaming to seriously and have fun playing with a little money.
Tips for betting responsibly:
Always read the terms & conditions of the casino or sportsbook to avoid any unpleasant surprise like a 60x wagering requirement when winning a big jackpot or when getting a bonus.
Try to see gambling as a way to have fun and not as a source of income.
Check if the betting site has a gambling license and read player reviews to know if you are playing in a safe place.
Check if the casino has a responsible gaming policy and if they can offer you limits to your deposits.
Know when to stop, set limits to yourself in terms of hours and money and if you cannot don't be shy to ask for help.
Never play when you are drinking alcohol or when doing drugs.
Never play when you are depressed, mad or stressed.
Always ask live chat agents if they can help you set boundaries for you.
Never play or bet with money that is not yours, never borrow money to bet and never bet with money that you can't afford to lose.