We interview Leo from
LeoLogos.com
and ask him questions about logos he likes, hates and his logo design process. Check out his website, his
Dribbble profile
 or Twitter
@smart_logos
1. In Twitter style of 140 characters or less, describe your logos
I create smart logo designs, which communicate deeper message through design.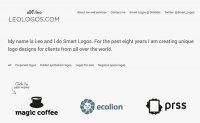 2. How would you compare your logos against many other logo designers and portfolios?
The main difference in my designs is idea. I always focus on conveying the right message through sketching and research. I believe that the right idea will capture business essence and communicates to it's audience.
3. On fiverr.com there are tons of logos being sold from anywhere from $5 to $20, what do you think of these services?
The price for the logo design in these services like
Fiver
clearly indicate that the service provider will not put his or her heart into the creative process. Logo design is a calling card for business so company owners should really think about if they want to base they business on this minimal pass artwork.

Also, speaking about quality, at the most I have seen mediocre works, but the problem is not the style quality. The main issue is that the artworks offered to clients are stolen. I have seen many top quality logo designs being sold Fiver including my own.
4. Are you surprised at seeing low quality logos on major websites and does it drive you nuts?
Yes, of course. In the 21h century I am still surprised when big companies, corporations and promising business still do not see the value of branding. On the other hand, I am glad to see that giants like Google after a long time standing traditional branding decided to rebrand and improve their image quality. This is the message I like the most - traditional businesses should not be afraid of changes.
5. Name a few logos that you would want to fix and redesign right now.
I wish to improve not only old fashioned logos but also newly rebranded companies. From the freshly rebranded companies I believe "Animal Planet" and "Craft Foods" could have done a better job. From older companies I have smart ideas for "IMDB" and "Wordpress".
6. Out of all the logos for these following major gambling brands, which ones do you like and which ones need a new logo?
pokerstars.com
888.com
32red.com
bodog.eu
bet365.com
I see that bet365.com would benefit the most in improving their logo. Their image is consistent, but their logo design does not represent the company fully.

7. Describe your process of creating logos for clients.
I focus on conveying smart idea, therefore my process start on thorough research and sketching. Only after the idea is set I am confident in translating it into beautiful design. If you are interested, contact me and I will explain the process in a greater detail. If you need a
smart logo
visit
LeoLogos.com