Affiliate Edge & Martyn Beacon winners of Gaffg Awards 2013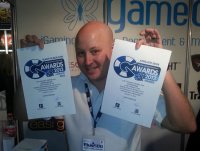 1. Affiliate Edge and yourself have won the Gaffg Awards 3 years in a row for Trusted Affiliate Manager and Trusted Affiliate Program. How does that make you feel, and what do you think it says about the work you and the affiliate program have done?
It's always great to score a hat trick, especially when it comes to awards. As an individual, I try and push the program as far as I can do with the resources we have available. I admit that we've been slow on the uptake with a number of important marketing tools, but that is changing, and I'm about to launch our long awaited dynamic landing pages.
When I joined this company 5 years ago, then known as CWCaffiliates, we already had a good name in the industry. I think what I have done is manage to fit in to the company and run/progress the program the way affiliates like and with the company vision in mind. We run an honest affiliate program and always have done, and we're not about to change it. I think this approach is the correct way to make a positive and long-lasting impression on the online casino industry. I hope it continues for many years to come.

2. You have also previously won the iGB Awards for Best Casino Affiliate Manager and Best Casino Affiliate Program, aside from hard work, what did you and your team do to win them all?
I think we listened and evolved with the ever changing gambling market. We compete and help our affiliates where we can to ensure that we are offering the best service possible. Like you mention, these aren't individual awards the work I do to win the Affiliate Manager award may be presented to me but in reality it's testament to everyone behind the scenes that help make my job a little easier. It's great to win them, it makes my mum (Hello Martyn Beacons mum) very proud and she displays the awards on the window sill in the front room – for all to see.
3. How has your role at the program changed over the years?
Well, I try and keep in touch with everyone as I always did. The only thing that's changed is the way we've expanded as a team and we split the work as a result. With the changes that Google make regularly, I believe I need to be more on top of what is happening in the rankings than ever before so we make the most out of the marketing activities that we have running with our affiliate partners. This would ensure that we perform to an optimum level and both affiliate and bosses are happy.
4. You have added Stephen Croft to the mix, does he have a chance to win an affiliate manager award?
Stephen Croft – The Salford Soldier? Nah, not a chance! In all honesty, of course he does. He's proving himself and he's becoming more confident as an affiliate manager and trying out new things to help improve affiliates conversions and traffic numbers. He was nominated this year in the iGB awards after only a short time in this role, less than 1 year. The boys got potential. Maybe next year there will be two of us winning trusted program manager from AffiliateEdge.com?
5. Over the years we have seen the affiliate program rebrand from CWC Affiliates to Affiliate Edge, add a few more casino brands and add more languages to cover more markets. What more can we expect from the affiliate program this year or is it top secret?
We have a few things planned, we're currently focussing on site/lobby design and player conversions and making the whole process more intuitive. If we can smooth out the path for players from sign up to making their first deposit then we're on our way to making a well presented and successful casino. Player psychology also plays a part in what we're doing and tailoring our offerings to the players based on what we know about them. Some of the changes won't be as obvious or industry changing but we hope the results will be seen through affiliate commissions and conversion rates.
6. You have probably watched many affiliates grow into successful webmasters over the years. What advice would you give to new affiliates wanting to get started in the online gambling business?
It's now a very tough market to be in, even for those that are established but it's not an impossible vertical to earn good money out of. My advice for someone starting out right now would be to research the market, competitors, keywords, site layouts, market approach etc. and find a new way to promote casinos, brands or games. All you need is that little something that helps you stand out from the crowd and if you can make that rank at the same time for profitable keywords then you're onto something good. I also wouldn't focus your business model on free play or free money offers as the value of these players is much lower. It's great to include them in the site but don't make it a site/traffic focus if you are looking for long term commissions. There are affiliates that have made this approach work but it's tough and you need big volumes of players which won't come overnight. Find your niche, stick to it and make sure your site is easy to navigate.
7. Most casino affiliates probably know the affiliate program by now but for ones that don't know or maybe new affiliates just getting started in the industry, why should they join Affiliate Edge and what can they expect from the affiliate program and the affiliate managers?
As most affiliates know by now, we don't do the sales pitch or the pressure sell or the 'send us more players or we close your account down' thing. We're a fair and honest program which is rare these days and we'll work with you to get the best results we can possibly get. At the end of the day, we're partners. We want to work on a deal that's good for both parties. We offer a decent range of reputable casinos, all the tools and support to help all affiliates achieve their targets. Working with us is easy, hassle free and rewarding. I'd best stop here before it turns into a sales pitch. All I'd say is, give us a fair try and judge for yourself. You can find all of the 2013 Gaffg Awards winners on our page here: /blog/gaffg-awards-2013-winners/
About Affiliate Edge
The Affiliate Edge affiliate program has a group of online casinos you can promote with competitive revenue share, including 50% for the first 2 months.