Affiliate Interview Kevin from thesportsgeek.com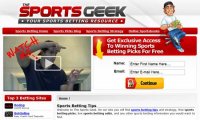 Kevin from thesportsgeek.com gives us an exclusive interview to discuss his experience as an affiliate, getting started, diversifying your portfolio and affiliate tips.
What is your main gambling affiliate site?
My main site is TheSportsGeek.com.
I started it about 3 years ago after deciding I wanted to get more into sports betting, and it has grown a ton over the years.

Do you have other gambling affiliate sites? Which ones are they and why did you create them.
I probably have about 30 gambling affiliate sites in general, but a lot of them are really small sites that I don't work on much.
My other main sites are NHLPredictions.org, MLBPredictions.org and NFLBettingPicks.org.
I started these "picks" sites hoping to give out free predictions for betting while getting my traffic to sign up at sportsbooks, but then started doing really well with my picks and decided to focus more on providing my insight for a fee.
I have a pretty loyal group of people following my predictions for those three leagues.
How did you become a gambling affiliate and what caused you to decide to work for yourself as a webmaster?
It was kind of funny how I got started.
My buddy had gotten into doing some PPC, forum, and other random stuff sending RMPs to Party Poker back when I was about 16 and just getting into poker.
He was making good money and I was pretty interested but never thought I would have any idea how to do that stuff.
I signed up for the PAW poker affiliate forum at the time because he told me you can sometimes get free bankrolls.
A couple years later I was in college learning how to build basic websites in my business course.
I remembered about the poker affiliate forum, visited it, starting asking a ton of very very "newb" questions, got some help from some awesome affiliates and built my first website.
I took a year off of university and then went back to college to take marketing.
I realized I was wasting valuable time with my school work (that was pretty basic stuff anyways), and made a big decision to stop school and switch full time.
So far I don't regret my decision at all.
I wouldn't recommend dropping out of school to most, but if you are making a comfortable income online and are confident enough you can continue to do so it is definitely worth a look.
100 people decide to work for themselves as an affiliate, 99 fail and 1 succeeds. In your opinion what are these 99 people doing wrong?
Either not working hard enough or not looking at what works and replicating that.
Find a solution for peoples problems and you should make money.
Black Friday sucks. Aside from Black Friday list your reasons for diversifying your affiliate portfolio to include non-gaming sites.
I still believe that no matter what if you provide value you will always be able to make money in the gaming niche one way or another, but Black Friday has given us yet another reality check.
If you have multiple income streams you are limiting your risk.
The money is still good within gaming so it is tough to diversify, but I am trying my best right now.
You never know if programs will start to cut commissions, phase out affiliates, etc.
What websites are you working on outside of gaming?
www.BuySupplementsOnline.org and WorkoutTipster.com mainly, although I haven't been doing as much work as I'd like on either.
I make very little income on both sites, but there is a lot of room to grow with both.
My advice to those looking to start a project outside of gaming - look at the things in your life you are passionate about and ask yourself if you can make money within those niches.
I love fitness/working out, so I'm trying to create a revenue stream around it.
Christmas is around the corner, it would make you happy if an affiliate program sent you ...
Anything. I've only received one present ever from an affiliate program.
Last Christmas Europartners sent me a gift basket.
Wasn't too impressive of a gift, but the fact they sent me a gift was very much appreciated.
List your tips and advice for new webmasters and one must have tool.
Work your ass off and don't quit. It takes a lot of time to make money online if you're new to it (in most cases), but stick with it and you should eventually find out how to be successful.
Find a successful affiliate to mentor you, but give them a reason for them to mentor you (sign up under their sub-affiliate links, link to their sites, provide them services, or whatever).
As for one must have tool: Google Analytics.
I know, nothing exciting, but studying my Analytics usually gives me lots of ideas for content and gives me an idea what people are searching.
You will find some hidden gem keywords that you didn't mean to rank for and then you can improve your rankings for those keywords and other similar keywords.
Recent affiliate interviews
Affiliate bible discusses poker, ethics and affiliate tips
Zuga from LatestBingoBonuses discusses online bingo