Barcelona Conference Guide: KickstartMonday

Welcome to the 10th edition of our Gaffg KickstartMonday series where where we help to start your week off on the right foot. You can find all of our KickstartMonday series here. In this edition we focus on the Barcelona Affiliate Conference 2014 and this post is a both a guide to the city of Barcelona but also a conference guide whether you are going for #BAC2014 or other Barcelona based conferences.
Introduction to Barcelona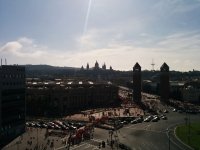 Barcelona is one of the most popular cities the world for tourism and overall it is just a great city to be in. If you are curious to know a lot more about the city you can check out the Wikipedia page about Barcelona. The city is full of energy, great restaurants, bars, plenty of things to see and do and a whole lot more. A few basic facts about the city:
The locals speak Catalan and Spanish and many people in the city also speak English and other languages. Signs you'll see in Catalan first and Spanish 2nd.
Shops typically close from 2pm to 4pm daily and this is also when you go out to eat. Eating out usually will start around 9pm although there are more restaurants open in the tourist areas to accommodate those that are used to eating earlier.
The city unfortunately holds the reputation for pickpocket capital of the world. This means check our safety and pickpocket guide so you'll be safe
The city is a bit crazy!
Safety & Pickpockets
Since Barcelona is probably one of the most popular tourist cities in the world, that lends itself to being a problem for having a problem with pickpockets. This is the part of the guide I don't want to write but is important to make sure your trip goes without any problem. If you have time to read more tips in details then check out this guide to pickpockets here. So just know that they exist and do your best to protect yourself. Here are some quick tips to keeping yourself safe:
Keep your wallet in your front pocket or don't bring a wallet at all. If it is in your back pocket, then you'll be a target.
Keep your purses and bags closed otherwise expect a wandering hand to pull something out, like a mystery gift bag. If you have a backpack consider wearing it on the front. I've had someone unzip my bag in a metro trying to steal something while running up the stairs. I only ran up the stairs because I thought a guy was too close and sure enough he was trying to open my bags.
Common locations where you are likely to get robbed: All popular tourist destinations such as Sagrada Familia, Las Ramblas, Parc Guell, and the old city areas like Raval, Born and Gothico. Other probematic areas include transportation like the airport, Sants Station, Placa Catalunya. Also the beach is another spot where people get stuff stolen
Keep your bags with you at all times, don't set them on the ground or place them on a table or on another chair unless you want to give it away
Take with you what you can afford to lose. Imagine if you did get robbed, what would you have on you? Try not to bring too much money or all of your banking cards and identity cards, otherwise you could have a bigger headache to deal with.
Don't drink too much: If you do drink too much, you'll be an easier target.
Withdrawing money from ATMs: If you can find a banking machine inside a building where you can temporarily lock the door, this is probably a better option. Better would be doing this inside a bank.
Also watch your pockets if you are going to be hanging out with any non-discreet, "friendly" ladies on Las Ramblas as they are known for more than just getting friendly with you but while they got their hands all over you, usually it's a good way for them to slip their hands in your pockets and take something.
Last but not least, if you are a serious highroller then you might want to make sure your laptops are safe in your hotel after the revelations of the BCN Arts Hotel where a poker player had his laptop hacked back in September 2013. You can lock your laptop from getting stolen but you might want to be more concerned about your laptop getting hacked.
Transportation: Taxis, Trains, Metro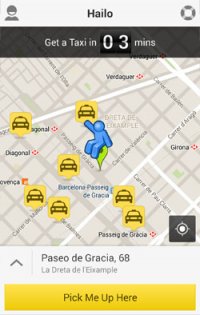 Getting around the city shouldn't be too difficult. Taxis: You can get a taxi from the airport and usually not have too difficult of a time finding one in the city. To/from airport might cost you 25 euros. Generally rides within the city can range from 10 to 15 euros depending on how far you have to go and hopefully not stuck in traffic. Trains: You can take the train if you want to go from the airport to the city centre. Bus is a bit more convenient in my opinion. Bus: I'm referring to the AeroBus from the city centre to the airport. It costs 5.90 euros and is fast and frequent. Uber or Hailo: Despite a protest against Uber in July, I still think it is the better way to get around if you want a taxi. You charge it to your credit card and there can't be any communication problems of where you need to go to so no more excuses of taxis taking you on a joyride to ride up the bill knowing that you get to rate them after. That means you'll probably get a cleaner taxi with a driver that either doesn't smoke or doesn't smoke in their car. You know you're getting a better taxi driver and that taxi driver knows they are not picking up some random stranger that could be a threat to them as nobody is anonymous with this app.
Hotels & Where to Stay
As a traveller you have plenty of options on where to stay. If you are getting a hotel I usually prefer to read the comments and ratings from users at TripAdvisor.com. Sometimes for larger conferences or perhaps during times where the city is busier than normal, you might have less options on your hands if many hotels are fully booked. So here is a summary in general of what to do.

Hotels: Check tripadvisor for ratings. I also like booking.com. I have no recommendations for which hotels to stay in other than to keep it close enough to the city centre or closer to your conference venue. Airbnb.com: Lets assume you can't find a good hotel or many are just fully booked. If you want to rent a room or an entire flat (apartment) then airbnb.com is the place to go. Traveling on an extreme budget? Try Couchsurfing: Yes couchsurfing.com is fun and free. You usually will meet cool people but I wouldn't recommend if you meet any of the criteria: You will be partying late and coming home late, not cool unless your hosts like to party just as much, if you don't plan much social interaction with your host, best is to inform them before hand of your schedule, which will probably lead to hardly anyone accepting you. If you look like you can afford a hotel but are just using couchsurfing to save money and don't plan to mingle with your host then don't be cheap, get a hotel! Also it helps if you have some history on the site where you have hosted people too. So if you want to go to a conference but are on a very tight budget then this is something to possibly consider.
Restaurants in Barcelona
Barcelona has many great restaurants but also some terrible tourist trap versions of them where the price is high and the food quality is low. You'll typically find these in the usual tourist areas like Ramblas, Rambla del Mar, etc... So here are a few restaurants recommended by locals. Marmelade Address: Carrer de la Riera Alta, 4-6, 08001 Barcelona, Spain Phone:+34 934 42 39 66 Hours: 6:30 pm – 2:30 am Doble Zer00 Address: Carrer de Jaume Giralt, 53, 08003 Barcelona, Spain Phone:+34 933 15 17 44 Hours: 8:00 – 11:30 pm La Maharaja Address: Rambla Raval 14, 08001 Barcelona, Spain Hours: 11:00 am – 1:00 am Tickets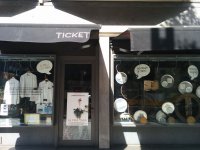 This restaurant you probably won't get a chance to try unless you wait 3 months or more with a reservation. That's because it is one of Ferran Adrià's restaurants who previously held the title of having the best restaurant in the world. He has helped to put Barcelona on the food map and his influence has felt throughout the city. Address: Avinguda del Paral·lel, 164, 08015 Barcelona, Spain Les Quinze Nits Address: Plaça Reial, 6, 08002 Barcelona, Spain More will be added to this section as we get the information. Leave a comment if you have a place to recommend.
Bars in Barcelona
Just like restaurants, there are some great bars as well as the tourist trap ones with just high drink prices and are just shit places. Just avoid the typical tourist spots unless you absolutely need a drink after you visit some tourist spots. Andú This is a cool wine bar, hard to find but is a great place to relax and have a great selection of wine with some tapas. Carrer del Correu Vell 3, 08002 Barcelona, Spain Can Paixano (La Xampanyeria) Carrer de la Reina Cristina 7, 08003 Barcelona, Spain Icebcn (Ice Bar) Paseo Maritimo de la Barceloneta 38 A, 08005 Barcelona More will be added to this section as we get the information. Leave a comment if you have a place to recommend.
Tourism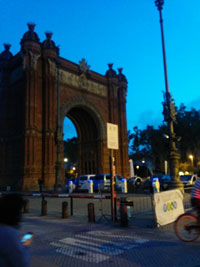 There are many things to see and do while in Barcelona, just keep in mind from around May until October you'll have more tourists in town so getting in line to do something like go in the Sagrada Familia might take you hours to do so you could probably visit the outside, take pics and keep going. This list features some of the common tourist spots in the city including a few lesser known ones that are worth considering.
Sagrada Familia
Parc Guell
Casa Batlló
La Pederera
Montjuic
Picasso Museum
Las Ramblas
Camp Nou to see FC Barcelona play
Montserrat
Out of this list most are probably easy to find and most might know about those places. However if you want something to do for a good half day trip try Montserrat which is just over an hour away from Barcelona which you take by train and then either vertical tram or gondola to get to the top of Montserrat. The views are incredible and it has a long history of 1000 words. Learn more about Montserrat here: http://en.wikipedia.org/wiki/Montserrat_(mountain)
Barcelona Affiliate Conference 2014
Barcelona Affiliate Conference details: Oct 23rd to 26th, 2014 CCIB - Plaça de Willy Brandt, 11-14, 08019 Barcelona, Spain [near metro station El Maresme | Fòrum] http://www.igbaffiliate.com/events/barcelonaaffiliateconference/

Click here to read our BAC 2014 preview
Learn the local language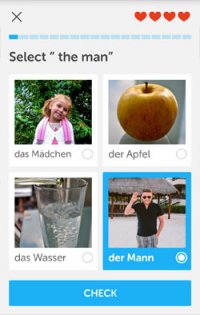 If you are travelling to another country, it can help to understand a few basics of a language and you'll probably gain a bit of respect from the locals for making an effort. There are many language learning programs and services available but specifically we are going to focus just on the app Duolingo. The app even works on iOS and Android. At the moment the number of languages to learn is limited but it includes the popular ones like Spanish, German, French, and quite a few more. It seems like an easy way to get started with quick short lessons. Otherwise there are plenty of other language apps and dictionaries for any other language. www.duolingo.com
Gambling Affiliate Programs
Looking for a gambling affiliate program? We have many reviews and cover them based upon category. Some popular categories include
Forex & Binary Options Affiliate Programs
We also have many reviews for forex and binary options affiliate programs. Check out 2 main categories to find an affiliate program to work with:
We Pay Affiliates: This week's LOLorWTF
Welcome to our LOLorWTF segment. You can follow #LOLorWTF on Twitter if you are bored and just want to find more of these. This week we have a look at the binary options affiliate program for We Pay Affiliates. They advertise as a forex and binary options affiliate network but when you go to their website you are faced with this: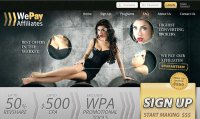 Which if you have a look closer, what does this girl and her boobs and legs have to do with binary options or forex? I thought this was an adult based affiliate program on first impression.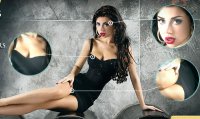 I'm just not sure these close-ups are really helping sell the right product to the right audience. I could just show this last image and ask the users what do they think this website is for? I don't think we'll get forex or binary options for an answer. Seriously WePayAffiliates WTF were you thinking?
Share or Comment Now!
Join the discussion below and give us your thoughts on this article, if you want to read more KickstartMonday articles then click here. If you think someone else would like to read this article then like or share it. If you have ideas you want to share for future articles just contact us and it would be greatly appreciated. In the meantime may our KickStartMonday help get your week started on the right foot. Have a productive week! Also enjoy your stay in Barcelona whether you are here for the Barcelona Affiliate Conference, Mobile World Congress or another event.