Betonline Affiliates launches new poker room accepting US players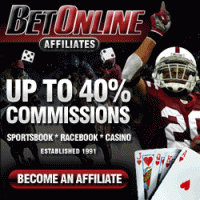 BetOnline is launching their new poker room and network and is currently accepting US players. The affiliate manager Luis Poveda from BetOnline Affiliates gives an interview to explain why he thinks they can grow their poker network where others have failed.
Tell us about the new BetOnline poker room. What software & network is it using plus the signup bonuses you have for poker players.
We recently purchased a poker platform so our players are able to play 24/7 from anywhere in the world.
We are not running on a Network, it is a proprietary product; therefore we will be able to provide our players and affiliates with the best poker features in the near future.
Our main goal has always been to deliver the most exciting and dynamic experience possible in online gaming; don't expect anything less from our upcoming poker promotions.
How do online poker players compare to sports bettors?
Poker players are generally smarter and cooler and better looking than sports bettors. And often more successful at their trade too!
There's a direct correlation between good poker skills and great sports betting. Most likely because the poker guys really pay attention to details, do their homework, know their stuff…..
One of the toughest parts of starting a new network is building a player base. What are some of your marketing strategies for growing your network quickly to a healthy and sustainable level?
You are 100% correct – building the player base is the biggest challenge.
However, we already have a great head-start. Considering we have a sports book already in place with thousands of players, our poker room just gives these already existing players a place to enjoy poker.
Of course our doors are wide open to new players as well – especially those poker players in the U.S. looking for a new home.
Whether the player solely likes poker, or they like to get in on the action of poker, sports, casino and horses – BetOnline is the perfect destination.
In order to have a great poker environment you need three things: players, action and funding methods.
I am excited to say BetOnline Poker has each of the three covered, and then some.
Join BetOnline Affiliates
BetOnline Affiliates Review

The launch of this poker platform allows the players in the United States to enjoy a reliable betting platform where they can have lots of fun and earn some extra money while showing off their skills and knowledge on this competitive card game.
Online gambling has been taken over the world by storm in the last few years. That is because this alternative allows you to make some extra money without having to move or invest large amounts of money.
When you combine these two aspects together, it is hard not to feel compelled and desire to join any of these sites. That is why it is becoming quite common to see a lot of people registering and deciding to invest some of their money on these sites.
Nowadays, online betting sites are regulated by legal entities that are present to protect the players from getting slandered. Thanks to these regulatory authorities, players are able to bet on their favorite games and sports events with ease at all times.
Even though online betting sites have shown to be trustworthy in many ways over the course of their existence, there are still some territories that consider these sites fraudulent and fake, so they made the decision of creating betting laws that prohibit their citizens to join any of these sites at all costs.
One of the nations that took this strict measurement was the United States of America.
The decision made by the authorities in this country represented a heavy blow for the gamblers inside its borders.
They were not expecting to see that strict measurement be taken within their country since the United States was always named the "land of gambling". Many players felt completely overwhelmed and disappointed with the decision. Some of them went on to use VPNs to access their favorite betting sites, others simply gave up because of the fear of getting in trouble.
Despite the fact that many players were able to join betting sites through VPNs, plenty of those players witnessed many setbacks at the moment of depositing and withdrawing their earnings.
That is due to the fact that all the banking services have the right to block transactions in case they are considered fraudulent, leaving many players without the possibility of betting real money on the online gambling platform of their preference.
Thanks to the launch of the Betonline Affiliates platform in the United States, the players do not have to worry about any limitations.
They can place bets on any poker room available on the platform as much as they want. Apart from the possibility of having fun and earning money playing poker, Betonline Affiliates counts with a friendly interface that allows the users to navigate through the site comfortably at every occasion.
Depositing and withdrawing is not difficult either. The players can make their necessary transfers through a wide number of banking services and methods that include: e-wallets, Credit/Debit Cards providers and many others.
Just like the affiliate manager Luis Poveda from BetOnline Affiliates said on the mentioned interview: "Poker players are generally smarter and cooler than sports bettors".
So, BetOnline Affiliates is aware that the new poker platform has to offer high-quality traits in as many ways as it is possible. The poker players are not going to feel satisfied with a platform that does not fulfill half of their expectations, at the very least.
With that being said, you are free to go ahead and register on the new poker site launched by BetOnline Affiliates. The registration procedure can be completed within 3 minutes or even less. It is all free of charges as well.