Calvin Ayre has been indicted in the state of Maryland, United States and has bodog.com domain seized.
http://en.wikipedia.org/wiki/Calvin_Ayre
The wikipedia entry for Calvin Ayre already has the news updated with comments from Rebecca Liggero via the NYTimes.
Calvin Ayre has already posted on facebook sharing the news himself.
He doesn't seem concerned and maybe it is posturing but they seem confident the indictment against him is baseless.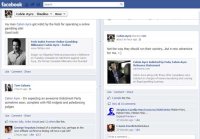 "On February 28, 2012, Ayre was indicted by the US Attorney in Baltimore, Maryland for activities relating to Bodog.
The indictment focuses on the movement of funds from accounts outside the U.S., in Switzerland, England, Malta, and Canada, and the hiring of media resellers and advertisers to promote Internet gambling.
CalvinAyre.com head reporter and Bodog/Bovada spokeswoman Rebecca Liggero has called the indictment baseless and said it is business as usual for Bovada customers."
This isn't the first time the bodog.com domain has been seized. Last time it was taken from a patent company but they eventually got the domain back.
Betting Partners is the affiliate program for Bodog and Bovada.