Design Inspiration & Portfolios from Dribbble

Welcome to the 13th edition of our Gaffg KickstartMonday series where where we help to start your week off on the right foot. You can find all of our
KickstartMonday
series here. In this edition of #KickstartMonday we focus on
 Design inspiration & Dribbble. 
Dribbble is one of the best portfolio sites out there.
Design Inspiration & designer portfolios on Dribbble.com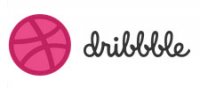 First let me state by saying when I say check out Dribbble.com for design inspiration, by no means am I saying go ahead and find designs and just copy them. If you like some design elements from some sites or samples from a designer, you can use this as inspiration and definitely don't want to copy a designer like the case that happened with
AskGamblers getting copied
. If you want a website design, sometimes it helps to have a frame of reference or to see some of the design or UX trends. There are plenty of designer portfolios out there and many sites that offer a platform for designers to showcase their work. Today though we focus on just one and that is
Dribbble.com
. At Dribbble you can find anything and everything when it comes to design ranging from logos, sketches, drawings, vector art, icons, websites, app designs and it really never ends. The best way to use Dribbble is to use their search feature and type in anything like:
casino logo
ux design
ux
profile
cro
You can save images as 'shots' but you can also add them to a bucket which is a collection of images. Of course you can follow your favourite designers so if they publish something new, you'll get it instantly.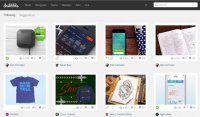 If you are thinking about having a site designed, you could save a collection of images and designs you like and share it with your designer, almost similar how you can save a collection of pins on Pinterest but with Dribbble, it is all about designers.
Short News Weekly Summary
Our 
Gaffg short news
 section gives a snapshot of bits of news that might matter to you covering a range of categories from player promotions, affiliate promotions, SEO, conversion and other marketing news and online gambling industry news. Here is a summary of the past week of short news:
Ultimate Poker shuts down after 19 months in business
Nuevo Session 003 - Rémi Lambert: I'm Listening to
Some music I like to listen to while I work and share. This week is Rémi Lambert.
Animal Rescue, adopt a cat or dog: This week's LOLorWTF
Welcome to our LOLorWTF segment. You can follow 
#LOLorWTF
 on Twitter if you are bored and just want to find more of these. This week is a slight rant at the way some people can treat animals while the rest of this post is more to shine a light on a topic many might not be aware of which is animals needing to be rescued and adopted. So the rant part is how can anybody neglect some of these pets as if they are disposable? This unfortunately happens all over the world and without going into too much detail and discussion, there are layers of problems here. One is you have industries that about breeding dogs where they don't take care of the dogs properly, but sure enough these animals get sold for a lot of money. It is tough knowing if you are buying from an ethical dog breeder so if you are going to go this route, do your research and homework. For everybody else that does want to get a cat or dog as a pet, give adoption some consideration.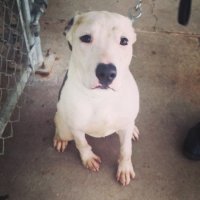 Just as there are bad breeders out there, there are even worse pet owners that don't take care of their pets and in worse cases abuse them, or neglect them. Some just don't know how to treat an animal and you end up with a viscous cycle of dogs and cats that end up on the street or being put down. These poor souls could really use some help in life and a second chance and I find too many people just are not aware of this, perhaps because it isn't a business and maybe at times it can be difficult for any organization or group to get their message across to the public. If you have thought about a pet rescue, then you really shouldn't have any trouble finding a rescue group in your area. Once you start looking, you'll realize these groups just exist everywhere and they are usually handled by volunteers whom invest a lot of their spare time into it all because they love what they are doing. So here are some more sad dog pics that I think are hard to look at.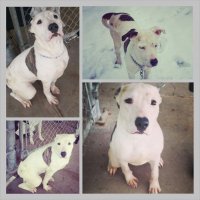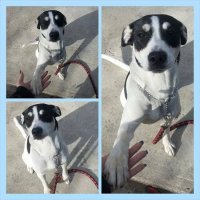 Roxy was once one of these dogs and it was almost by accident to get her, she was meant to be a foster/short term stay, give her a short term home to save her from being put down at the gas chamber, take care of her until someone came along to adopt her. After having 4 or 5 different groups of people wanting to get her, me and my roommate couldn't let go of her and I don't think she wanted to go either. So thanks to Danya from
Pound Paws
 who volunteers and insane amount of time saving dogs. So here is Roxy before and after, plus a few more happy dog pics. If you want a cat or dog, consider a rescue. I've heard that rescue animals really know when they have been given a second chance and they can be extra loving and loyal to the ones that take care of them. Roxy is no exception.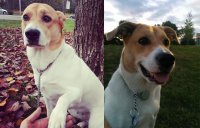 Share or Comment Now!
Join the discussion below and give us your thoughts on this article, if you want to
read more KickstartMonday articles then click here
. If you think someone else would like to read this article then like or share it. If you have ideas you want to share for future articles just 
contact us
 and it would be greatly appreciated. In the meantime may our
KickStartMonday
help get your week started on the right foot. Have a productive week!