iGaming NEXT NYC event is sold out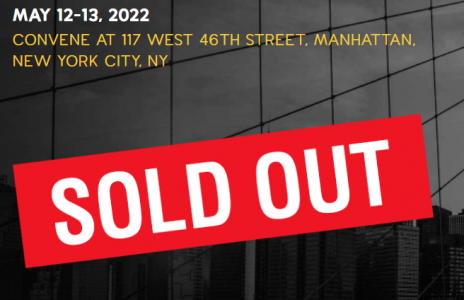 The company's first big event in the New York City is already sold out, since there is only room for 900 people including around 700 delegates, 150 speakers and 50 commercial partners.
This is one of the first events of this company in this city, and it is already a surprise for all that the event is sold.
This means that all the community, including the persons that are not going, have high expectation of this event.
The event was practically built from scratch and with a lot of enthusiasm and professionalism, the organizers are hoping to offer the best of the best for the first summit of this kind in the city.
If you are new in the iGaming world or simply if you don't know what is "iGaming Next" then stick around and learn this is all about.
iGaming NEXT
iGaming NEXT is an organization founded more than 25 years ago that combines the iGaming industry experience across all areas including iGaming, software products, affiliate marketing, online casinos and more.
The purpose of iGaming NEXT is to help connect the people and push the industry forward by promoting thought leadership and knowledge sharing.
There are the values that are infused in the organization with the vision to be a positive force all the iGaming industry. So, if you hear of a new iGaming NEXT summit, don't hesitate to join them as soon as possible because they are very exclusive events that you can not miss.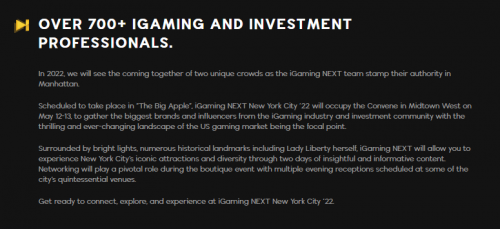 What you will learn in the iGaming NEXT NYC convention?
Many of the top officials executives from Bally industries, Bloomberg, Morgan Stanley, CNBC, Las Vegas Sand executives and more will be attending this summit, so it is kind of a big deal to be there.
You can expect to learn about new technologies, software products, new market tendencies, new possible laws and new faces and officials of the industry, which is why it is important to assist this summit.
Also, you can take advantage of this convention and make new work connections, make associations, new partners and exchange ideas and knowledge with the other persons that will be assisting the event.
Where exactly is this event going to be celebrated?
The iGaming NEXT event is going to be celebrated at Convene, 117 West 46th Street in Manhattan, between the 12 and 13 day of May 2022. So, perhaps you still have a shot to assist.
If you are not sure how to get there just try to use the NYC metro specifically the lines B, D, F, M or the lines N, Q, R and W. Any of these lines can get you really close to the Convene in no time.
You can also walk and use Google Maps and enjoy the best of what the New York City has to offer you and trust us, you will not regret it.
The Convene
Convene is a beautiful event venue situated in Midtown West, located between Rockefeller Center and Times Square. The guests can enjoy a white-box design capability, physical exhibit areas, digital video walls and more.
The Building is very centric and attendees should have no problems reaching the place which is close to many popular places, nightlife, restaurants, shopping centers and metro lines, so after the event you can always hang out with your friends in these cool places.
So, if you ever want to host a wedding, a party or a classic convention, the Convene has to be one of your primary choices due to all its amenities.
But why not a bigger place to host the convention?
With the event sold out so fast, you are probably wondering why not choose a bigger place to host the event? Well, the directors of the convention are ensuring us that the event being sold out so fast was a good surprise.
The directors also choose the Convene because they wanted to keep the convention in relatively small numbers first to maintain the quality of the first event in this city and of course meet the expectations of the attendees, or in other words the hosts wanted this summit to be exclusive.
However, you may still be able to participate in this summit by submitting your application in the waiting list in iGaming NEXT's website.
You never know, you may get lucky.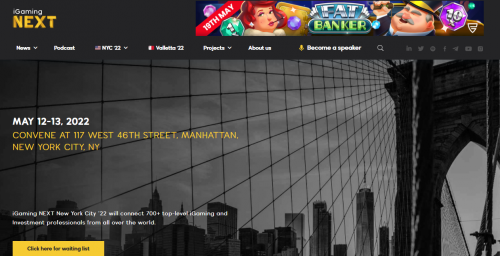 Check out our events page for more upcoming events!