ReferPartners interview with Susan Wells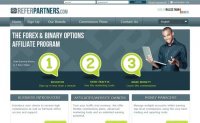 Interview with affiliate manager Susan Wells from ReferPartners which is the forex and binary options affiliate program for ECMarkets and OptionFair.
In pure twitter fashion, explain binary options in 140 characters or less
The new evolution in financial trading...
Are binary options and trading more popular in certain markets and countries or do you find it is equally popular worldwide?
Binary Options has a universal appeal that makes it popular all over the world.
Is this the best time for gambling affiliates to venture into forex and trading?
Absolutely, the Forex industry is worth over $3 trillion dollars a day and offers the greatest earning potential for affiliates.
It is a regulated industry, ECMarkets is EU regulated and more and more people are trading Forex than ever before.

What can affiliates expect when working with ReferPartners?
Whether you are a Business Introducer, Money Manager or an Affiliate at ReferPartners you will receive;
Good Conversion Rates
Flexible Commission Plans
Advanced Marketing Tools
Detailed and Transparent Reports Personal Multi-lingual Support
Any plans or improvements we can look forward to from ReferPartners this year?
2012 should be an exciting year for ReferPartners - without giving too much away.... new brands to promote, upgraded reporting and most importantly more money to made by our affiliates!
Explain how you think binary options and forex are both similar to online gambling and also how they are different.
Definitely different; gambling is usually based on luck, this is definitely not the case with forex trading as with forex you are trading one currency for another.
About ReferPartners
ReferPartners is the forex and binary options affiliate program for ECMarkets and OptionFair.
Similar Articles
Affiliate interview with Adam about forex and binary options
What is the Forex Market?
Forex Market is the name that was given to the Foreign Currency exchange market. This is a dedicated marketplace where you can exchange any type of currency such as Euros (€), Pound Sterling (£) and Dollars ($).
You are able to exchange any currency that exists in the world.
There are many reasons as to why you may want to exchange a currency, such as:
Purchase goods in a different country.
Travel overseas.
Invest your funds on foreign companies.
Regardless of the reason why you wish or need to exchange a currency, the Forex Market is open and available at all times, so you can do it at any given time you want.
The currency exchangers do not care much about the reasons why you actually want to exchange a currency, either.
According to the many statistics and studies made on the Forex Market, it is estimated that more than $3.3 trillion are generated in this particular marketplace, letting everyone know about the incredible globalization that the whole world is experiencing at this moment in time.
Nowadays, global exchange is part of most people's daily life. The Forex Market certainly provides a big help for those people since they can find the best exchange rates in a single space, allowing them to save uptime and effort.
The evolution of the Forex Market
The exchange of goods and money has existed for many centuries. However, the whole concept and idea behind the Forex Market is a relatively new invention.
This is because it was not up until 1971 when the currencies of the world were able to float around behind their respective borders, giving way for what is now known as the Forex Market.
The most curious fact about the Forex Market is that it does not take place in specific venues or physical estates. The whole Forex Market is a set of trading terminals and computer networks.
The Forex Market was initially influenced by institutional firms and large banks. Because of that, the conversion rates depended fully on the clients of these powerful financial organizations.
Thankfully, that big influence has disappeared, and the Forex Market is now claimed to be a decentralized financial marketplace where no entity or firm has the power to manage it.
The participants on the Forex Market are Institutions, investment banks, commercial banks, and retail investors.
The role of ReferPartners
ReferPartners was officially launched in 2010, and it has turned into the one of the best affiliate programs when it comes to the Forex Market.
ReferPartners promotes ECMarkets, Optionfair and Zoneoptions. These are 3 financial websites where traders and brokers get together to exchange currencies in the Forex Market.
The webmasters registered on ReferPartners get paid by referring traders to any of these 3 financial platforms.
This affiliate program definitely represents a great opportunity for the webmasters that dedicate their efforts and time to the Forex Market and wish to monetize the traffic of their sites.
As a webmaster registered on ReferPartners, you can earn commissions through the following commission structures:
Revenue shares model
CPA
Hybrid
Sub-affiliates plan