ReferPartners interview with Susan Wells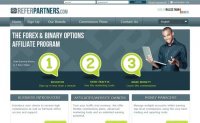 Interview with
affiliate manager Susan Wells
from
ReferPartners
which is the
forex and binary options affiliate program
for ECMarkets and OptionFair.
In pure twitter fashion, explain binary options in 140 characters or less
The new evolution in financial trading...
Are binary options and trading more popular in certain markets and countries or do you find it is equally popular worldwide?
Binary Options has a universal appeal that makes it popular all over the world.
Is this the best time for gambling affiliates to venture into forex and trading?
Absolutely, the Forex industry is worth over $3 trillion dollars a day and offers the greatest earning potential for affiliates.
It is a regulated industry, ECMarkets is EU regulated and more and more people are trading Forex than ever before.
What can affiliates expect when working with ReferPartners?
Whether you are a Business Introducer, Money Manager or an Affiliate at ReferPartners you will receive;
Good Conversion Rates
Flexible Commission Plans
Advanced Marketing Tools
Detailed and Transparent Reports Personal Multi-lingual Support
Any plans or improvements we can look forward to from ReferPartners this year?
2012 should be an exciting year for ReferPartners - without giving too much away.... new brands to promote, upgraded reporting and most importantly more money to made by our affiliates!
Explain how you think binary options and forex are both similar to online gambling and also how they are different.
Definitely different; gambling is usually based on luck, this is definitely not the case with forex trading as with forex you are trading one currency for another.
About ReferPartners
ReferPartners
is the forex and
binary options affiliate program
for ECMarkets and OptionFair.
Similar Articles
Affiliate interview with Adam about forex and binary options