What is your role at Referback and when did you join the team?
Head of Referback the affiliate program, online media , e mail and direct marketing.
I joined Referback in April 2011 however I have vast knowledge having worked not only for this company but also 20 years experience as Marketing Manager in the land based casino industry.
For this company I was appointed in 2006 as Head of Retention for North America, Canada and Asia, then promoted to VIP Executive Host Manager, then ran the entire USA as Market Manager before joining Referback.
My directive is to reengineer a division that will take us forward as a benchmarking entity with the focus of setting the trends as a market leader and obviously drive huge revenue.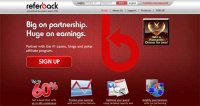 Referback seems to be investing more resources into improving the program for affiliates and players. Can you share with us some of the changes that are happening that affiliates might appreciate?
Based on my previous experience and applying this, acquisition is not seen as an entity on its own any more, it is rather part of the entire Marketing process that includes conversion, retention and reactivation.
So we offer our affiliates the sound reassurance that we are looking after their acquired players not only on the shorter term but also on the longer term ensuring good conversion and a long term revenue stream.
The philosophy is that affiliates are partners rather than outside entities. Ensuring that innovative ideas, processes, concepts are received, considered and wherever possible executed, offering a better program with more revenue potential all the time.
Introducing a VIP scale of affiliate handling.
Quicker and more efficient service at all times.
When it comes to acquisition and retention of players do you feel the online gambling world for operators and affiliates has reached a limit on how far they can go or do you think something can always be improved?
This was covered above and No! We are only at the tip of an iceberg, there are so much more that we can do in a constant evolving industry and ever changing macro environment.
We commonly ask managers what are common problems most affiliates make but for the ones that get a lot of traffic and are very successful what do you see that these affiliates could improve upon?
Interactive communication with operators, the constant sharing of ideas and telling an operator what they can do to better their program.
Demographic targeting.
Affiliates have more choices than ever before when it comes to choosing a casino affiliate program.
Without sounding like a TV commercial, tell us why affiliates should pick Referback as one of their preferred programs to work with.
Our newly adopted vision above says it all.
About Referback
Referback affiliate program is one of the oldest and most established casino groups around that uses Microgaming software.

Similar articles of interest