Affiliate Edge interview with Manager Martyn Beacon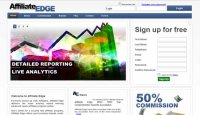 Affiliate Edge has won 2 Gaffg awards for Trusted Affiliate Program and Trusted Affiliate Manager: Martyn Beacon. How does that make you feel?
It feels awesome, it's always great to get recognition for your work as an individual and as part of a team.
AffiliateEdge has been one big team effort for the last 2 years, which also included the help of affiliates themselves in making a program that gave them what they needed.
Being in the industry for over 7 years (originally CWC), we've built a pretty strong reputation for being fair, honest and one of the best programs to work and earn with.
On being considered a 'Trusted Affiliate Manager' this is also a great accolade.
I have worked hard over the years to try and better myself and build relationships with affiliates.
As a result, I have seen affiliates follow me in to the different roles I have taken on in the last 7 years, which helps make my job that little bit easier!
The iGB Affiliate Awards happen soon and there can only be one winner for Best Casino Affiliate Program Manager. Who is winning this, you or Renee?
Who is Renee?
If we go from history on this award it's probably between Renee and James Woods.
It would be great to win it to make my mum and dad proud, but having been a part of building up what we consider to be a very strong program I'd like to get the team award and shoot for the Best Casino Affiliate Program.
But I'll settle for anything these days!
Give us a quick summary of the changes and improvements the casinos and affiliate program has made over the past 2 years.
Well for us this list could get pretty long. We grew our team internally and built our own custom affiliate program, during the period 2009 to 2011 we grew pretty fast and outgrew our previous affiliate software (the RTG solution).
We added many new features which included greater reporting opportunities, API's, flash games and more.
In terms of the advancements made with the casinos we built and added a players personal inbox into every players login in our casinos lobby's, this gives them a direct form of contact with the casino without having to open up existing email accounts to send us communications.
We looked at how we could make the players lives easier so we improved the way players claim the initial welcome bonus with a simple 'click' so when they make their deposit their chosen bonus is applied.
We've made changes to the signup forms which have increased our conversion rates noticeably since we rolled them out in 2011.
On top of these we implemented other resources for our staff to use which help convert more players, some automatically monitor player activity to allow us to give specific and relevant bonuses to our players automatically and manually depending on the task, some related to fraud checks and others that help in the general day to day running of both the casino and the affiliate program.
All things we are constantly improving.
BuzzLuck Casino was launched in 2011, how is the software different than Real Time Gaming and what do players like about the new casino?
Buzzluck has been a great success in its short time online (for the second time). We managed to obtain the domain name when it was shut down by its previous owners and so far things are going great for it.
The software is NuWorks which is a sister company to RTG, so there are familiarities about the games which fans of RTG games will relate to helping the players settle in quicker to their new surroundings.
New games are also available that are not on offer at RTG casinos and it's predominantly a slots based platform, with a handpicked selection of profitable table games to mix it up a bit.
We also have a new lobby interface launching soon which will be very simple to navigate which should increase overall productivity.
What changes and improvements can affiliates expect from the program in 2012?
Tools. More tools.
I am going to be improving our offering of marketing tools to help our marketing partners to become more successful with us.
Although we have a great program we are a little light on the basics such as landing pages, so these are high on the list of priorities for 2012.
We're always looking to improve what we can and if we spot an opportunity we have the team in place and the flexibility to add new tools on the fly.
What can affiliates expect when working with Affiliate Edge?
People should expect great service, honesty, integrity, a friendly approach and 9 of the best online casinos available today.
On top of this, a comprehensive and flexible affiliate program that offers you a range of metrics to help you measure your performance with us and help you identify opportunities to how you market us and which casinos you push the most.
Those affiliates that know me expect a relaxed, no pressure management style from me, almost a positive laissez-faire approach.
I am sure affiliates will vouch for me when I say we don't cold call, we don't carpet bomb your email and we don't apply the pressure to get the exposure.
I am a firm believer of earning our way to positions on affiliate sites, sometimes this does take a little longer than buying our way in or pressuring it, but at the same time, you create a more trusting and longer lasting relationship…I find.
Affiliates will also see why we have won the awards we have over the years, with our dedication to both players and affiliates, our range of casinos and the excellent affiliate program.
We fully appreciate everyone's role in the success of our program which is why, I believe, we are a strong contender in the online casino market today.
The full team at Affiliate Edge and related casinos know their jobs and often find better ways of doing things which is why we have grown so well in the last few years.
Decisions regards to our casinos and affiliate program are made on the "shop floor" which helps to make AffiliateEdge the number 1 casino affiliate program.

Similar articles of interest
Rummy Affiliates wins Gaffg Awards