SpinWin Partners interview with Monica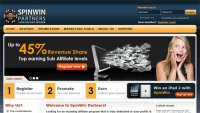 What is your role at SpinWin Partners
I am the Head of Affiliate Marketing at Spinwin Partners which encompasses all activities which pertain to the affiliate activities of our brands.
Keeping up with industry trends, always trying to get insight on affiliates and their needs, learning more languages so I can keep up with growing markets, there is always something new to learn.
Tell us about the SpinWin casino and which softwares does it use.
We are very proud of our SpinWin brand and we like to think we pamper our players like no other.
A countless variety of games which include the Marvel heroes slots (Spiderman, the Fantastic 4four, Call of duty, the incredible hulk), out of this world Jackpot slots, extravagant features games (like Monopoly, Sale of the Century, Bejeweled and X-Factor) and of course our Live Dealer games (which include roulette, blackjack and baccarat) are just a few of the reasons why players are responding so well.
With a strong world renowned license in Gibraltar, our casino is powered by Dragonfish and it boasts some of the best online casino games from such software houses as 888 and Cryptologic.
At Spinwin we have promotions which will boost the players play time and increase their chances of winning every single day of the week.
We even have our own fairy which goes around the Casino at night distributing random free cash bonuses to all our active players.
Last but certainly not least I would like to point out our excellent customer support and the various languages we feature on our website, such as Portuguese, Spanish, German and Russian, to name a few.
In your opinion tell us what you think makes the casino and affiliate program stand out from the rest?
Where Spinwin.com is concerned I believe that we took the best of both worlds to create a unique experience for our players.
Our knowledge and combined experience of the online casino industry and the way players look at and experience our product makes a huge difference in how all elements are managed.
We actually listen to our players and their feedback, and we try to make it a unique experience for each one of them. It is one of the benefits of being a new online casino, you actually get to listen and act on player's wishes.
Regarding Spinwin Partners, taking into account my years of experience and having a husband for an affiliate, I believe we definitely created one of the best casino affiliate programs out there.
We took the time to measure affiliate's guidelines and opinions, obtained accreditations from the leading affiliate advocates in the industry, such as Gaffg, Agd, APCW, GPWA, CAP.
To the image of what we are achieving with players, we are also looking at giving our affiliates a unique an tailored approach with materials and promotions which fit their own affiliate websites.
Add some top industry commissions to the mix and I believe we are a very strong bet for the future.
There is still work to be done, but we have progressed immensely and will continue to do so over the course of 2012.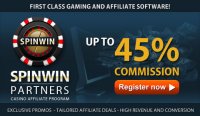 With the recent issues with Black Friday and even more recently the public squabbles of some American facing casinos, do you think affiliates should try pushing more UK-EU focused casinos, or at least to expand languages?
Languages for me have always been a very strong selling point when it comes to acquiring players, maybe this is why I am such a language fanatic and speak 5 languages myself.
English is a worldwide recognized language, but in some countries it just isn't enough, because they are proud of their cultural heritage and seek only venues which give them a type of "language" respect.
Related Articles
Award winning Rewards Affiliates