Klirr Online Casino to launch soon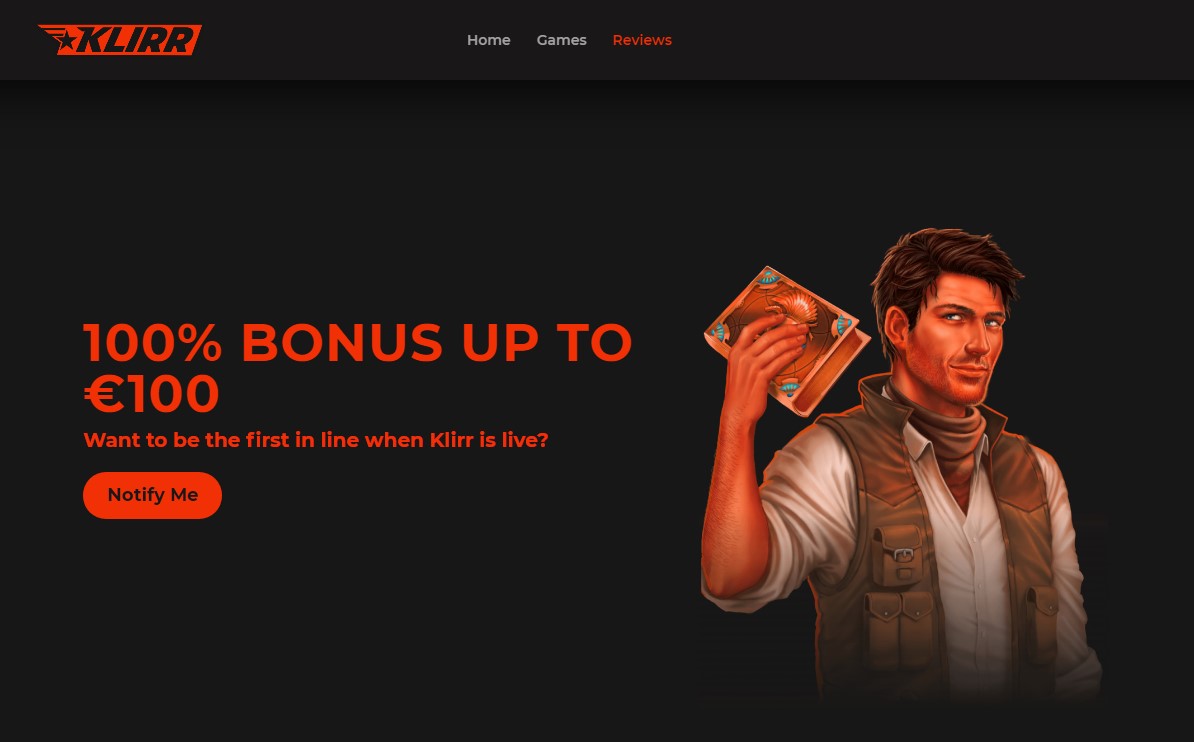 "Klirr Casino will be the hottest, newest, fastest casino."
Barely a month ago an announcement dropped via a YouTube Video that a new brand was launching under the claim that it will be "the hottest, newest, fastest casino" to ever grace the Pay N Play iGaming venue. Its main target being the player base from Finland and Sweden. Coming on September 24th
Information coming straight out of their webpage
"Introducing Klirr, the second brand from the team who brought you the, if we might say so, amazing Frank & Fred Casino. Enjoy a pure Trustly Pay 'N Play casino with a brave (maybe even sexy?) look that will leave no player unmoved."
What will Klirr be offering when it comes to the type of service that they are
The brand will be offering over 1,000 titles as well as personalization and filtering systems on the user's end. It will also come with welcoming bonuses for new players and customers such as cash deals, doubling deposits up to a 100 euros.
As stated before, Klirr will be solely a Pay N Play casino. It has come together with Trusly, an online bank payment platform, to form an association in order to provide the safest and fastest environment for players and their concerns when it comes to moving funds around. They will offer a paying solution that involves most of the operating banks across Finland and Sweden.
Klirr will be the second iGaming casino service to come under the tutelage of the Epic Partners Affiliate Program so make sure to check them out.
Klirr Casino and its target market
As it was mentioned previously, Klirr Casino will be focusing its gambling operations on Finland and Sweden, two of the countries with the best economies in the world.
With that being said, it is hard to believe that no online casino would be focusing on these territories. As a matter of fact, both of these nations have been targeted by a high number of betting sites for a long time.
Regarding the players residing in these countries, they seem to be eager and anxious about the upcoming online casino.
Klirr Casino is set to provide any player with the chance to earn extra money while playing and wagering on fun and simple games.
The competition that Klirr Casino will have to face
Klirr Casino does not have it easy in any way without any doubts. The online casino is not the only one that accepts players from Finland and Sweden, plus, there are plenty of acclaimed brands settled on these jurisdictions already.
Klirr Casino will have to work hard so that it can be relevant and worth joining for the players.
In the meantime, this online casino has to be focused on attracting a high number of players. The iGaming industry is very competitive, so it is important for every online casino to stand out as much as it is possible,
Will Klirr Casino operate with a gambling license?
Fortunately, yes. Klirr Casino has announced the acquisition of the Malta Gaming Authority license, so the online casino is completely regulated to offer gambling services.
When the news about Klirr Casino came out, many players were concerned about the site being licensed by a trustworthy gambling authority.
Thanks to the fact that Klirr Casino is licensed by a gambling commission, the players would not have to worry about anything other than playing and earning money on the online casino on a regular basis.
Pros of Klirr Casino
A high number of games: Klirr Casino has announced that it will have at least 1,000 different games available to the players, meaning that they can enjoy a wide variety of titles at all times.
Licensed gambling: as it was mentioned above, this online casino has been officially authorized to offer gambling services. Therefore, the players can bet freely and confidently.
Innovative platform: Klirr Casino has stated that its site offers a fresh and new approach so that the players can have a unique experience when taking part in the betting options available on this online casino.
Cons of Klirr Casino
A low number of payment methods: sadly, Klirr Casino will work with Trustly only. Despite the fact that it is a reliable banking platform, the players would not be happy to know that all the transactions will be made through the same payment method.
It only focuses on two countries: Klirr Casino will focus entirely on Sweden and Finland at the moment it gets launched. This means that the players residing in other countries will not be able to join the online casino.
Lack of experience: Klirr Casino is going to be operated by a betting company that has been in charge of only one online casino. Compared to other companies, it can be considered inexperienced and so many players would think it is worth it.
Will Klirr Casino succeed?
Whether Klirr Casino flops or turns into a great success, it is a question that can only be answered after it finally gets launched.
The expectations are high, and the players are anxiously waiting for it to start offering gambling services.
Regardless of the fate that Klirr Casino has, this online casino is surely going to add more spice and competitiveness to the market it belongs to.