Mini guide to starting an affiliate site in 2013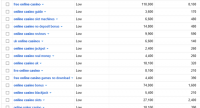 This is a mini guide to starting a gambling affiliate site in 2013. Is it too late to start a gambling portal? It is never too late but you want to make sure you make the right plan.
For years some affiliates have been stating it is too late to get into gambling that all the niches are taken and it is impossible to rank.
This might have some truth in it but it depends on many factors.
It doesn't mean it isn't worth it to start an affiliate site on a very competitive topic but if you are wanting to start a new affiliate website you need to do more research into the markets and understand what content will help you get traffic.
1. Study the market
Most people start a website all based on one idea which is to make money.
In theory that isn't a bad principle but they don't know anything about the market they are targeting other than that gambling is worth a lot of money.
For sites that are generic and less focused in nature like online casino portals, sportsbetting portals, these topics are difficult to rank for and take a lot of effort to generate traffic.
People drool over sites like AskGamblers and LatestCasinoBonuses but these sites were not just created overnight and both have been around since 2006.
If you really wanted to study this market as one example is that these giant casino portals have at least 5000 pages and who knows how many links on top of it.
So what do I mean by study the market?
I mean do your research. Try to get an idea of how many searches are done every month for a topic.
Look at the markets, find smaller markets and look to see how competitive a topic is.
You can do keyword research and get information from Google here:
https://adwords.google.com/o/KeywordTool
2. Pick a topic that can convert and isn't too competitive
There are many webmasters that are making a very good living capitalizing on topics where other webmasters have ignored and gone for the big money.
For casino portals I always suggest to someone when starting out to start small and focus on sites that you have a better chance of seeing results sooner than later.
Starting a generic casino portal can take you now years to get off the ground and these things are launching all the time. It is just overly competitive.
Go Niche!
When people think of niche they think of things like 'no deposit casino bonus' and to me this isn't very niche at all when too many sites cater to this traffic.
Try to think about specific games, or categories, how about focusing on specific countries?
If you are in the UK then why not focus on UK traffic and get a .co.uk domain instead of a .com site?
If you speak other languages, why not focus on those language markets?
Everything seems to have been nearly covered in English so if you focus on a language and perhaps market you might fare better.
Need more ideas?
When it comes to sports think about all the different sports people can bet on.
Here are 3 niche sites that do a good job of capturing their market and get conversions.
3. Pick your USP - Unique Selling Point
Using the betnhl.ca as an example, their topic wasn't as competitive so their USP wasn't as challenging which is they provide odds and tips on upcoming hockey games.
Now if there were many websites doing the same thing, then their USP wouldn't be good enough and they would want to find a way to be better than their competition.
Their USP is more than good enough because they are passionate about hockey and go above and beyond what anyone else does on the topic.
When it comes to a generic casino portal, there are just too many out there so you have to ask yourself, why should any search engine consider giving you any traffic or if you do get any traffic, how are you going to do a better job than your competitors?
If you can't come up with a good USP for your topic then you need to pick another topic or call it quits.
4. Ask an expert and get an affiliate coach
Why re-invent the wheel?
There are many webmasters in gambling that don't mind offering a bit of help and advice but of course you should be willing to give something in return whether it is a link or a signup.