Forums are popular tools for webmasters and some of the popular ones include vBulletin, phpBB and Simple Machines.  Moot.it is another forum software that aims to be different and could be the forum of choice for webmasters in the future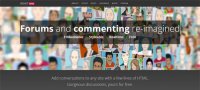 Moot.it
makes forum and commenting software.  There are probably well over 100 choices for a webmaster to choose from when trying to create a forum on their website. Most of these forums look and act similar with many of the popular ones becoming the preferred choice for webmasters, this is due to things like plugins, security control and their history.  If anything the older forum softwares have had a good 10 years to develop and master their forums with an endless supply of feedback from webmasters to make it better.
vBulletin is probably considered the number 1 forum software
around with plenty of developers making plugins for this and also considered to be the most SEO friendly forum software. All forums seem to have the same look and that is half the idea behind Moot.it. Moot knows how clunky and cluttered forums can look. Their inspiration behind their forums and commenting software comes from a design and user experience approach. To view their forum in action you can see their forum:
https://moot.it/forum/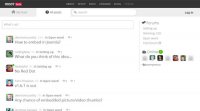 There don't appear to be too many cons on first impression of the software. A few would be the signup process using facebook or twitter keeps things a bit limited, whereas on the positive side it is a faster signup process. Also all of those
best vBulletin plugins
you just don't really be able to integrate with Moot. Aside from that integration of the software appears to be very simple.  
Moot is free
to try with the only costs are for upgrading $10 per month for branding and the maximum is $20 per month for single sign-on. Comments on articles and forums should go hand in hand but most forums don't have the same system or consistency of their commenting sections. With Moot you can make it easy for your users to get setup so they can post in the forum or leave comments on your articles. They can follow your feeds or other aspects of comments or forums as feeds as well.
Fast forum setup
Aside from having a clean design that makes it easy to follow, setting up a Moot forum is fast and simple. Just select your site username, do a simple registration and then get your embed code and easy does it.  It is a simple process to get started and the monthly costs make it easy for any webmaster to get off the ground. Best of all since it doesn't cost you a lot of money up front or time, it is easy to back out of your decision if you decide forums are not your cup of tea. Responsive design forums! Not all forums look great on a mobile phone. With Moot that problem is solved, just have a look on your phone to see how Moot forums look on a mobile phone.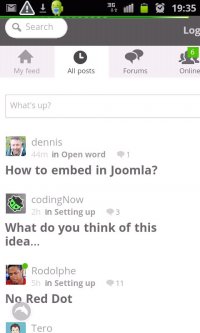 Visit
Moot.it
to learn more about their software, feel free to like and share this article with anyone but your competition.