Mr Affiliate Interview with Ali Atam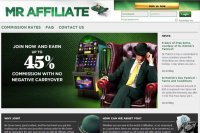 Affiliate manager Ali Atam from Mr. Green gives us an exclusive interview and answers some questions about their affiliate program and unique casino
1. Mr Affiliate, the affiliate program for Mr Green Casino, has recently won one of the Gaffg Trusted Affiliate Program Awards in the Gaffg Awards 2013, what does this mean for the affiliate managers and team?
We are extremely happy and proud that we have won this award. It is great to see that our work is being appreciated by our affiliate partners and it also motivates us for achieving better performance.
2. A few years ago, Mr Green casino launched with what seemed like a unique concept at the time of having not just different casino games from some of the top casino software providers but only providing the best games of those softwares. How has this strategy worked for the casinos and what do the players think about the game selection?
I believe the key to Mr Green's growth was the ''Quality of the Product''. The unique idea to bring top quality games from the top casino softwares into one platform helped Mr Green to be a popular figure in the casino industry. We receive really high praises from our players for our product and we also follow people speaking about this in the well known casino players forums.
3. Mr Green has the complete casino experience available with RNG games, mobile and live dealer. Do you feel this is the new standard for online casinos to have the full casino experience?
Yes, I believe this is the new standard to have the full casino experience. We are already observing the increasing Mobile Growth contribution in our numbers and we are continuously investing in our Mobile product as we believe its the future.
4. What are some of the planned improvements made for the casino and affiliate program this year and beyond?
We will be entering new markets in 2014, therefore we will be looking to expand our affiliate team and Mr Affiliate will be available in new languages and marketing materials. We will remain being transparent with our partners, continue our reputation to be the fastest program to reward our affiliates, and we will remain to be quick to respond to their needs and requests.
5. For the casino affiliates that haven't yet joined Mr Affiliate, why should they join and what can they expect from the affiliate program?
They should join Mr Affiliate to promote an award winning online casino and get high conversion rates as well as working with an affiliate program with flexible commission models. They can expect to work with a dedicated affiliate team who is ready to provide first class support whenever they need something and reward them on time at all times.
About Mr Affiliate
Mr Affiliate is the casino affiliate program for Mr Green Casino and they recently won the Trusted Affiliate Program at the Gaffg Awards 2013.
The Mr. Affiliate platform
Mr. Affiliate is the official affiliate program for Mr. Green, one of the most acclaimed and famous online betting sites available up to this day.
The affiliate platform started operating in 2008, right after the release of Mr. Green into the whole world.
As an affiliate marketing platform, it is focused on sponsoring and promoting its brand across the globe so that it can grow and develop even further worldwide.
Mr. Affiliate is considered to be one of the most reliable and trustworthy affiliate programs available nowadays. The webmasters simply love how the site is user-friendly and quick to respond when it comes to any type of problem that they may have.
Additionally, Mr. Affiliate is expanding and entering new jurisdictions, meaning that the affiliate program is starting to offer its services in new languages so that new webmasters are able to join and understand each and every feature of the site without much of an effort.
The webmasters do not have to pay any kind of fee to submit an application to Mr. Affiliate. It is free of charges at all times.
As a webmaster on Mr. Affiliate, you can earn commissions following a standard commission structure as well as other interesting plans such as a CPA or Hybrid deal.
The rates on revenue shares that you can earn will depend on your performance and that of your referrals. There is no limit as to how much you can earn on Mr. Affiliate.
Mr. Green is a top gambling site worth promoting
Mr. Green was founded in 2007 and officially launched in 2008 by Fredrik Sidfalk, Henrik Bergquist and Mikael Pawlo.
These three Swedish entrepreneurs assembled one of the most important betting platforms in the whole world.
In its early years, Mr. Green was based in Stockholm. Nowadays, the betting platform also has headquarters in Malta and it holds up to 5 different gambling licenses.
Mr. Green is regulated in many countries throughout the European continent, turning it into one of the safest and most reliable betting sites available in that particular continent.
The site is yet to make the jump needed to reach new borders and continents. For many gamblers in Asia, America and Africa, Mr. Green is an unknown betting platform that does not ring any bells at all.
Despite that, Mr. Green is one of the best betting platforms to promote if you are a webmaster looking to earn extra money in the evolving industry that iGaming is.
The site and its affiliate program are growing steadily so joining any of them may be one of the best choices available to you at this particular moment.
The jump to the new mobile era
With the rising growth in popularity for the acquisition of iPhones, iPads and Android devices, it is easy to assume that the world is entering a brand new era where mobile devices are the top priority for society.
Nowadays, most users prefer browsing on the web through their phones and tablets. They consider it to be more comfortable and quick.
With that in mind, Mr. Green has been investing a lot of its budget on its mobile interface. That way, the players and affiliates are able to take advantage of all the features of the site anywhere they go.