Negative reviews for Hotel Arts Barcelona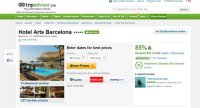 The Hotel Arts Barcelona is a well known luxurious hotel in Barcelona next to the casino. After recent events involving the EPT Barcelona where poker pros claim their rooms were invaded, negative reviews are now hitting the hotel very hard
For any location based business like a restaurant or hotel, reviews can be critical to the success or failure of that business. When people are selecting hotels to stay in, they like to read reviews of the place and is now becoming an important factor if people decide to stay at that hotel. One of the biggest review sites around is TripAdvisor which you can review restaurants and hotels located all over the world.
However the Hotel Arts Barcelona is enduring an assault of negative reviews and the kind of publicity they certainly don't want. This is all happening because of a few professional poker players claim to have had their rooms invaded and laptops infected with trojans.
You can read more about the stories in the following article: /blog/ept-barcelona-pro-poker-players-laptops-stolen/ You can read the full account of one of the poker players story here: http://forumserver.twoplustwo.com/29/news-views-gossip/my-unbelievable-ept-barcelona-story-hotel-rooms-arts-barcelona-broken-into-plant-trojans-1369171/ One of the poker players goes by the handle 'Jeans' at twoplustwo.com forums and noted a lot of unusual activity where his laptop would disappear, reappear and seems someone had installed a trojan on his laptop.
He says as well that the hotel cameras were not functioning in all the places that would have caught the person doing the work to get into their rooms.
No matter how you spin it, the story by Jeans looks credible and even if the hotel isn't in the wrong on this one the damage might be difficult to recover from. If the hotel is actually not responsible for this then it will take a lot of good PR to get their name clear.
Latest reviews from TripAdvisor
The last 8 reviews posted as of Sept 10th, 2013 show seven 1 star ratings and one 5 star rating which is a very low score. All of the 1 star ratings all talk about the security of the hotel and many mention the poker scandal.
People reading this considering staying at the hotel are definitely going to be scared off. We won't copy what some of those users have posted for reviews and warnings but you can read some of them on the review of Hotel Arts Barcelona on tripadvisor. http://www.tripadvisor.ca/Hotel_Review-g187497-d190635-Reviews-Hotel_Arts_Barcelona-Barcelona_Catalonia.html
Hotels with bad reputation
Hotels are venues where you can stay for a determined period of time and enjoy some privacy and commodities while being away from home.
Sadly, not all hotels are managed rightfully and tend to look for ways to seize any of their client's clothes and other belongings during their stay.
Many hotels around the world have been notified and marked as "not reliable" due to the constant number of different crimes that take place in them.
It is important for anyone to find a reliable, safe and fully equipped hotel when they are trying to relax during a business or vacation trip, so it is recommended to make a thorough analysis and choose the correct one.
Best hotel reviews sites
One of the best ways to find out whether a hotel is trustworthy or not is through the sites that offer hotel reviews.
There are many of them available up to this day, but there are some of them that do not offer high quality reviews that you could rely on completely.
To avoid that kind of mistake, here are some of the best ones available to all the users:
Google
It may not seem as a surprise that Google is part of the list. The giant Search Engine offers its users the chance to search for hotels, check pictures, their offers and also allows them to leave their opinions.
According to several statistics, Google is chosen for more than 75% of the people looking for reliable hotel reviews.
One of the main reasons why Google is chosen so often is the simplicity of its platform. All you have to do is look up the hotel's name and then, the reasons will pop up on your screen, as simple as that.
Facebook
Another tech giant on the list, Facebook is the most used social media platform nowadays, with billions of users across the globe, you can find anything on it, including hotel reviews.
Facebook allows you to find any hotel, motel or an inn close to your location, apart from that, you are able to leave and read your personal review on the hotel and the service that you were provided while staying on it.
In addition to that, Facebook has a rating system that depends on the opinions of the users, being 5 stars the best rating that any hotel is able to boast on the social media platform.
TripAdvisor.com
This platform was mentioned previously, it is the most famous site that focuses entirely on offering hotel reviews.
What makes this particular platform so popular and reliable is the fact that the reviews are not made by hotel users only, there are experts and pundits in charge of making reviews as well.
Sometime, users leave horrible reviews because of anger with no objectivity. That certainly does not happen on this platform since many reviews are made by a personnel dedicated to it.
Booking.com
If you have ever looked for a hotel reservation on the web, you surely visited and consulted the many options available on Booking.com.
This worldwide famous platform is known for the large number of hotels that are registered on it. You can find hotels, inns, motels and more near your location on Booking.com without any doubts.
Apart from the fact that you can book a room on your favorite hotel, you also have the chance to check the hotel's rating and reviews, giving you the chance to make the best choice at all times.
There are more than 29 million hotels registered on Booking.com, with many more looking to join the platform every day.