The Hotel Arts Barcelona is a well known luxurious hotel in Barcelona next to the casino. After recent events involving the EPT Barcelona where poker pros claim their rooms were invaded, negative reviews are now hitting the hotel very hard
For any location based business like a restaurant or hotel, reviews can be critical to the success or failure of that business. When people are selecting hotels to stay in, they like to read reviews of the place and is now becoming an important factor if people decide to stay at that hotel. One of the biggest review sites around is TripAdvisor which you can review restaurants and hotels located all over the world.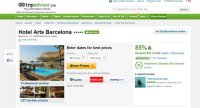 However the Hotel Arts Barcelona is enduring an assault of negative reviews and the kind of publicity they certainly don't want. This is all happening because of a few professional poker players claim to have had their rooms invaded and laptops infected with trojans. You can read more about the stories in the following article:
/blog/ept-barcelona-pro-poker-players-laptops-stolen/
You can read the full account of one of the poker players story here:
http://forumserver.twoplustwo.com/29/news-views-gossip/my-unbelievable-ept-barcelona-story-hotel-rooms-arts-barcelona-broken-into-plant-trojans-1369171/
One of the poker players goes by the handle 'Jeans' at twoplustwo.com forums and noted a lot of unusual activity where his laptop would disappear, reappear and seems someone had installed a trojan on his laptop. He says as well that the hotel cameras were not functioning in all the places that would have caught the person doing the work to get into their rooms. No matter how you spin it, the story by Jeans looks credible and even if the hotel isn't in the wrong on this one the damage might be difficult to recover from. If the hotel is actually not responsible for this then it will take a lot of good PR to get their name clear.
Latest reviews from TripAdvisor
The last 8 reviews posted as of Sept 10th, 2013 show seven 1 star ratings and one 5 star rating which is a very low score. All of the 1 star ratings all talk about the security of the hotel and many mention the poker scandal. People reading this considering staying at the hotel are definitely going to be scared off. We won't copy what some of those users have posted for reviews and warnings but you can read some of them on the review of Hotel Arts Barcelona on tripadvisor.
http://www.tripadvisor.ca/Hotel_Review-g187497-d190635-Reviews-Hotel_Arts_Barcelona-Barcelona_Catalonia.html