New casino site launches in Spain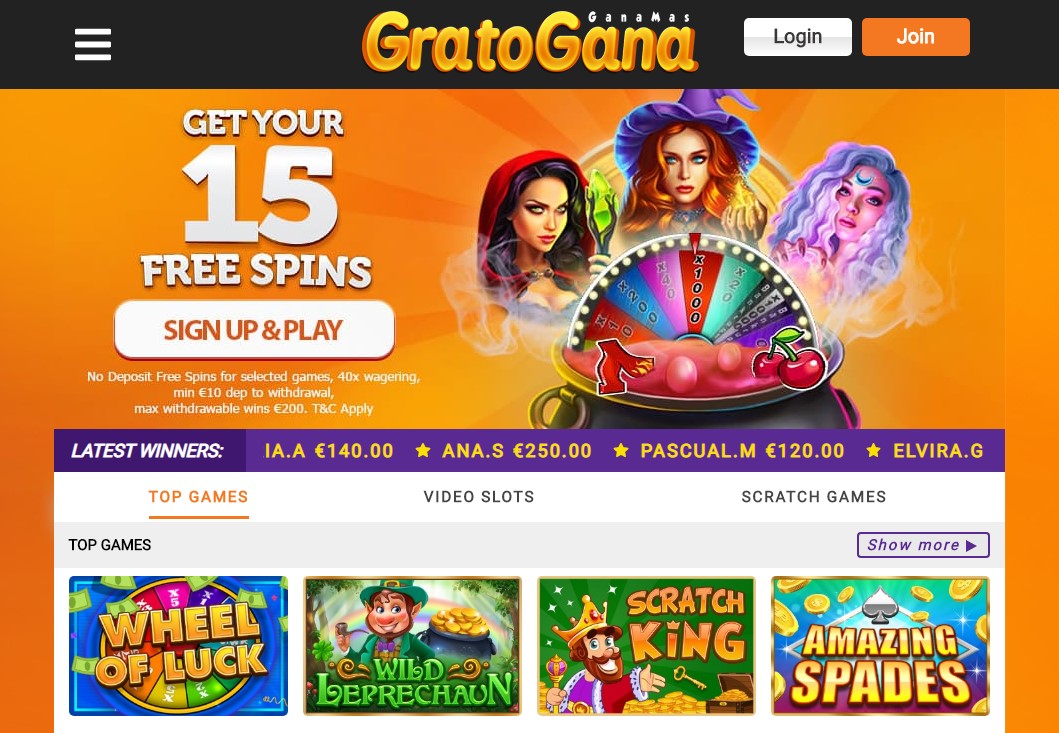 NetoPartners, a Spain based affiliate program that's been around for more than 10 years has just revealed the launch of a new casino site that goes with the name Gratogana.
NetoPartners, aside from being in the market for a considerable amount of time, its achievements does not stop there. They develop their own in-house scratch and slot games. WinOmania, Winspark, gratorama, Winorama and ScratchMania are some of the brands that they offer within their affiliate program generating millions of Euros across all of their affiliates on a monthly basis.
This is the info we have according to the launch of the site:
"Gratogana is a brand new casino site that has a lot to offer. The site has been licensed in Spain and offers games run on Anakatech platform. These games are exclusive to Netopartners brands and so can give players an exciting new experience. There are over 70 Slot and scratch card games available on the site and many more should be added in the next few weeks"
"The site is fully secured and offers a variety of payment methods such as Credit Cards, Debit Cards and Paypal, Skrill, Neteller and Paysafe will be added soon so that players can get the best experience. It has been granted a license to operate under the Directorate General for the Regulation of Gambling, which is great news to affiliates and players."
Directly on their website, GratoGana brands a selection of over 150+ "impressively created slot and scratch games". They claim that even more unique games are coming, produced by their teams as far as to promise a new game every two weeks.
NetoPartners attempt to make the Spanish gambling community grow
As it was mentioned already, NetoPartners has been around for a bit more than 10 years. The affiliate platform has managed to stay for such a long time in a competitive and ruthless industry where most brands last no more than 5 years operating.
Surely, what NetoPartners has accomplished is worth praising and should not be left unsaid by any means.
Since its release, NetoPartners has worked nonstop with the intention of improving and developing the gambling industry within the Spanish territory.
The Spanish territory has always been difficult to enter for any gambling operator. So it is even more eye-catching to see how NetoPartners has beaten all the odds.
Apart from that, with the launch of Gratogana, NetoPartners is set to increase the number of betting platforms available to the players so that they can have lots of fun while earning some extra money playing their favorite titles.
The online gambling industry in Spain
In Spain, any gambling activity performed without the authorization from its gambling regulator is considered illegal and can be punished severely.
In order to offer gambling services within the Spanish borders, you would have to acquire a gambling license through the gambling regulatory body of the country.
None a lot of gambling operators are granted the license so the Spanish players do not really get to enjoy the possibility of betting in a wide range of betting platforms.
Despite the high earnings generated by the industry, the Spanish authorities are still hesitant to increase the number of betting sites that can operate within the country.
The earnings generated by the gambling industry in Spain
Combining the retail betting venues and the online betting platforms that can be accessed from Spain, the industry is able to generate up to $900 million per year.
Such sum of money is set to grow at least 10% in subsequent years, meaning that the Spanish government is definitely able to charge a decent amount of money through taxes.
The gambling operators in the country have not complaint about the sums of money that they are taxed. As a matter of fact, plenty of them have expressed how lucrative and worth investing on the Spanish territory is.
The most popular forms of gambling in Spain
All forms of gambling are loved and fun to the players residing in Spain. But, there are certainly some of them that stand out more that the rest when it comes to their popularity and the players' preferences on a regular basis.
According to statistics, the Spanish players love table games. Some of them are: Baccarat, Poker, Roulette and Blackjack.
Additionally, the Spanish players love to get involved in the new trends so the number of slot games fans has been growing within the nation as well.
What Gratogana will offer the players
As of this moment, NetoPartners has not published any information about the complete offers and betting options that the players will have available on the online betting site.
NetoPartners specified that the betting platform will have more than 150 slot games and other betting options available from the moment it gets released.
NetoPartners also stated that new games are set to be released every two days, giving the players the possibility of having fun and generate extra income with fresh new games regularly.
The Spanish players are expecting Gratogana to be an advanced gambling platform that offers more than just an interesting variety of games.
The players are hoping for Gratogana to become a reliable and flexible online betting platform where they can boost their winnings, entertain themselves and get away with so good extra earnings.