PokerStars poker room leaves China markets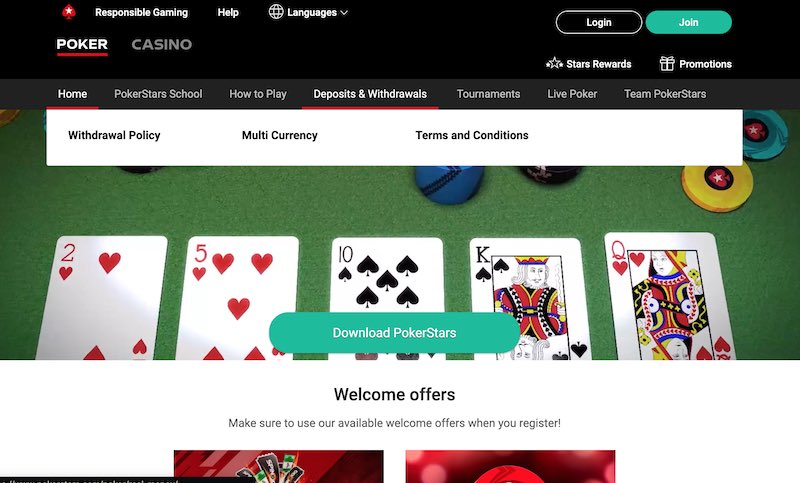 PokerStars to leave Asian Markets. Exiting Macau, China, and Taiwan altogether.
PokerStars has been around since 2001. Across all it's brands including, PokerStarsPoker, PokerStars Casino, BetStars and more, they offer an extensive line-up of slots and games from NetEnt, Amaya, Evolution, and many other providers.
They're readily available across desktop and mobile platforms while offering more than 10 different languages for it's players.
Stars Affiliate Club is the casino affiliate program responsible for promoting PokerStars Casino.
The brand is about to exit the Asian markets after Flutter, a global sports betting, gaming and entertainment provider, decided to cease operations across several jurisdictions.
PokerStars has sent an Email to customers advising that it will start to facilitate player withdrawals before things start to move over.
The group had managed to operate legally despite online gaming not being allowed in China and Macau. The owner of PokerStars, StarsGroup, came into an agreement with the International Entertainment Corporation (IEC) to license the PokerStars brand for land-based live events across Asia, including Macau.
The Stars Group however, was recently acquired by Flutter Entertainment, a UK-based company, and in it's latest financial report indicated that it would remove all of Stars Group brands from places where it did not want to operate.
Time for looking for further opportunities and investments for PokerStars.
PokerStars change its plans
PokerStars is one of many online gambling operators that has had to change their plans abruptly due to drastic changes in regulations and limitations to its services.
PokerStars has worked since its launch in 2001 to become one of the most popular and complete betting platforms that the players worldwide can register on without any setbacks.
The platform started off focuses on offering poker rooms and other table games to its users. It quickly became a powerhouse platform that many players loved to be part of.
The site became relevant on the industry thanks to its attractive platform and earning possibilities.
One of the main goals for PokerStars was reaching jurisdictions that no other operator could enter, with China and Macau being two of those coveted territories.
The plan seemed to work, but sadly, it has gone downhill due to the new implementations imposed by the executives.
What comes next for PokerStars
Flutter Entertainment is the new owner of all the PokerStars brands, so new changes and policies were expected to be put in place in the near future.
Despite that, the sudden announcement of the brands leaving Asian markets was more than surprising to the whole iGaming industry.
Some experts and players were expecting new management changes and alteration, but surely nothing that had to do with the jurisdictions that PokerStars had entered already.
The abrupt announcement and measurement taken by Flutter entertainment will lead PokerStars and all of its brands to eye-catching losses in the upcoming year.
Apart from that, the betting company will have to make great investments and a big number of deals in order to enter the Asian market in the future, if that is their intention in the long run.
Giving the drastic changes that the new office is imposing on the PokerStars brands already, many iGaming connoisseurs think that the betting platform is set to suffer extreme adjustments that could make lots of players leave the platform altogether.
The gambling industry in China and the rest of Asia
All forms of gambling except for state-run lotteries are banned in China, without any exceptions. In addition to that, The Chinese Cyberspace Administration blocks any Chinese resident to enter any gambling site.
When it comes to tourists that wish to take part in gambling platforms, they have to show their visas to the authorities and wait for the approval so that they can gamble freely while visiting the Asian nation.
Macau is the only place in all of China where casinos are able to operate legally and according to the law. However, the region cannot host any online gambling site, only land-based casinos.
On top of that, any person or company hosting or operating an illegal gambling venue or platform from China is subject to be imprisoned for at least 3 years. In other cases, the subjects can be forced to pay a determined fine.
With that being said, it is clear to see that China has strong restrictions against any form of gambling, and it seems that the government will not change its stand any time soon.