Rummy Affiliates wins Gaffg awards for Trusted Affiliate Manager & Program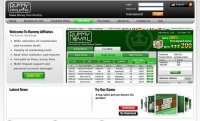 Sivan Kaspi is the affiliate manager for
Rummy Affiliates
and she gives us an interview to talk about their rummy affiliate program and the 2 awards won.
Congratulations for winning 2 of the Gaffg awards for Trusted Affiliate Manager and Trusted Affiliate Program, how does it feel?
Thanks for the award; besides for enjoying the work and relationships with affiliates, it's both flattering and gratifying for all the hours and hard work.
For those that don't know much about Rummy tell us what type of game it is and which category of players it would appeal the most to out of the big 4 of casino, poker, sportsbetting and bingo.
Rummy is actually the 3rd most popular game in world, only following Monopoly and Scrabble, so most people know one form of the game or another.
Rummy is a skill-based game offering many similarities for poker players, who in order to win, need to stay focused and alert to their opponents actions.
Rummy games take it a step further, where skilled players observe which cards are discarded and picked up and determine their game strategy based on those actions.
Casino and bingo players also enjoy a break from their luck based games and try their hand in a fun and skill-based game.
Bingo players also greatly enjoy the casual atmosphere of Rummy, which does not require hard betting.
Furthermore, RummyRoyal offers new players $5 free to learn and practice the games before choosing to deposit.
In twitter style of 140 characters or less, tell us details about the Rummy Affiliates program.
RummyAffiliates offers a sophisticated product with top quality service, reports, materials, payments for the leading online Rummy platform.
What are some of the games available at Rummy Royal including the more popular ones.
Being that Rummy is a game played around the world, there are many different names for the local versions of Rummy.
The most popular game at RummyRoyal is Rummy51, known in the UK as Kalooki51, in Romania as Remi51 and in French as Rami51.
In Italy, most players are fanatics for Scala 40 and Burraco, while in Greece the local favorite is Biriba and in Turkey it's a tile variation known as Okey.
Bet you didn't know there were so many versions of Rummy…and I only mentioned the most popular variations!
What are some of the successful ways that casino and poker affiliates are marketing Rummy Royal to their players?
Affiliates can see great results in a few different formats.
By sending mailers to their existing database from our wide selection of mailers, affiliates can target different types of players.
Also, many poker and casino affiliates include a skills game section in their sites, or have sites dedicated to Rummy search traffic.
Additionally, affiliates with forums also see nice rewards from marketing RummyRoyal.
RummyRoyal has various daily freerolls, guaranteed tournaments, and is the only Rummy platform with Multi-Table Tournaments.
For example, during this holiday season we have special weekly freerolls, such as $750 freerolls, Guaranteed tournaments ranging from $2,000- $12,000, and new and exciting leaderboards.
Poker and casino players continue to receive the customer service they are accustomed to, as RummyRoyal has 24/7 multi-lingual player support.
What can affiliates expect when working with Rummy Affiliates?
RummyAffiliates is like a boutique program, offering quality and personalized service.
When an affiliate writes us, s/he gets a reply from a person with professional experience, whose goal is not solely to reply to the affiliate, rather help him/her find ways to better their performance and results.
Affiliates know that Rummy Affiliates always pays first.
We begin our payments on the first day of the following month, even though we guarantee to pay by the 15th.
I don't recall a single month when payments were not completed by the 5th day.
Read the Rummy Affiliates review or join the affiliate program.

Related Articles
Scratchcard Affiliate Programs