Take a look at your work environment. Do you have little piles of scattered chaos? Perhaps your online environment is similar, and you're finding it hard to keep your messages, files, pictures and general digital life under control. Introducing #slack…because it sounds like you could use some.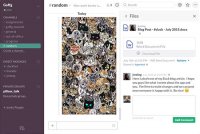 Disclaimer
: I am NOT a #slack expert. In fact, I only heard about this effective little app a few days ago. But what I do know is that in this incredibly short time, #slack inspired me to blog about it so it must be kind of ok. First, I'll provide a little background about the individuals I work with. Then I'll get in to how #slack works for our group.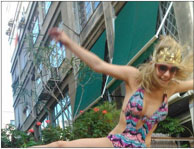 Brandie
: Brandie is a free spirit, always on the go. Tweeting about this; Facebooking about that; taking pictures throughout her daily Barcelona life, and adding memorable captions so her followers know exactly where she is, what she's doing, and what mood she's doing it in. Even Brandie's Facebook is on the go, and when looking through her albums to find a profile picture to add to this article, many were out of focus because she's always zigzagging. See >> That being said, Brandie needs apps which facilitate her fast-paced lifestyle.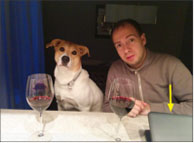 John
: John is a Jedi mastermind. He's always "plugged in" and always up-to-date on the latest app, technology trend, SEO hack and NSFW gadget. John's passion about his job is most visible when he is coaching his affiliate network. He loves to bake, loves dogs, and while this is not his Match.com profile, they call him Mr. Wright for a reason. Eligible bachelorettes apply within. I don't suspect he'll bring his computer to your date, like he did to Roxy's >>. Needless to say, if an app is uninteresting, not customizable to his specific needs, or unreliable he will quickly find them futile and boring.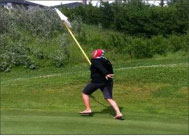 Jen
: Jen likes email. Simple >> Scroll below… What the # is slack?!
#slack is a place where you sign up, create a team, and invite the people you work with. Once your group has been established, you can go on to talk to and share any type of files with your coworkers, keeping all content in one place. #slack has the capacity to become your communication hub.
#slack allows you to talk visibly for the entire group to see,, 1:1 with direct messaging, or confidentially in private groups like when John sends Brandie NSFW files.
Conversations and groups can be organized into channels based on department (ex. Marketing), projects (ex. Blog Articles) or shared interests (ex. iGaming Notworkers, Calvin Ayres latest birthday stunt, how NETELLER > Skrill or any other gratuitous shout out). This keeps work transparent and creates an instantly and easily searchable archive.
Once your entire group is using #slack, you will be able to keep all the files, messages, images, sound clips or whatever else your group is working on together in one place.
Stay focused. #slack is friendly with many of the tools you use every day. Integrate these into Slack, so that all your notifications, too, are in one place. You'll reduce the need toggle back and forth between apps.
…and why does it work for us?
Brandie can use it on the go via #slack's mobile app. Any affiliate would find value in that.
John likes that he can paste links from Google Drive, Dropbox or Box and it syncs and becomes searchable within one sexy little search box
Jen likes its simplicity. Drag, drop, done.
We all like that it reduces our time playing Hide & Seek with the stuff we need for work now. Oh ya… #slack is free, unlike your time, which you will have more of.
Here are your links: To get the app –
www.slack.com
To learn more, watch: