Award winning Rewards Affiliates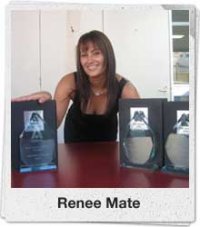 Out of the 3 Gaffg awards won by Rewards Affiliates, which one do you like the best? Trusted Affiliate Manager, Trusted Affiliate Program or Charity Recognition Award?
Trusted affiliate program is probably my favourite out of the 3.
Trust is hard to come by these days and it's reassuring to know that affiliates do trust Rewards Affiliates.
The affiliate program is called Rewards Affiliates because you win so many awards or give rewards and benefits to affiliates?
LOL. It would be more than modest to name ourselves after all the awards we receive :P
Actually the program is called Rewards Affiliates because our group is called Casino Rewards.
I believe the name Casino Rewards came about because of the idea of a loyalty program where you get rewarded for your play.
So it made sense that since we are in the casino business to call it Casino Rewards.
Rewards Affiliates was a natural progression after about 5 years of being called Casino Rewards Affiliates. So we chopped the casino part and just became Rewards Affiliates.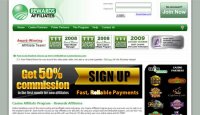 Regarding donating time and money to charity projects share why you like to get involved.
Are you kidding? I LOVE dressing up.
Our company is young and fun and believes in working hard but playing hard. So when it comes to charities there is an event every 2-3 months and everyone gets involved and they make a decent day of it.
For example, we had a charity day a month or two ago called "It used to be cool" where we had to dress in clothing that used to be cool and watched Napoleon Dynamite in a rented out cinema (to go with the theme).
For every person who dressed up, the company donated $300 each and the full amount was split between 5 different charities/causes, one for example was the MS Society of Australia.
Since our company is so large now, the amount of money we raise for charity is in the tens of thousands.
For me in particular, the thing I like about these days is that they often ask people to make suggestions on charities.
My answer is always the kids with cancer charities.
It pleases me that although I can't make a difference in what I donate, at least the company combined can make a difference in what they donate to these charities.
For the rest of the industry, do you think more online gaming companies need to become more active when it comes to participating in charity projects?
To be honest, I think it is for some people and not for others.
Personally I find it very rewarding to donate money to a cause I believe in which makes me grateful that our company allows me to do that in a round-about way through them, but I would never shun someone/a company for not donating. It's a very personal thing.
Out of all the affiliate tools available in the backend, which tool performs the best?
This is a hard question to answer only one, so I will give you a list of the tools that are high converting, not in any particular order.
Suggestion Box (Marketing Tools > Search Creatives – Flash > Suggestion Box)
Horoscope Widget (Marketing Tools > Search Creatives – Flash > Horoscope Widget)
Rollover Shine Banner (Marketing Tools > Search Creatives – Flash > Rollover Shine Banner)
IM Pop (Marketing Tools > Search Creatives – Non Flash > IM Pop)
Peel Banner (Marketing Tools > Search Creatives – Non Flash > Peel Banner)
As for banners and email creative, I find the ones that work best are the ones that are clean or different or have game themes/objects on them like TombRaider, Thunderstruck etc.
Your predictions for the online gambling industry in 2012
No one knows what the future holds, right?
Sometimes I wish I was psychic but imagine how much fun would be taken out of everyday things?
There'd be no excitement!
To be honest, I don't think about it very often.
My thoughts though are that we will see more and more countries going down the licensing route, meaning affiliate commissions will have more fees taken out of them and possibly some groups (and we are already starting to see it) will start to lower commission percentages in the hope to stay afloat.
I hope it doesn't happen, but I think we will see some groups of affiliates rise and some fall.
In regards to the industry in general, I hope places like the US pull their fingers out and realise that prohibition does not work.
Unfortunately I don't see this happening in 2012.
My biggest prediction is that the industry will still be here this time next year.
About Rewards Affiliates
Rewards Affiliates has won
3 Gaffg awards in 2011
and hopes to win more at the
iGB Affiliate Awards
.
Affiliates can get a $50 affiliate bonus for generating $1000 exclusively through Gaffg.

Related Articles
Interview with Renee Mate April 2011
Interview with John from BestPay Partners
Interview with Franco from VJ Affiliates
Looking for an affiliate program?
Try searching our Gambling affiliate programs directory.