StatsRemote Interview discusses their tools & features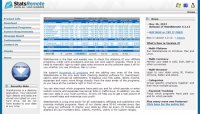 Editor's note January 16, 2022: StatsRemote closed in 2017. If you miss StatsRemote for tracking your stats then check out the StatsDrone stats checker. Get it 30 day free trial.
1. What is StatsRemote and why was it created? StatsRemote is a subscription based desktop application which runs on your own computer. You select each of the programs you promote, enter your own username and password for each and the software does the rest. It runs on Java so we can offer you Windows or Mac or Linux subscriptions. StatsRemote periodically logs into each of your accounts, gathers your latest 'high level' stats and presents them aggregated as a glorified real time updating spreadsheet. In this way you can spend more time focussing on your campaigns and waste less time reading and analysing your earnings (& spend) stats. 10 years ago, our owner grew tired of constantly having to manually login to all of his affiliate programs, to find out which programs were performing well and which not, so he asked his brother to develop what was meant to be an 'own use' product, but between them, they soon realised that there may be a market for the product. 2. How many affiliate programs are listed inside StatsRemote? We currently support about 2700 programs, of which about 650 are in the Gambling vertical. 3. What does StatsRemote do better than other competing affiliates stats trackers? We are aware of similar products in the Adult vertical, but we are not aware of products like ours that tackle the Gambling and what we call 'General' verticals. When paying for a service like ours, it is not just a piece of static software you are 'renting', it is the speed with which our developers 'tweak' our stats reading routines that is key. So as soon as we are alerted about a program change, we code a fix and release updates weekly without fail, and this is essential. 4. Are the stats all done in real time and if not how often are the stats updated? StatsRemote has the capability of showing stats at a daily level. However, many gambling programs use stats systems e.g. NetRefer, that do not report earnings at a daily level, instead they only show them at a monthly level. So with these, we have no choice but to query for the monthly stats and to distribute them across the month so far. This means the monthly stats will match but the daily clicks for example, will not.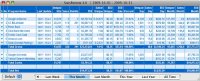 There are some programs that allow for individual days to be queried, but unless they actually report negative earnings for individual days, making it safe for us to sum together 30/31 days of earnings, in order to arrive at the correct monthly value, we must query these programs monthly too. We do have our own accounts for about 80% of the programs we support but most will naturally be empty. Therefore to add or fix programs, we may need users to send us specified reports from their affiliate accounts or, when the program gets complicated, we may ask for temporary access to their accounts. 5. What are some of the trends you are seeing in terms of areas of affiliate marketing that are growing fast or other industries that are shrinking? From a StatsRemote 'support perspective', we add programs 'on request' and there has been a noticeable increase in the number of Forex/Binary programs being requested. (These are listed under General on our website by the way). There is always a steady stream of gambling programs being added, and in contrast, we are constantly closing Adult programs. We have had to say farewell to some of our early adopters who bear witness to how that market is shrinking. 6. For those webmasters that haven't signed up yet or haven't heard of StatsRemote, why should they start using the program?

How precious is your time? Sure there is a buzz with manually logging into your accounts to see how much you have earned, but shouldn't you instead be focussing on website layouts, writing your blogs, fine tuning campaigns and instead, simply 'glance' at your StatsRemote display, to see your current status for potentially hundreds of programs, updating in pseudo real-time. All for a dollar a day. You can try get the software at StatsRemote.com available for Windows, Mac/Apple and Linux.