Ultimate Poker launches, becomes first legal poker room in United States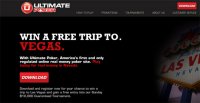 Ultimate Poker launches in 2013 and becomes the first legal US facing poker room licensed and regulated in the state of Nevada.
Great news for US poker players, perhaps not so great news for US affiliates.
US poker players have been virtually locked out of poker since Black Friday 2011 which has left players with no good places to play.
FullTilt Poker, PokerStars, Absolute Poker and Ultimate Bet were virtually wiped off the poker map in a single day with many American players having their funds frozen.
Recreational players had very little options with a few poker rooms still taking US players but enduring payment processing issues which make it risky for them in getting their money back.
During this time many professional poker players have left the United States to continue making a living playing online poker while others have settled into Las Vegas playing the tables.
On February 22, 2013, the state of Nevada announced it had licensed online gambling.
For poker players it appears that Ultimatepoker.com takes players in the state of Nevada only but the good news is they are connected to Station Casinos where players can deposit into the online poker room and withdraw at the 16 locations in the state.
Of course for poker players this gives them something they have wanted for a long time: financial security and the legitimization of online poker.
For affiliates it seems there isn't an affiliate program at the moment and with an existing player database to market to, it seems that Station Casinos LLC doesn't have too much incentive for offering an affiliate program either at all or with commission rates of what poker affiliates were used to seeing.
Either way it does appear to be a step in the right direction for online gambling.
Lots of poker websites
You probably know by now all the poker websites that exists in the gambling industry, but you must take into account that almost all online casinos offer Video Poker and all its variants, so don't feel discouraged when some poker websites go down or get banned because there are lots of gambling sites that may not be widely known, but we assure you that you will enjoy them a lot.
Social or for Real?
We all love to play Poker, no matter if it is with our friends on a Saturday night or when playing from our smartphones or computers in the comfort of our bedrooms. Playing Poker can be fun, intriguing and if you are lucky and have the skills you can get some money, however, never play when you are angry or when you are in a rush.
There are poker websites and apps that are just for fun and there are others that are more serious and, of course, for real money. We would like you to recommend you to always play for fun first and then when you get the skills then you should play with money.
Don't forget that playing and betting on Poker should be always for fun and not as a way to live from it, plus you should never bet money that you can't afford to lose.