US Poker domains sezied by DOJ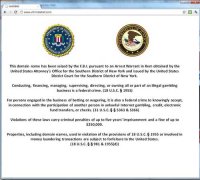 US poker domains seized by the Department of Justice in the United States. The domains and poker companies hit are PokerStars, FullTiltPoker, UltimateBet, Absolute Poker and UB.com
The online gambling industry is shaken today by the news that 5 major poker domains have been seized by the DOJ.
The 5 domains are PokerStars.com, FullTiltPoker.com, UB.com, UltimateBet.com and AbsolutePoker.com.
The news spread quickly first through poker players such as Tom Dwan on his twitter account at twitter.com/tom_dwan with about 10 tweets about the news. Tom Dwan is a sponsored poker pro at Full Tilt.
Tom Durrrr Dwan notes that players shouldn't worry about getting their money out of the poker room but said the smaller rooms would be concerning.
At the largest poker forum twoplustwo the news spread there and is now turning into a mega-thread with many poker players concerned about getting money out of their poker accounts.
Some player reports from Americans are showing popup messages on their poker clients saying they can no longer play poker for real money in their jurisdiction.
Players from around the world are saying they have no problems logging in or playing poker.
At GPWA forums the news is already being discussed by affiliates:
http://www.gpwa.org/forum/breaking-news-doj-indicts-founders-stars-full-tilt-ap-197239.html
In an email newsletter to affiliates from BetUS Partners, they let their affiliates know about the news and recommended that they all switch to promoting BetUS poker.
At the moment some of the domains appear to be seized but it is believed that the dns has already been updated and that it will take a bit of time for all 5 domains to be updated and viewed by everyone.
For gambling affiliates this might be of concern of those marketing towards American players.
If the sites can't stay online or process payments then it makes it difficult for affiliates to survive.
At the moment it seems Europe is the safest place for affiliates in gambling more EU countries have implemented some form of regulation or acceptance of online gambling.