WBX Affiliates interview with Peter Arena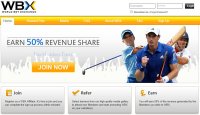 This interview with WBX is by Peter Arena, the affiliate manager for WBX Affiliates which is the affiliate program for WBX betting exchange. 1. What is your role with the WBX affiliate program? I'm an affiliate manager with WBX Affiliates. I handle the day to day running of the program and ensure the backend is running smoothly for affiliates, as well as ensuring payments are processed on time. I recruit new members to our program and am the first point of contact. 2. How did you get into the online gaming industry? I've always had an interest in marketing, but it was not my main area of study – I actually studied chemistry and biology in university. I had done some small tasks for WBX in the past and when an opportunity came up in the marketing team I was offered a permanent role. I spent time reading about online marketing and being an avid bettor myself I understood the industry from a customer perspective. I've worked in the affiliate manager role for a few years now and gained a lot of experience. 3. What aspects of the job do you enjoy the most? I love working with WBX because commission is generated by net wins on each market rather than net losses like they are with bookmakers. When a bet wins: the Member profits, the affiliate profits, and WBX profits as well. In a way we're trading on happiness rather than misery. Going back to my days studying biology this relationship would be referred to as mutualism – a symbiotic relationship that benefits all parties without causing harm. I believe it's every person's right to bet and win or lose as much as they want, however I think it would eat away at me if it was the usual situation for gambling programs, knowing that the only way I could perform my job well would be for referrals to lose money. I'm sure this is something that weighs heavily on the mind of many affiliates as well. I also love the interaction with affiliates and helping people each day. The best part of my job is when I get positive feedback from affiliates. I also enjoy logging in to the affiliate portal and seeing affiliates building up their earnings. Although I'm not the one earning the money I feel excited for our affiliates and want to see them do well. 4. Tell us about the WBX Affiliate program. WBX Affiliates re-launched in 2012. We wanted to give our affiliates a better overall experience and more importantly to help them increase their earnings. Our previous offering was a CPA, however when we relaunched we made the decision to offer a flat 50% revenue share for every referral. We didn't want to include any unrealistic tiers that the average affiliate could not reach, with the goal to make it a simple and easy to understand reward plan. We looked over the numbers and the majority of our affiliates have been earning much higher on this reward plan than they would have previously. If the signup generates £10,000 in net revenue the affiliate earns £5,000 and that is a huge improvement in earnings potential. We have positioned ourselves as one of the fairest sports betting affiliate program without any minimum activity clauses or negative carryovers. Our program offers timely monthly payments in a range of payment methods including bank transfers, Skrill and Neteller. We've received positive feedback from affiliates since the changes were made, and we will continue looking for ways to improve our program. 5. What are some of the special features of the WBX betting exchange? WBX is a safe and secure betting platform that is fully licensed in the UK. Member funds are held within a separate company, WBX Members Funds Limited, to safeguard member funds in a separate bank account. The funds are held subject to a trust deed and quarterly external financial audits, which are published on the WBX.com website. This makes WBX one of the safest sports betting websites around.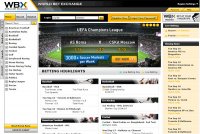 At WBX, Members can set their own odds and you don't bet against a bookmaker, you bet against other people. Because of this you can sometimes find odds that are much more generous than you would find at a bookmaker. Our Members can not only back winners but can also lay losers, which leads to new betting strategies opening up compared to betting with bookmakers. For instance, if you feel strongly that a favourite is due for a loss but aren't quite sure who will win, you can lay the favourite for a profit. WBX offers live betting on a wide range of markets, providing opportunities to trade and lock in profits. Betting live on tennis is particularly exciting, especially in matches where the underdog gets out to an early lead against a highly seeded player – crucial points in the match where it see saws back and forth from 'Deuce' to 'Set Point' you can see the odds going absolutely mental with the favourite to win the match changing from one moment to the next. This is a lot of fun to watch as a punter and is perfect situation if you are a trader. The mobile betting experience is different from most other bookmakers and exchanges as no apps are required. The site is optimised for mobile, tablet and desktop users and automatically detects the type of device being used. WBX also charges much lower commissions than several of the other top exchanges and we have loyalty rewards in the form of commission discounts. An exclusive to WBX is that we offer commission refunds to retain our Members long term. 6. How does WBX betting exchange compare to some of the other few exchanges that exist like Betfair or Betdaq for example? WBX has odds that are comparable to both of the exchanges you mentioned, and liquidity at WBX can comfortably cater to large wagers on horse racing and major sporting events. Our commission rate is much better –3% to 5% depending on the number of entrants in a market, and we offer up to 60% in commission discounts to reduce this further. We also do not impose any premium charges on winning accounts, nor do we close accounts or void bets citing ambiguous reasons – everyone is welcome at WBX as we do not discriminate against winners. 7. Why do you think the betting exchange concept hasn't taken off over the years being that there are really only a handful of them online. Strictly speaking, betting exchanges are an entirely different beast compared to online bookmakers. Unlike bookmaker sites that can simply put up a market and post odds, betting exchanges are far more complex, and it is a technological hurdle too difficult for many to overcome. Another reason is that betting exchanges rely on Members to set their own odds, so it is a lot more difficult to build up a successful betting exchange with enough betting activity to make them appealing to their customers. Before WBX launched a lot of effort was spent in building up its brand. WBX was already among the top 4 contributors to the UK horse racing industry before a single bet was ever placed on the exchange. A bookmaker can simply start from scratch, but a betting exchange really needs to hit the ground running. WBX Members have wagered well over £1 billion on the exchange and processes over 3 million bets daily. 8. What are some of the improvements the program is working on behind the scenes to improve the gaming brand for players and webmasters? The WBX website epitomises a design reminiscent of the fundamentals that the Bauhaus school of thought became famous for, that form follows function. The expandable menus and limited need to reload entire pages are something that helps make betting a user-friendly experience. Live betting has grown in popularity at WBX from what was once more of a niche to now offering live betting across a variety of sports. Members can bet live on every tennis match, NFL match, soccer match, plus cricket, golf, basketball and more. We will continue increasing the number of live markets offered yearly. 9. Based on your experience in working with affiliates to date, what is your advice for new affiliates getting started as a sports betting affiliate? For new affiliates getting into sports betting my advice would be:
Build a site about sports you love, or at the very least one that you understand and follow to some degree - you may not get success overnight and it takes a lot of hard work so if you prepare a site about a sport or topic you have an interest in, it will make it feel more like a hobby you enjoy that you're being paid for.
Look at what others do well – analyse the top sites in your field, take inspiration from them and think about what you can do on your website to set it apart. A banner farm or a page with limited information that looks slapped together won't cut it these days.
Trial and Error - a big part of affiliate marketing is trying new things and seeing what works. Look at which sections of your sites are converting best, and whether you can improve them further, or incorporate something similar into other areas of your site.
Persistence - listening to affiliates, something that the biggest earners appear to have in common is that it took more than 3-6 months before they got their first depositing referral when they got started in the industry. If they had given up at that time it would have cost them some huge earning opportunities.
Have a primary source of income - following on from above 3-6 months is a long time to go unpaid if you are new in the industry. I would suggest that if you are a new affiliate starting out, work on it during your off-hours until you can sustain yourself through your website full time.
Get sleep - I chat with affiliates on Skype and I often see them up and still working till 4am - 5am and later. I am probably not one to talk since I am often on my computer past 2am but affiliates seem to take it to a whole other level! My advice, find a healthy balance between work and everyday life.
10. For those affiliates that haven't started to work with WBX Affiliates why should they join and what can they expect from working with the affiliate program? WBX Affiliates is a trustworthy program offering the highest reward plan of any betting exchange - a flat 50% revenue share. When affiliates sign up with WBX they can rest assured that they are promoting a quality betting exchange that values its customers, and that we equally value our affiliates and treat everyone fairly regardless of how big or small they are. We have a no negative carry over policy, no minimum referral requirements, and if an affiliate decides we aren't a good fit for them, we will continue paying them revenue for any referrals that they built up on our program.