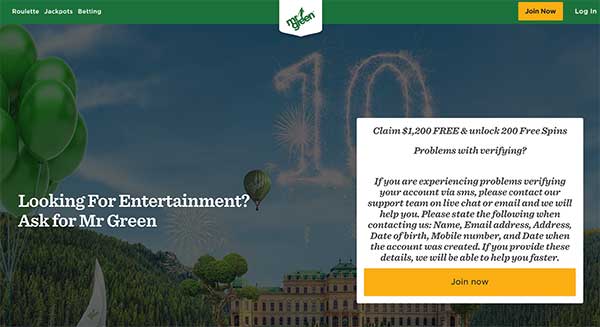 William Hill plc is one of the oldest gambling companies in the world. This UK-based company is always trying to expand on the growing gambling market. A couple of days ago they have announced that they will try to buy Mr. Green. They have offered almost $308 million to the Swedish-based company.
There are two reasons why they have sent an offer like that. First of all, William Hill is trying to take a bigger cut from the online gambling business. The latest statistics have shown that the number of online players is growing and these numbers won't start dropping in the next few years. In addition, they want to stabilize and strengthen their operations in the EU. The reason is simple – after Brexit when the UK leaves the EU, there may be some rules and regulations that can make their business operations more difficult. However, by investing in EU-based companies they will be able to avoid these potential risks and problems.
Of course, investing in a company like Mr. Green is a good move on its own. This is an online company that provides online casino, live casino, sportsbook, bingo, and keno. They are holding a license issued by the Malta Gaming Authority. They also have licenses issued in Italy and Denmark. Even though it operates just ten years, this website has become one of the most popular online bookies and casinos, especially for Scandinavian players.
If everything goes well and William Hill acquires Mr. Green they will combine with both Mr. Green and Redbet casino brands. They are part of the MRG company which operates in 13 markets. On the other hand, William Hill has an international hub located in Gibraltar that won't be enough after Brexit. That's why they are planning on using MRG's hub in Malta, a country which is part of the EU.
Companies focused on gambling are on the rise thanks to the Internet, but their online activities and even their standard activities have been limited to some extent by the British government. A few days ago, Phillip Hammond, the British Finance Minister has revealed that they are planning to add another tax – tax on betting over offshore websites. The fact is that this tax existed before, but it was 15% - now it will become 21%.
Even William Hill's traditional betting shops in British cities will be affected by the latest changes suggested by the authorities. Namely, they will have to cut the maximum stakes in these shops. As previously mentioned, Mr. Green has remote gambling licenses in Ireland, Britain, Malta, Latvia, Italy and Denmark and most of these countries have liberal gambling laws. They are also planning on getting a license issued by Swedish authorities in the next couple of months.
The initial reports have confirmed that the board and shareholders at Mr. Green are satisfied with William Hills' offer. If everything goes well, we will soon witness another huge acquisition in the gambling world.