Aggressive Affiliate Managers & Conference Networking Tips: KickstartMonday

Welcome to the 9th edition of our Gaffg KickstartMonday series where where we help to start your week off on the right foot. You can find all of our KickstartMonday series here. In this edition we discuss the etiquette of affiliate managers at conferences since the Barcelona Affiliate Conference is just around the corner.
Aggressive Affiliate Managers
If you have been to any conference then it is possible you might have experienced that persona whether sales manager, sales agent or affiliate manager even that were so aggressive in trying to get your contact details that they possibly harmed their chances of doing business with you. This is an article to remind these people of how not to conduct business at a conference and how not to be so creepy. [caption id="attachment_5347" align="aligncenter" width="600"]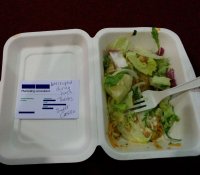 can I please eat my lunch without interruption[/caption] During the London Affiliate Conference 2014 the conference is usually divided into 2 groups and to some extent you could consider it similar to other industries. People that sell and people that buy, or in the case of #LAC2014 you have affiliates & webmasters as well as affiliate programs that want traffic or customers from these webmasters. Every year it seems to get worse with people that seem desperate to obtain your contact information. At LAC2014 if you had a yellow wrist band or lanyard then you were an affiliate where operators (red) were looking for affiliates to work with. Yellow in this case makes you an easy visible target. Year after year it is always the same story, you walk around the conference floor or the conference bar and people approach you with either a short business proposal of what they do or with a question of who you are and what you can offer them. I understand that these employees are under pressure from their bosses to justify their conference and travel expenses with the goals to get as many contacts as possible however there are right and wrong ways of going about this. If you are not approaching people then of course you can't accomplish as much as your job is to network and meet people. So lets look at the right and wrong ways of getting this done and maybe this article can help the shy guys get by and also the aggressive ones to turn it down.
Conference Networking Tips
Say Hi and be friendly
Maybe try smiling if you are going to approach someone. Just don't look either uncomfortable and ultra serious about business. Looking too serious isn't helpful and try to find a reason to smile or lighten up the situation. Maybe instead of starting with a pitch, lets start with names first, say Hi, introduce yourself by name, and maybe where are you from. Maybe then you can talk about what you do or ask me what I do in the business. Too many people have started conversations with "Do you have casino traffic?". Maybe this can start with a handshake.
Have the right body language
Now if you don't know anything about body language, pick up a book and it could help you out in many situations. You just want to make sure you are coming off as friendly and this means not grabbing people from behind. Also if someone is occupied like talking to someone else or perhaps walking fast with a purpose, like going to a meeting, interrupting might not be the best idea. If you are going to interrupt people have something interesting to say and maybe keep it short. Some people, especially guys, can't help by being overly aggressive and maybe that is just the nature of who they are but understand how it can make you an enemy and not a friend. Grabbing people, trying to hold them in a place while you talk to them or stepping into their personal space are things that make people upset. You can also go wrong with too strong of a handshake or even a handshake that tries to show who is the dominator. Some people do this without realizing what they are doing but doing this to affiliates is probably not the group you want to do this to. Affiliates work for themselves and they are their own bosses so always show some respect to them as you might need their business more than they need yours.
Offer some incentives
If you have something cool to offer like a chance to win an iPad, please do interrupt me and ask for my business card. This is probably the easiest way to get something done. There are easier ways to get a conversation started and if you have already invested in coming to the conference, something else to win isn't going to cost you that much more and you'll probably get better results in the process. Some people are totally new to the conference and they are looking to meet people but if you talk business right off the bat maybe you will make it difficult to get to chat on a personal level. So maybe have something to offer, invite them to lunch, dinner, create your own event. Give us a reason to come see you or want to interact with you. Which programs have made an impression on us during the conference?
Mojo Affiliates invite for Mojo Feast
VideoSlots Affiliates for dinner invite
Intertops Affiliate hosting the sunday session (which you can always count on them for)
Mr Green / Mr Affiliate having not only nice umbrellas but bluetooth talking glove
BestPay Partners offering USB/phone charger which was ultra practical
Casumo Affiliates offering a fun gift bag and Oddka (vodka)
I'm sure I'm forgetting more people on this list but lots of cool stuff at this conference and have been some nice people around.
Last tips on conference networking
People want to do business with their friends so be friendly. You might have pressure to get work done with results but if you try too hard or look too desperate to be someone's friend then usually the opposite happens.
How not to network at a conference
We showed you how it is done with a conference networking tips section now lets look at how not to do it. Now when someone is so aggressive that they personally piss me off, I now want their business card or to know their contact. I was walking with Kay Schaefer from ksom.com and he was more or less physically stopped by a character who got in Kay's way while putting his hand on his shoulder to try to keep him in place followed by a loud question "Do you have casino traffic?" which Kay replied a loud and unenthusiastic "No!" then the guy countered by going into a quick speech of what he should do for him where Kay had to cut him off saying he had a meeting to go to right now and walked away. The guy was so rude that my job was to make sure I saw his name and program on the badge he had and after our escape I took out my notes to write a note "dropdown program name" which means to reduce exposure. This person's real life persona was just the same as it was online, very pushy and when they approached one of my affiliate friends over skype they proceeded to insult them over how they run their business. That person is very successful and influential so it was stupid to do not to mention I saw it. Funny enough 9 months later I haven't heard their name since. Can't you see I am eating? If someone is eating, seriously leave them alone unless you are going to give them an iPad. So if you have a stack of iPads to give away, look for people with yellow wrist bands and please do your sales pitches during lunch and hand out a much needed iPad.
Short News Weekly Summary
Our Gaffg short news section gives a snapshot of bits of news that might matter to you covering a range of categories from player promotions, affiliate promotions, SEO, conversion and other marketing news and online gambling industry news. Here is a summary of the past week of short news:
Earn Affiliates announces plans to exit the Dutch markets with the intent to comply with regulations to obtain a license in the near future
Every week we always have some short news to share.
Slotoaff: New Affiliate Program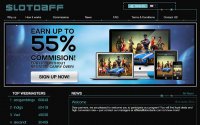 Slotoaff, the new affiliate program for Slotobank online casino and are listed in our casino affiliate programs. Slotobank features an online casino and mobile casino which use both Microgaming and Net Entertainment casino software. Commission Rate: 45% to 55% revenue share Affiliate Payment Methods: bank wire Target Markets & languages: English, Russian, Spanish, Polish, Greek, Italian, Danish, Hungarian License: Malta Program Features: Casino & Mobile Casino
SBOBET Affiliates: Featured Affiliate Program
SBOBET Affiliates is a sportsbook affiliate program with a focus on many markets worldwide. SBOBET are a brand that is looking to be a big player in the Asian gaming markets offering language support in Japanese, Thai, Vietnamese, Burmese and Korean to name a few of their target markets. Commission Rate: 20% to 30% Revenue Share Affiliate Payment Methods: Bank wire transfer, Neteller, Skrill, Player account Target Markets & Languages: Asia & Eastern Europe License: Isle of Man Program Features: Sportsbook & mobile sportsbook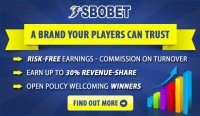 Rémi Lambert - Golden Vibes: What I'm listening to
2 hours courtesy of Rémi Lambert on Soundcloud.
Cats stealing dog beds: This week's LOLorWTF
Welcome to our LOLorWTF segment. You can follow #LOLorWTF on Twitter if you are bored and just want to find more of these. This week and probably the next few weeks will be about dogs since after rescuing a dog 1 year ago.
Share or Comment Now!
Join the discussion below and give us your thoughts on this article, if you want to read more KickstartMonday articles then click here. If you think someone else would like to read this article then like or share it. If you have ideas you want to share for future articles just contact us and it would be greatly appreciated. In the meantime may our KickStartMonday help get your week started on the right foot. Have a productive week!