Interview with John from BestPay Partners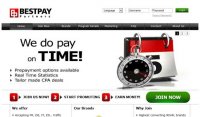 Note
: Gaffg no longer recommends BestPay Partners as we have a dispute with the affiliate director over referred webmasters to date that are no longer attached to our account.
They have made the decision not to re-tag them and have made it clear this is their final decision.
What are your roles at BestPay Partners
I am the Affiliate Program Director at BestPay Partners, mainly focusing on the development and constant optimization of the affiliate program BestPay Partners to our online casino products 21Grand Casino and SupremePlay Casino as one of our acquisition channels.
Not only the affiliate program but also the online casino product development is here a very important "communication bridge" between the retention and acquisition departments within our marketing operation to optimize the affiliate and player experience on a daily basis.
Just to give you some examples here of my daily tasks:
To create a marketing strategy for the focused language markets. 
Development of a new CRM on the affiliate program site.
To monitor together with our existing partners the ongoing campaigns in depth.
Optimization of campaigns via customized/new marketing material, new landing pages, additional API features.
Organizing international conventions to meet good old friends and business partners and certainly to meet potential new partners of us.
The affiliate program site has been rebranded and there seems to be more work put into the program and casinos. What improvements have been made over the past year?
Correct, we want to provide the most transparent and professional service possible to both (affiliates and players).
The look and feel of the actual website(s) is there only one part.
To provide the actual customer support and sales forces on the backend of the actual casino product is something we do invest man power and we receive every day great feedback from players and affiliates here.
The affiliate team as such is growing, we have now one dedicated affiliate support manager and one dedicated affiliate account manager that provide our partners on a daily basis with much more than just the needed marketing material for their next campaign.
We do have many years of experience in the industry and our affiliates do profit from our experience and our very well converting online casino product.
We implemented instant play games for both brands, players have now the opportunity to play over 150 games of us online and directly via their browser without even to register.
Affiliates have here a great tool to optimize their current conversions and to implement these flash games on their sites.
Both casinos offer now their services in all EU languages: German, English, French, Dutch, Spanish, Italian affiliates can promote now all these languages via landing pages, new marketing material such as banners and text links.
By the way, BestPay Partners offers their services and the back end reporting also fully in all of these languages after your registration/login.
On the affiliate back end, we implemented now even more accurate reports that are not just in real time but also give you all the information you are looking for as affiliate and leave no questions open - please see also the attached Expose with screen shots and examples.
What improvements to the program are you working on for 2012?
There are many projects we are working on right now, that will be implemented in 2012. Just to mention the major highlights right now as sneak preview:
We will come up with a very unique/new 3rd casino brand in 2012, SupremePlay Casino will be re-branded.
There will be a dedicated BestPay Partners blog with news within the industry that provides our affiliates with updates to our products and services in all main EU languages.
What can affiliates expect when working with BestPay Partners?
Simply the most professional, trustworthy and most transparent program and service.
Tailor made Commission models that range from 50% Rev Share over Hybrid, pre-payments and $300 CPA deals 24/7 assistance to your campaigns with in depth information's real time reporting, top notch casino brands, highest converting Rival brands customized and co branded landing pages language marketing material for your local targets free games as various marketing material available affiliate Account manager with many years experience in their language.

Read our
BestPay Partners review
from our list of
casino affiliate programs
.
More affiliate manager interviews
Interview with Nicole Sims from BetCruise affiliate program
Interview with Sami Kurvinen from iGamefriends
Interview with Franco Buffa from VJ Affiliates