How does the betting activity compare on the entire March Madness tournament versus the Super Bowl?
The Super Bowl is definitely the highlight of the sporting year: Media all over the world cover the Super Bowl and fans across the globe love to watch it.
March Madness does not receive the same kind of attention outside of North America, but for customers in the United States and Canada it is a very big deal.
In general, March Madness means a lot of wagering activity.
Bettors love to place parlays, including several selections on the March Madness tournament.
The average punter follows the seedings closely, but there are always plenty of customers ready to risk their money on underdog hunches.
And there is another factor that definitely distinguishes the betting activity on March Madness from that on the Super Bowl: The bettor has much more time to bet on the Super Bowl (two weeks after the Championship games), the March Madness tournament progresses a lot faster, which has its effects on the betting activity as well.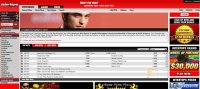 Based on trends over the years, how much more betting activity do you expect this year compared to the last 2 years?
Our expectations are very high this year!
Our loyal customers know that Intertops has been a reliable and trusted Sportsbook for many, many years.
This is very much appreciated and our large variety of promotions and bonuses are always well received.
In general, we do expect a significant increase in betting activity compared to the last 2 years.
Do you expect social media to play a bigger roles for affiliates and the marketing of the sportsbook to players?
Definitely! Social media will further increase sportsbook popularity.
Sportsbooks and affiliates will have to adapt to this development and use the social media as a marketing tool in the near future.
This tendency is quite obvious and means the development and adoption of new marketing strategies. We are certain that social media has a lot of potential for both affiliates and Sportsbooks.
For the sportsbetting players that do like to cross over to other games do you find they go more for poker or for the casino?
It's hard to provide a general answer to this question. There are many different kinds of players.
Some are strict sports bettors, while others love to try their luck in our Intertops Poker Room and in our Casino.
We currently have slightly more players doubling up in the Casino.
What tools do you have to promote the March Madness NCAAb tournament?
We are very keen on offering as many great promotions on the March Madness tournament as possible.
Customers know that they can expect some additional entertainment at Intertops for sure.
We like to offer many opportunities for them to boost their wagering accounts before and during major sporting events.
We also provide attractive odds on all the action and a huge number of bet offers to suit every taste.
Of course, we will use several channels in order to promote our extended offers for the March Madness tournament!
About Intertops Affiliate
Intertops affiliate program
accepts US players and has a sportsbook, casino and poker room.