Making a website DIY: KickstartMonday

Welcome to the 12th edition of our Gaffg KickstartMonday series where where we help to start your week off on the right foot. You can find all of our
KickstartMonday
series here. In this edition of #KickstartMonday we focus on
 Making a Website DIY
 as I get asked this all the time and there is no short answer to this question for creating your own website and the best way to do it.
Making a Website DIY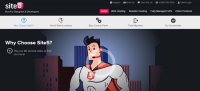 Let's skip all the reasons why you want to make a website, whether as a hobby, to make money or both. You don't need a university degree to know how to make a website and you don't need to be a programmer either. You could take courses to learn marketing, social media and the process of making a website but if you just do it yourself (DIY), you'll learn things just as fast, if not faster and not spent as much money either. If you talk to most successful webmasters, they don't really have a background in marketing, internet marketing or any sort of education that has anything to do with building a website. They just went out and did it and probably used basic research to figure it out. If you want to create your own website, you'll probably have to follow this path. Technologies may change over the years but some things have remained constant in the past 10 years. There are just now more programs, resources and services available so that makes starting a website today more exciting than before. Making a website can cost money and that is up to you to decide what you want to spend money on. So we'll cover the range of budgets you can spend on a website as well as listing some resources available for you to learn more.
Website on a budget, build a free website
There are 2 good reasons you should build a website for free that doesn't cost you any more and saves your budget.
Your budget is zero or you don't want to spend any money at all.
You have the budget but want to experiment and see if you like the work before you spend any money.
The 2nd reason is probably one I recommend to anybody that does have a budget to spend. Many people think you need to spend your way to success but that usually isn't true. You need to learn, make some mistakes along the way and why not do it on a platform that is free. Most importantly you want to see if you like the work or if you see a future in what you are doing. If you don't like the work at all, you can drop what you are doing and walk away, instead of having to walk away after invested money in addition to time. There are plenty of free platforms available but I'm going to just give you my top 3 free content management system platforms. Or rather platforms to blog, start a website and base everything around. These 3 CMS and blog platforms are:
Top 3 CMS/Blogging for SEO
Blogspot
YouTube
Wordpress.com
No surprise that 2 out of the 3 listed are Google products and the best for SEO could change at any moment.
Blogspot / Blogger

If you can write an email and attach images, add a link then you can start blogging with blogspot.com (also known as blogger.com). At one point in time, blogspot posts used to have high rankings in Google all without having to build many links for a site, and in some cases, no links at all. Trying to rank another website without links can usually be impossible but with Blogspot, it was possible and since it is a product owned by Google, they don't mind being biased for themselves.
http://blogspot.com
YouTube

Many people don't see sites like
YouTube
, Facebook or Twitter as search engines but they are sites that pull in a lot of searches and YouTube has been considered the 2nd largest search engine next to Google. Bing might be considered the 2nd largest search engine but YouTube generates more searches than Bing and on top of that, most webmasters don't really see YouTube as the way it should be looked at which is a content marketplace. People love video and video is still probably not as popular as it will be in the future when bandwidth no longer becomes an issue. If you make any videos at all, then you'll be ahead of most people that simply don't do video because they don't have any experience at it, or they are shy to speak or appear on video. Video is still untapped in terms of it's content potential.
Wordpress.com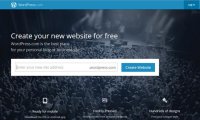 Not to be confused with Wordpress.org, which is the open source software everyone uses for their website, wordpress.com is similar to blogger.com and you can get your own website, just that you don't have a unique domain but you also don't have to deal with any costs. The good thing about using Wordpress.com is that you learn how Wordpress works so if you ever want to launch your own custom website using Wordpress software, you'll have the experience of using the CMS properly.
Wordpress.com
Creating a low budget website
If you have a budget of say $100 to $1000 then you could get a better looking and more professional looking website than the free options. You can spend your money in many ways from buying domains, website hosting, website designs & templates, graphic designs, links, content and anything and everything you can think of. For the most part, you still have a low budget and you don't want to break the bank either.
Domains
: You can get for $10 to $15 per domain.
Hosting
: You can get for $50 to $100/year for a website
Read our list of recommended domain & hosting companies here
.
If you decide to use Wordpress software, then you can get all sorts of free templates and free plugins.
wordpress.org/themes
 - Search for hundreds of free themes!
Creating a fully customized designed website
If you are confident in what you are doing and want a customized website start to finish then this will be the more expensive route but is it certainly the way to go if you want to make your website visitors take you seriously. Of course if you do go full out on a design you'll want to know what you are doing and what you are building. You'll want to make sure the design you have goes with some amazing content as a good design by itself isn't much if you don't have a good product or service to go with it. If you want help with a custom website design, try
HorseshoeAgency.com
as they have experience not just designing websites but focusing on conversion rate optimization and experience in many industries. One example of a custom website is
CasinoBonusesToday.com
designed by moi.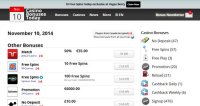 Short News Weekly Summary
Our 
Gaffg short news
 section gives a snapshot of bits of news that might matter to you covering a range of categories from player promotions, affiliate promotions, SEO, conversion and other marketing news and online gambling industry news. Here is a summary of the past week of short news:
NordicAffiliates: New Affiliate Program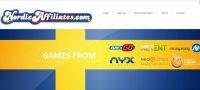 NordicAffiliates
, the
new gambling affiliate program
for Norskelodd, Suomiarvat and SvenskaLotter which are online casinos and scratch card sites.The sites are in Swedish, Norwegian and Finnish and licensed in Malta.
Commission Rate
: 30% to 45% revenue share
Affiliate Payment Methods
: Neteller, Skrill, bank wire transfer
Target Markets & languages
: Swedish, Norwegian, Finnish
License
: Malta
Program Features
: Casino, mobile casino and scratchcards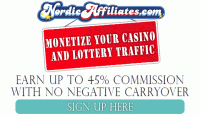 Kris Santiago - South Beach Memories: I'm Listening to
Some music I like to listen to while I work and share. This week is Kris Santiago from NuDiscoYourDisco.
Time Wasters: This week's LOLorWTF
Welcome to our LOLorWTF segment. You can follow 
#LOLorWTF
 on Twitter if you are bored and just want to find more of these. This week is all about time wasters and to rant a bit about some problematic webmasters I've encountered which makes me want to reconsider my coaching model or to cut it off completely. I'm going to share some comments from a 'webmaster' I have coached who is completely new to making a website and affiliate marketing. I won't name or shame the person but I don't mind sharing comments here knowing they won't read this article at all. I know this because they clearly haven't read my instructions to not copy content from others or my
guide to content writing
. So this is more my WTF rant. So let me set up the situation. This person reached out asking for help after previously getting scammed $3000 for a basic landing page website that he doesn't even have admin rights to or domain ownership. I did a few skype calls with the guy to explain what he needs to do to be successful and clearly stated that he needs to join my sub affiliate links which he said wasn't a problem. Then after emails and skype chats the person's attitude and lack of work ethic start coming to light. So we need content to get going with his website which I help him setup. Every time I got an article from him it was absolute crap. So our last email correspondences look like this: "I was waiting on her and she is still working on it and I also got incontact with a person on that fiverr and have them YOUR instructions on what you was looking for. I was using both parties.
For some reason you always like to think someone is trying to play some kind of game with you on some point. We talked about trust issues and you seem to have the most.
I'm trying to do things correctly time and time again and you down graded things time and time again. I asked for your help you said no in dealing with the article. I spent money from me and family and have nothing to tell or show them, letting them know this was going to work.
Now!!! I have tried everything I have done to an extent and things are being halted. You want to make money and so do I, this weekend I should be around but ultimately it's time to start doing business.
If the article if good, descent, etc fine go with it if I'm not getting any HELP!!! if it needs to be adjusted so be it. I just know two month period to three and nothing is happening."
Then I emailed them telling the person my displeasure on the comments.
"Now you getting me upset.... Let me explain something to you right now since you can't remember nothing and trying to come off on me which is the wrong thing to do which I don't give two Damns about.
First I did the articles myself  let's not forget that and when I represented them to you three times you didn't like them. I asked YOU!! for assistants you said no so leave all that helping out crap alone... then I had contact people to do articles you didn't like those... so I got incontact with my friend and another person on fiverr to produce two so get your stories straight when you try to come at me....and as for affiliates I did it that way because you didn't explain.!!!
And I even corrected the problem to satisfy your insecure personality.. which I think deals with being prejudice but hey that's how I'm seeing things. Like I stated before nothiings getting done.
If you want to talk either you talk to me on Skype like men and business partners instead of this kiddy back and forth email"
So let me summarize what I have been dealing with:
I explained content writing and tips to this affiliate directly over skype, this included warnings over copying content
I wrote this content writing guide mostly for him but of course shared it here, I explained articles need to be quality and preferably over 500 words
I created custom casino review templates for this guy to make their casino reviews a little unique
The first article I get is under 100 words
After telling them 100 words isn't enough and that they need 500 words, this person had the nerve to ask me to write the rest ...
After telling him that I'd rather write the content for myself than for him, I said he needs to write it himself
The next articles I get are well written .... by someone else, stolen from another website. I said WTF, stealing content is wrong and I told him to write the articles himself
This one takes the cake, after telling the person at least 3 times they need to join my sub affiliate links and actually explained the process of clicking on it, I find out that none of my affiliate links were used, he went straight to the domain and in a few cases went into Google where a few other webmasters picked up the referral! After saying WTF he claimed I never explained that to him but I have these messages clearly written out in skype details with confirmation he understood. #WTF
The next articles he shows me are clearly written by someone from a non-English speaking country. After saying WTF again, he says he is getting a friend to write for him and

she

will have something soon.
The last article sent for approval was sent as a document complete with the Fiverr.com order number. He said SHE finished the article for me to review. After saying WTF for the nth time, I was like this is fiverr and the article is also shit.
After confronting him about the outsourced content which I said from the start he shouldn't do, I was insulted and blamed for the lack of progress
After telling the guy that I'm no longer going to work with him and said that everything was a waste of time until now, he has the nerve to ask me to hold his hand helping him with the forums and recommending others to help him! WTF PLEASE FUCKING STOP.
My reply was that I was not going to help him anymore and I wouldn't refer him to anybody based on how things have transpired and his email reply was "whatever". Other problems I've had previously while coaching affiliates? I had one guy who agreed to coaching help especially with conversion optimization with the deal to signup under some sub affiliate links. After a substantial amount of help, the person had the nerve to say why should I signup under your links, what's in it for him? WTF. The person expected me to help him on a lot of stuff and with little in it for me I said WTF, stop wasting my time and called him out. Sure enough he doesn't feel grateful for my help and had the nerve to insult me in some forum. Other webmasters have told me the guy has tried to suck knowledge and data out of some webmasters asking them what keywords converted for them, then have gone on to setup sites that copy. So in short, there are no shortage of leeches, or blood suckers in the business. At this point I'll have to demand more from new webmasters I coach based on the few problematic ones.
Share or Comment Now!
Join the discussion below and give us your thoughts on this article, if you want to
read more KickstartMonday articles then click here
. If you think someone else would like to read this article then like or share it. If you have ideas you want to share for future articles just 
contact us
 and it would be greatly appreciated. In the meantime may our
KickStartMonday
help get your week started on the right foot. Have a productive week!