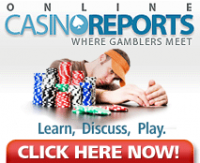 OnlineCasinoReports.com
is a one-stop shop for all your gambling needs. A veteran of the industry, the site serves multiple purposes - providing comprehensive reviews, up-to-date industry news, extensive gaming guides, and an active forum. Priding themselves on being a website "for the gambling community, by the gambling community," Online Casino Reports has a large base of loyal readers who flock back to the site for all it has to offer. An extensive directory provides hundreds of reviews of casinos, software providers, sports betting sites, mobile casinos, payment methods, and organizations, just to name a few. In addition, readers can learn how to play different kinds of games with step-by-step guides, post their own comments and concerns on the open forum or create their own blogs, and keep updated on the hottest promotions, bonuses, and progressive jackpots in real-time. The site is always up-to-date on the top comings and goings of the industry. They are constantly adding new products and casinos, and staying abreast of online casino news, and following the legality around the world as changes are made. Online Casino Reports is also available in 40 languages and has been a strong presence in the industry since 1997. The site really is "where gamblers meet".
Interview with Team OCR:
1. Are you a full-time gambling webmaster, or have you got another job as well?
Our team works full time to bring you all the news from the online gambling industry.
2. How long have you been involved in the gambling industry? What drew you to being a webmaster?
In 1997, we were a couple of friends who started the business as a hobby. Then, in 2001 we officially launched the endeavour as a business and we're still going strong!
3. What did you do before you became a webmaster?
We had just finished university and were looking for something to do.
4. One of the biggest issue affiliates face is time management. What tips can you offer your fellow webmasters?
One of the most important lessons we've learned is to focus on the brands that make you the most money. Strengthen your relationship with them by talking to them on a weekly basis and learn about everything they do. Personal connections are they key.
5. Where do you go or what do you do when you need to get as far away from work as possible?
Vacation! Always like to get away for a while when a break is needed.
6. What do you look for when you sign up with an affiliate program, and why?
We look for an affiliate program with an excellent support network. We like to know there is a person behind the email who's available to help with everything from closing deals to providing information. It's very important that the affiliate program understands the needs of its affiliates - because each affiliate is different.
7. What's your favourite affiliate program to work with so far, and why?
A few of our favorites are Bet365, Affutd, Brightshare, Referback, Winner, Star Partners, Fortune Affiliates, 888 Affiliates, Euro Partners and Ladbrokes. These all offer very good affiliate support, have above average retention and are overall trusted companies that are enjoyable to work with!
Get connected with OnlineCasinoReports.com:
https://www.facebook.com/Onlinecasinosreports https://twitter.com/OCReditor