Gaffg Awards 2016 Winners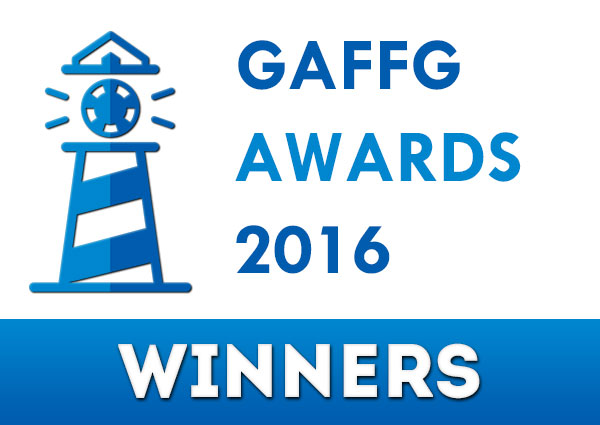 Congratulations to the winners of the Gaffg Awards 2016!
The Gaffg Awards 2016 has concluded and we celebrate the winners for our 3 categories of awards:
Trusted Affiliate Manager
Trusted Affiliate Programs
Charity Recognition Award
Click here for the official press release
The Gaffg trusted affiliates were eligible to vote for up to 5 affiliate managers and 5 affiliate programs they trust the most. The Charity Recognition Award is given to gaming companies that go above and beyond for contributing towards a charity in any capacity whether by donating time, money or resources to a cause of their choice. This is the 6th year of the Gaffg Awards and we welcome some new winners of this year's awards as well as some previous winners.
Trusted Affiliate Manager 2016 Winners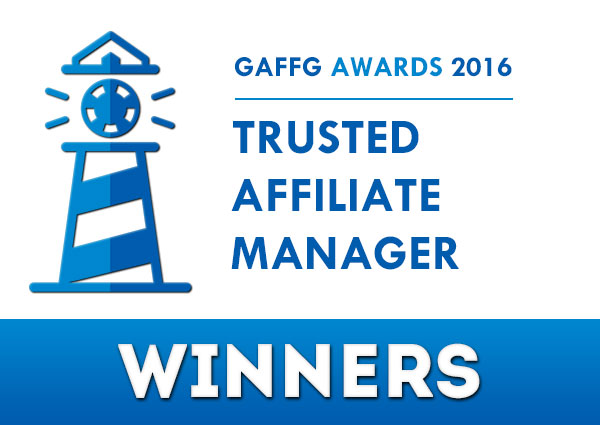 Our Trusted Affiliate Manager award was created so that affiliates could share with others which affiliate managers they not only liked the most but trust them too. Trust is something that has to earned and in this case for affiliate managers it is usually a mix of being helpful, hard working, fast to respond to affiliates and being an excellent communicator. These affiliate managers simply go above and beyond their call of duty in their job. Out of the hundreds of affiliate programs and even more affiliate managers, only 5 awards are given out.
Presenting the 2016 winners for Trusted Affiliate Manager
Martyn Beacon - Affiliate Edge
Affiliate Program: Affiliate Edge
Martyn has won 6 straight Trusted Affiliate Manager awards which goes hand in hand with the affiliate program also winning 6 straight Trusted Affiliate Program awards. Martyn also holds numerous iGB Awards for best casino affiliate manager while the affiliate program has repeatedly won Best Casino Affiliate Program too. Even though Affiliate Edge has grown into a bigger affiliate program with more affiliate managers, he still takes the time to work with affiliates, answer questions and promote the affiliate program and their brands.
Jelena Isakov - Fruity Affiliates
Affiliate Program: Fruity Affiliates
Jelena is a relatively new affiliate manager and has won her second Trusted Affiliate Manager award in a row. She has helped put Fruity Affiliates on the map and her role as affiliate manager has earned the trust and respect amongst affiliates. Her previous role at AskGamblers as an affiliate certainly gave her the experience to work with affiliates as she fully understands the challenges that affiliates face today.
Marius Filip - Evoke Affiliates
Affiliate Program: Evoke Affiliates
Marius is now a 3 time winner of the Gaffg Awards with his 3rd win in a row for Trusted Affiliate Manager. He has also helped Evoke Affiliates win an award for Trusted Affiliate Program. Marius has been described as one of the hardest working affiliate managers in the business and he goes out of his way to help affiliates and getting their support behind their gaming brands including Redbet. Marius is also a multiple award winner of the iGB Awards for best overall affiliate manager and best poker affiliate manager.
Jack Jelinek - Slotland Affiliates
Affiliate Program: Slotland Affiliates
Jack is a first time winner of the Gaffg Awards and has been the main affiliate manager at Slotland Affiliates for numerous years. He's been working with Slotland for a long time and also has experience as an affiliate giving him an edge in working with affiliates as he understands their challenges and needs.
Aleksandar Stošić
Affiliate Program: Casumo Affiliates
Aleksandar is also a first time award winner and has been working with Casumo for a few years. Aleksandar has been one of the main affiliate managers that has helped Casumo grow into one of the largest gaming companies in Malta. His previous work at AskGamblers has given him the ability to speak the same language as affiliates.
Trusted Affiliate Program 2016 Winners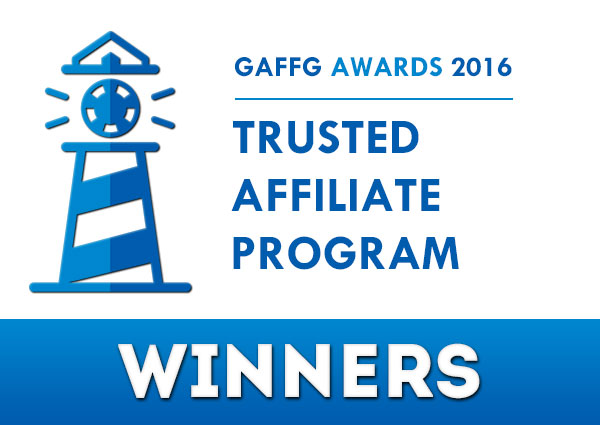 The Trusted Affiliate Program award is given out to only 5 affiliate programs which are voted by the Gaffg Trusted Affiliates. The award was created to let affiliates share the affiliate program they like and trust the most. Just like the Trusted Affiliate Manager award, trust has to be earned by affiliates and this comes from everything to timely payments, fast and helpful customer service and experienced affiliate managers.
Presenting the 2016 winners for Trusted Affiliate Program
Affiliate Edge
Affiliate Program: Affiliate Edge
Affiliate Edge is only one of two programs to win 6 Trusted Affiliate Program awards. To compound this achievement, it goes with having Martyn Beacon winning 6 Trusted Affiliate Manager awards as well. Affiliate Edge is one of the most decorated affiliate programs around and has won numerous iGB Awards for Best Casino Affiliate Program.
Bet365 Affiliates
Affiliate Program: Bet365 Affiliates
Bet365 Affiliates is the other affiliate program to have won 6 Trusted Affiliate Program awards. Bet365 Affiliates has won numerous affiliate manager awards and affiliate program awards from iGB Affiliate Awards, EGR Awards and SBC Awards. Bet365 itself is one of the biggest online gaming companies in the world. They have one of the biggest affiliate program departments with numerous affiliate managers where every manager is fast and helpful.
Evoke Affiliate
Affiliate Program: Evoke Affiliates
Evoke Affiliates, formerly Bonnier Gaming Affiliates, is a 2 time winner of the Gaffg Awards for Trusted Affiliate Program having won last year and goes with affiliate manager Marius Filip having won 3 Trusted Affiliate Manager awards. Evoke Affiliates is a big affiliate program that is growing and affiliates are happy working with the program and promoting their brands.
Fruity Affiliates
Affiliate Program: Fruity Affiliates
Fruity Affiliates is a 1st time winner of the Trusted Affiliate Program award and goes with Jelena Isakov's 2 Gaffg Awards for Trusted Affiliate Manager. With Jelena's help, the affiliate program has quickly earned the trust and respect amongst casino affiliates in a competitive online casino market.
Casumo Affiliates
Affiliate Program: Casumo Affiliates
Casumo Affiliates is also a 1st time winner of the Gaffg Awards for Trusted Affiliate Program. This is paired with Aleksandar Stošić's first win for Trusted Affiliate Manager award. Casumo has quickly sprouted to becoming one of the larger gaming companies in Malta and their casino is frequently promoted and recommended at some of the largest casino sites.
Charity Recognition Award 2016 Winners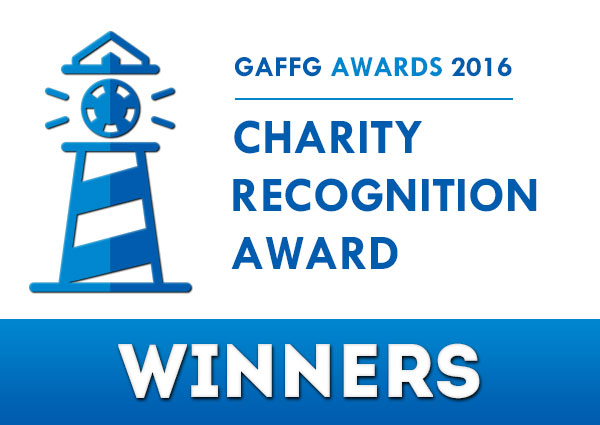 There has been no shortage of charity work and contributions from igaming companies over the years. At Gaffg we believe in philanthropy and we created the Charity Recognition Award to applaud those programs, companies and individuals that go above and beyond the call of duty. We believe with an industry as wealthy as online gambling that companies should always find the time to help out those that are less fortunate. We hope that the Charity Recognition Award will inspire others to become more active in charities.
Presenting the recipients of the Charity Recognition Awards for 2016:
Neteller Affiliate
Neteller has been listed as a recipient for the 6th year in a row as the company is always participating in charities. Neteller has given nearly 600 loans through Kiva.org. Optimal Payments PLC supports numerous charities in both locally for each office and globally.
https://www.kiva.org/lender/optimalpayments
CasinoMeister
CasinoMeister might not be the first affiliate to donate to charity but has been consistently giving for well over 10 years and has possibly generated the most for charities than any other affiliates. CasinoMeister has a dedicated page listing all of the charities they support and ones they recommend to others for support.
https://www.casinomeister.com/donate/
LatestCasinoBonuses
LatestCasinoBonuses.com has a large network of sites and they leverage that raise awareness and money for charities. Their main charity participation is through Kiva.org and to date has 120 members, has given over 300 loans worth over $7500.
Calvin Ayre Foundation
The Calvin Ayre Foundation (CAF) has been a repeat winner of the Charity Recognition Award through their charitable efforts over the years. In 2016, the Calvin Ayre Foundation has helped the village of Samar in the Philippines with their rebuilding efforts after Typhoon Nona caused significant damage in December 2015. Recently the Calvin Ayre Foundation donated $200,000 to an education fund to help disavantaged children receive a better education. CAF has been donating money and helping charities for well over 10 years.
http://www.calvinayrefoundation.org
Rewards Affiliates
Rewards Affiliates is constantly participating in charity work as they are involved in numerous charities year after year. Every year they collect childrens toys and cash from staff for charity xmas hampers and are raising money in the office to donate to a school in Northern Zuzuland, South Africa called Nomakanjani Mqobela Junior Primary. Other 2016 charitable efforts include:
Lawn Bowls Charity Event – donated $200 per person who dressed up as their team theme. Raised $21,000 towards Save the Children Charity.
Charity Trivia, Awkward Teenage Photo Competition – Raised $8,860 towards Waverly Action for Youth Services Inc, and towards the clean up and supplies for Nepal.
Casumo
Casumo has made a splash on charity partnering up with Musikhjälpen (Music Aid) with the duo Filip Hammar and Fredrik Wikingsson, they auctioned out themselves and the production of a commercial which Casumo won by bidding 3.4 million SEK (around $360,000) making it the largest donation to date.
"For us, this is the beginning of Casumo's quest to contribute to a better world. Right now there are more than 30 million children who cannot go to school because of war and conflicts. Musikhjälpen collects money to give these children a safer life, an initiative that we want to participate in and contribute to" Markus Thunholm, Market Manager for Casumo in Sweden.
http://www.mynewsdesk.com/se/casumo/pressreleases/casumo-breaks-record-in-musikhjaelpen-offered-3-dot-4-million-sek-for-commercial-by-filip-and-fredrik-1699041
Bet365
Bet365 initiates all their charitable donations through the Denise Coates Foundation which was previously known as the Bet365 Foundation. Bet365 has been very active in philanthropy over the past few years with their biggest headline contribution being the £100 million charitable foundation setup in 2014 by Denise Coates. The goals of the charitable foundation are to donate to registered charities in the United Kingdom that have a worthy cause and all of their donations are well documented with major contributions to health and education.
http://www.cvalive.org.uk/news/2016/26-03-16-den-coates/
http://www.bristol.ac.uk/fees-funding/awards/denise-coates/
https://beta.companieshouse.gov.uk/company/08191619/filing-history
Thank you affiliates
Gaffg would like to thanks the affiliates that took the time to vote. We would also like to wish all the affiliate managers, affiliate programs and affiliates nominated and shortlisted for the iGB Affiliate Awards 2017 and wish you good luck. You can browse through our list of awards winners from our first 5 years: